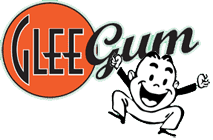 VERVE, INC.
Shop
Contact VERVE, INC.:
305 Dudley Street
Providence, RI 02907
Phone: 401.351.6415
Fax: 401.272.1204
E-mail wholesale inquiries to:
info@gleegum.com
For additional information visit:
http://www.gleegum.com/
Search Amazon: VERVE, INC.
Suggest a Correction
Email: emailtoydirectory@gmail.com
---
About VERVE, INC.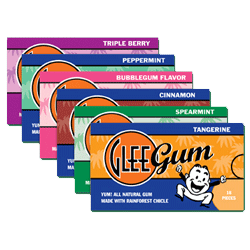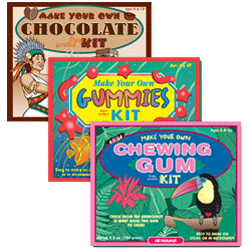 BUY Them on Amazon
Product Archives added to TOYDIRECTORY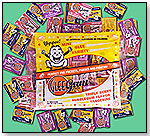 ---
Product added on: 10/29/2008
---
Shop For Products
Search Amazon: VERVE, INC.
Verve is an independent, family-owned business, dedicated to linking world communities and creating environmentally and socially responsible products and activities.
Verve's products include:
Glee Gum
Glee Gum is all natural chewing gum made with sustainably harvested rainforest chicle. It comes in SIX great flavors: cinnamon, peppermint, tangerine, bubblegum, spearmint, and triple berry. Glee Gum is the #1 healthy alternative to synthetic chewing gum and bubble gum! Freshen your breath with Glee, Naturally!
Make Your Own Chewing Gum, Chocolate, & Gummies - Educational Kits for Kids.
Connect kids to the global community by tracing the origins of raw materials we encounter in our daily lives. Our gum kit uses natural chicle. Our chocolate kit includes organic cocoa butter from Costa Rica, and the gummy kit contains carrageenan made from seaweed from the Philippines.
Create something exciting and delicious. At Verve, we believe people learn by doing. By creating delicious edible treats with our kits, kids also create connections to each other, between various fields of studies, and to other communities and cultures.
Captivate kids' interest. Kids have always loved to stir, mix, touch and taste our great activity kits. Now children can make yummy treats while learning about: the rainforest, ethnobotany, chemistry, mathematics and measurement, ecology and environmental issues, home economics, nutrition, the oceans and more!
You can also find VERVE, INC. listed in the following categories on ToyDirectory.com:
Candy & Food
Novelties
Kits
---
If you would like to request wholesale pricing, please include the following information with your request:
Your name
Your company name
Mailing address
E-mail address and phone number
Mention TOYDIRECTORY.com
---
Correction Needed? Please email: emailtoydirectory@gmail.com
Suggest a Correction!
Email: emailtoydirectory@gmail.com
---
Custom Search
In TOYDIRECTORY®
---
Correction Needed? Please email: emailtoydirectory@gmail.com
Home | Contact Us| Get Listed | Search By Name | Search By Category | TDmonthly Magazine | Privacy Policy

©1996-2023
TOY
DIRECTORY.com®, Inc. All rights reserved.
Use of this online service is subject to the
Disclaimer
and the
Terms of Use
.