The New Bear Era: Stuff it Yourself and Prosper
By Timothy Dickey
July 2002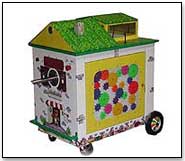 Bear Factory's Bear House
Imagine how fun this would be if you were eight: It's your birthday party, and you're all wound up on cake and soda, running around and having a ball. Then a handsome gent dressed up like a cowboy walks into the yard, pulling a brightly colored little house with a teddy bear on top.

Kids start to gather around. You notice the cowboy has a little display rack of what looks like deflated teddy bears, and another display of little bear clothes and things.

You're first, so he calls you up and asks you to pick out one of the "bear skins". You get to choose what characteristics you want your bear to possess-courage, loyalty, curiosity--and then wave a wand over everything to make it stick.

The cowboy says, "Grab the stuffing for your bear, pardner, and put it into that there space." When that's done, he starts the machine up and holds your bear skin gently over a slender metal nozzle.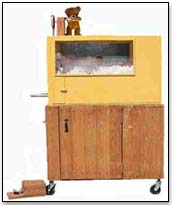 Teddy Bear Stuffer's Stuffer
The little bear on top of the house busily turns his tiny crank, making all the colored gears on the side spin around. This, of course, makes the stuffing move through the machine, and soon your bear skin begins to fill up

In no time, your new little friend comes to life. A brand new teddy bear made just for you! Kids clamor around, each wanting to be next as the cowboy zips teddy up in back, and you pick out some clothes from the mini-wardrobe…

Teddy Evolves

Bye-bye ball pits, and so long Castle Bounce-a-Lot. The hot new birthday novelty--and mall stand--may be a teddy bear-stuffing machine in the shape of a mini train or cute little bear house.
Manned by some enterprising person who knows how to turn about $5 of materials into $15 of profit, a new, lighter breed of stuffing machine has moved out of the inline mall store and into fairgrounds, flea markets and backyard parties. (cont.)
A Stuff-Your-Own Retailer tells his story: Click Here...
Want to see more Teddy Bear Products? Click Here...