Teddy Evolves (cont.)
July 2002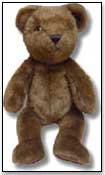 Stanley Block sells stuffing machines and bear supplies from his California-based Teddy Bear Stuffers. Business is so hot, he says, "I am literally unable to keep up with demand."
Jerry McLean, who sells the train- and house-styled stuffers, says tremendous markets still exist for the make-your-own-bear concept. Both talk of "customers" or vendors (they aren't franchisees) who have grossed over $100,000 in sales last November and December alone.
Another bear vendor who McLean supplies (who wishes to not be named for competitive reasons), will probably make $600,000 stuffing and selling bears at various universities this year. McLean routinely airfreights thousands of shirts to the vendor's silkscreener, who prepares them for the next college on the travel itinerary.
Echoing Block, McLean says, "We can't keep product in for this guy."

Stuffing It Yourself



In 1985, Merrilee Woods of the Basic Brown Bear Co. in San Francisco noticed what a draw the stuffing process was, and "stumbled on the 'stuff-it-yourself' idea." They've set up mini-factories in a few other locations, including the Mall of America, and the original San Francisco location entertains 65,000 visiting children a year.
Build-A Bear is another major player in the 'stuff it yourself' enterprise, and many Americans are already familiar with their inline mall stores. A company representative says 2002 will see over 100 Build-A-Bear stores open in malls and resort locations. Founded in 1997 by Maxine Clark, a former president of Payless Shoe Source, Build-A-Bear got the jump on mall-based bear stuffing, and highly promotes its locations for birthday parties and other children's events.
Jerry McLean caught wind of the concept while on vacation in Mackinaw City Michigan, also about five years ago, after he'd retired as CEO and president of the Panama Jack Suncare Company. He kyboshed the notion of establishing a chain of stores at the time, but re-approached stuff-your-own idea in May of last year. This time he decided that helping others establish stores and amusement park booths was the way to go.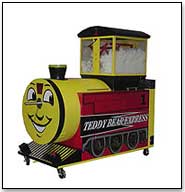 Bear Factory's Train Stuffer

Putting his engineering background to use, McLean worked with Fiber Products Northwest to design the fun-looking train motif stuffers. He established about 60 vendor accounts his first year, but the weight of the train design-430 pounds-made portability a concern to potential new vendors.

Stuffing machines have been around for about 50 years, according to McLean, and the current design originated out of a device that filled pillows. The problem he faced was the compressor; bulky and heavy, it would have to go.
After a trip back to the drawing board the Bear House was built. At 212 pounds it's much easier to lug, making it the latest thing in the stuffing business.

What the Market Will Bear

Where are we on the make-it-yourself curve, and when will this bear bubble burst… (cont.)





A Stuff-Your-Own Retailer tells his story: Click Here...