A Brief History of Kites
By Eliza Gibbons
March 1, 2003

Throughout history the kite has served as a mode of transportation, instrument of war, escape mechanism, vital component of religious ceremonies, tool in scientific experiments, and, as most of us know it, a toy. But few of us know that the kite has been with us for over 2,000 years.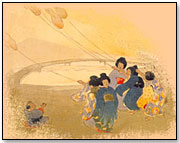 Discovery in China

It is commonly agreed that kites first appeared in China around 500 B.C. One popular Chinese legend concerns the story of a farmer who loses his hat to the blustery wind while working in his field. Intrigued, he attached a string to his hat, thus creating the first kite.

The ancient Chinese were technologically advanced for their time, and lightweight bamboo and silk soon replaced the first hat-kite. The Chinese discovered how to make delicate paper from the inner bark of the mulberry tree by the first century A.D., and paper soon replaced silk as the kite material of choice. Simple rectangular shapes gave way to exotic kites in a myriad of shapes, including dragons, birds, insects, people, and all sorts of beasts.

The popularity of kite flying in China is celebrated at the "Festival of Ascending on High," which takes place every year on the ninth day of the ninth month. This festival was inspired by another Chinese legend in which a father dreamed that catastrophe would befall his family the following day. He took his family to the countryside, where they flew kites in an effort to touch the gods' heavenly realm and appease them with their beautiful creations. The following day the family returned to a destroyed home that would surely have killed them all. Following the tale, the Chinese have spent the same day flying kites to appease the gods and ask for blessings.

Into Europe and the New World

Buddhist monks later took kites with them throughout China, and Marco Polo carried them to Europe. In the United States and Australia they became important tools in scientific experiments, ranging from measuring air temperature at varying high altitudes, to early attempts at man-powered aviation. How many of us would know who Ben Franklin was if not for his famous kite?

Want to see a showcase of toys? Click Here...

Send comments about this article to: emailtoydirectory@gmail.com

Return to ToyDirectory Monthly front page


Flying Toys: The View From Up There: Kites Just Keep Getting Cooler

Industry Overview: The Spin on Flying Toys

Product Spotlight: Toys that Take Flight Without a Kite

Ask The Expert: The History of Kites

Cool Company: DraganFly: Bringing the Wild Blue Indoors

Real Retailer: It's a Dolly-Doll World

ToyDirectory Mom: A Tomboy Mom with Barbie-Doll Daughters