May 11, 2021

November 2008 | Vol. VII - No. 11

---
Holiday Gift Guide: Teach Kids to Choose Quality
How to Avoid Hype … and Choose Wisely Yourself
"Younger kids do tend to fall for the promises made on the box and in the commercials." — Victoria Ledford, 13
Go to
TD
monthly Magazine's Holiday Gift Guide to find high-quality and innovative toys for the holidays.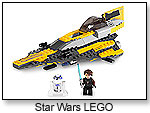 Intense marketing or fancy packaging can make a toy seem better than it really is, and sometimes, perception complicates the task of selecting safe, quality toys for children — or helping them pick the right one! Parents and specialty toy-store owners shared with PlayZak what they've learned about "hype" in the toy industry, and what steps can be taken to ensure purchase of positive toys with long-lasting appeal.

1. Spot the Hype. "[Children] are bombarded with hype from television," said Kathleen Tutone, owner of Treehouse Toys in Portsmouth, N.H. Other avenues include on-line advertising, movie tie-ins and licensed character use, and continuation or expansion of a series.

"Star Wars LEGOs, for example, are more likely to be requested than regular LEGOs," noted parent Teresa Wilson of Spartanburg, S.C.

2. Spot the Quality. Know what makes a toy worth buying before you start shopping.

Functionality: "Part of what makes a toy or game a perennial around here is easy set-up and clean-up, a good mix of luck and skill, and humor potential," commented mother Sue Christensen of Woods Cross, Utah.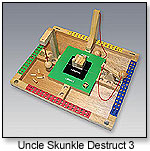 Versatility: Wilson said open-ended and versatile play retain her children's interest in a specific toy. Jill Zuidema of Campobello, S.C., noted, "Most of what we get are things that will last through several years of interest."

Interaction: "The toys that stay with my kids are the interactive ones — a craft set of some sort, a game we can play together," Richardson said.

Competition: "Ethan, [age 9], is still very much into competitive play … so he enjoys board games with skill (rather than chance)."

3. Communicate. Actively listen to a child, Tutone suggested: "Communication is a two-way street, and you have to really listen to what their needs and wants are."

Parent Gail Richardson of Bethesda, Md., recommended "talking to them about their possible purchase — making clear that they understand what it is, how it works, and how much it costs." Zuidema suggested having the child compare several toys.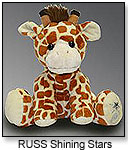 4. Set Limits. "I won't buy them toys on impulse," Sue Christensen of Woods Cross, Utah, told PlayZak, also noting that her children "often … request a toy after playing with it at a friend's house."

Robbin Dawson of Greenville, S.C., monitors online features. "When a toy has a significant online component, the rule is that parents must check it out before the kids can have it." She also speaks up when she sees "a red flag … a brand famous for breaking, dyes bleeding in the wash, etc."

5. Discuss Expectations. "Younger kids do tend to fall for the promises made on the box and in the commercials," pointed out Victoria Ledford, age 13.

"Impulse purchases come from seeing [the toy] in a store — usually something that is out (figurine, stuffed animal), rather than something on the shelf in a box," Richardson said.

"I talk to them about how advertising can make a toy look a lot cooler than it really is," Christensen shared.

Dawson agreed that "aggressive marketing is a factor" in her children's requests for specific toys. She asks her children questions, such as, "What is it made of?" (eco-friendly consumer), "How well-made is it?" (durability), and "How many ways can you play with the toy?" (versatility). She has found that "with toys that only have one use or one or two features, they'll have buyers' regret later."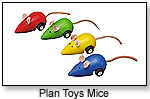 6. Read Packaging Carefully. "The products I carry have packaging that's very helpful to parents and to children and to me in deciding the value of the toy itself," Tutone said. She explained, for example, that packaging with a clear window so the product is visible will help set realistic expectations.

Statements such as "Thousands of games sold!" are meaningless to individual parents and children, and awards are now so plentiful that they are almost meaningless, David Campbell, owner of Amazing Toys in Great Falls, Mont., told PlayZak. "I don't know which ones are legitimate and which ones aren't," he said.

He added, however, that "packaging has gotten more honest over the years [about] what the toy is going to do."

After spending years developing questions for her game, Sandy Evans, creator of Active Minds' Comet, The Fast Path to Learning, didn't want the packaging to fail the game. "I tried not use nebulous words … and to give enough information on the box so parents can make an informed decision."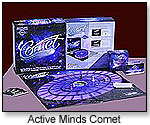 7. Seek Demonstrations. "A demo they can touch or watch in action is probably No. 1" when it comes to reasons for hype over a product, Dawson said, but demos can be helpful.

"Children can't visualize what's in the box," Campbell said. Items out of the box, available for interaction, give children a good idea of whether that toy will be a good match for them.

Nine-year-old Joe Ledford agreed that "demos are enticing."

8. Choose Your Store Carefully. "Having guidance is always helpful," said Tutone, who recommended shopping at small specialty shops instead of big-box chains because "[specialty] retailers know their products and can make recommendations based on their knowledge and experience."

Specialty toy-store owners tend also to be very selective about which products they stock. "I want people to get their money's worth, so I try to carry things that don't over-promise and under-deliver," Campbell said.

9. Empower the Child. Allow the child to spend his or her own money, suggested Dawson, "especially when it's money they've earned."

"They'll think more about the value of the toys and how useful they will be," Tutone said.

"Give suggestions and guidance," recommended Victoria (13), "but allow them to make the ultimate decision."

And if a decision turns out badly…

"If a toy is disappointing, the child will learn from that," summed up Dawson. "It's an inexpensive lesson."

Victoria agreed: "An occasional hard lesson learned is worth it in the end."


Here are some toys that exceeded the hype when reviewed by a

TD

monthly Roundtable. Then go to

TD

monthly's Holiday Gift Guide to find high-quality and innovative toys for the holidays.
Khet: The Laser Game by INNOVENTION TOYS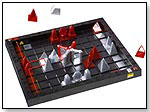 Khet combines lasers with cstrategy in an award-winning game that takes minutes to learn but yields infinite possibilities. Players move Egyptian-themed, mirrored pieces around the playing field, ending each turn by firing a laser that bounces around with the goal of knocking out an opponent's pharaoh. The silver player wins the game by deflecting his laser around the field and hitting the red player's pharaoh. With the addition of fog or smoke, the laser beam becomes visible for more high-tech excitement. Khet (formerly known as Deflexion) caused a stir in 2006 at Toy Fair and Pomona. "The game truly spans the generation gap, with enough technology to interest the 'video-gamers' of the younger crowd while maintaining enough classic strategy ... to interest their grandparents and everyone in between," Luke Hooper of Innovention Toys told TDmonthly. It received a 2006 MENSA Select Award and was a 2007 T.O.T.Y. Game-of-the-Year Nominee. Launch date: 2006. Read Review
— "Khet ... is great seller for us. It's new and did well — even at $50," summed up Danny Givens, owner of Little Dickens in Lynchburg, Va.
— "I put my money on Khet," Co-owner Michele Gietz of Where'd You Get That? in Williamstown, Mass., said in October 2008 about anticipated holiday best sellers. "We only bring in 15 at a time, but the price doesn't scare anybody off — just have to hit the right people."
― Taka Andrews, owner of Miller's Toy Store in Mamaroneck, N.Y., said Khet is a top seller for tween boys, despite the allure of video games. Seven of 39 retailers told TDmonthly in October 2009 that board games are their go-to items for tween-aged boys.
(

Watch Video) 5/27/2005 (MSRP: $44.95; Age: 9 and Up)



The T-Shirt Game by BUFFALO GAMES INC.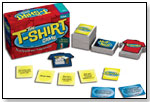 This fashionable party game allows players to create their own T-shirts by matching ridiculous slogans to outrageous images. Points are awarded using "Hot or Not" cards, which also entertain with clever references to popular culture. The game is intended for three to six players. Each game set includes 70 T-Shirt Cards, 209 Slogan Cards, 77 Hot or Not Cards and instructions. This product is an iParenting Media Greatest Product of 2007 Award winner. Launch date: January 1, 2007. Read Review 12/11/2007 (MSRP: $19.95; Age: 14 and Up)



Darkness Falls on Sevinpold by SEVINPOLD CASTLES INC.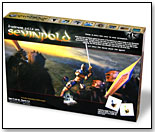 Darkness Falls on Sevinpold is a revolutionary new board game that's fun for the entire family. Sevinpold is a world where every castle is filled with secrets, perils, powers and magical creatures; where the heroes, known as the Valiant, must play as a team against the menacing Darkness in order to win; where victory cannot be declared until the very last roll of the dice when the Scepter is reunited with the Living Throne. With excitement at every turn, Sevinpold is a game that never plays the same twice. It challenges players every step of the way and maintains their interest so they want to play again and again. With two patents pending for its distinctive movement and innovative "team play" concepts, Sevinpold has changed the way board games are played.
— "Sevinpold hits that demographic of 8 to 14," said Darren Turbeville, owner of Toy Chest in Healdsburg, Calif. "We average a piece every 10 to 14 days."
— Sevinpold does "very well" at Thinker Toys in Carmel, Calif., said owner Mark Phillips. "I've sold through two or three re-orders. It's selling without even being demonstrated. Knights and dragons and pirates are the biggest category in the world."
— "I love it!" enthused 11-year-old Sara Seagle. "I think it has beautiful illustrations on it." TDmonthly's Homeschooling Roundtables families played with Sevinpold an average of seven times each from January to July 2006. VIEW ARTICLE, VIEW CHART (

Watch Video) 12/9/2005



Carrera Go!!! Speed Racer 1:43 Scale Slot Car Race Set by CARRERA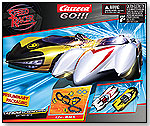 The supercharged Mach 5 goes head-to-head with Racer X's infamous #9 – Shooting Star – on a 1:43 scale. Fly down the track, careen around, over and through the competition, in this high-octane race set that includes almost 21 feet of track, a double loop, junction, flyover, lap counter, two turbo-speed controllers and the Mach 5 and Shooting Star cars. "Multi-generational fun," Keith L. Strickland, a representative for Carrera Toys, emphasized to TDmonthly. "No matter whether you're a beginner, young racer, or young at heart, Carrera Toys' entertainment-licensed 1:43 scale GO!!! MarioKart and Speed Racer slot-car race sets have mass appeal." This product won a Dr. Toy Award for Best Products for Summer 2008. Launch date: April 2008.
— "This toy was a huge hit in our household," said Sue Christensen, mother of four boys ages 6 to 14, all of whom participated in TDmonthly's Roundtable review of this product. "The kids were thrilled with Speed Racer from the moment they saw it in the box, through assembly and racing." 5/22/2008 (MSRP: $79.99; Age: 8 and Up)



Apples to Apples by MATTEL INC.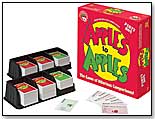 Apples to Apples is a wild, award-winning card and party game that provides instant fun for four to 10 players. It's as easy as "comparing apples to apples" ... players need only open the box and deal the cards to be ready to play. They then select the card from their hands that they think is best described by a card played by the judge. If the judge picks their card, they win that round. Everyone gets a chance to be the judge. Each round is filled with surprising and outrageous comparisons from a wide range of people, places, things and events. Fast moving and refreshing, Apples to Apples is perfect for any get-together with family and friends.
— "Sales have doubled every year," enthused Matt Mariani of Out of the Box Publishing in 2005. "We´re struggling to keep up to the demand." [Game previously available from Out of the Box.]
— Gwen Bowden, manager of Doodlehopper 4 Kids in Springfield, Va., told TDmonthly that she expected Apples to Apples to sell well during Christmas 2006.
― In early 2009, retailers reported sales of up to 40 per month of the Apples to Apples game.
― "We probably sell 25 a month," Mike DiAndrea, manager of Hardware Center in Paoli, Penn., told TDmonthly in early 2011. 4/22/2005 (MSRP: $29.99; Age: 12 and Up)



Apples to Apples Junior by OUT OF THE BOX PUBLISHING



Complete with 576 cards, Apples to Apples Junior 9+ 2nd Edition brings the award-winning card and party game, Apples to Apples, to the entire family. Readers, ages 9 and up, will delight in the clever comparisons while expanding their vocabulary and thinking skills. Read Review
— Toys Ahoy Owner Rob Slye from Barrington, R.I., said that Apples to Apples is a top seller for boys 9 to 12. "They like more game-type of things." Ricki Block, owner of Ariel's Child in New Windsor, N.Y., agreed: "[It's] one of our hottest."
— "Sales of Apples to Apples have doubled for us every single year … since 1999. We've now sold over two million games!" Matt Mariani, director of marketing for Out of the Box, excitedly told TDmonthly Magazine.
— Apples to Apples was picked as No. 2 of 18 toys evaluated by TDmonthly's Homeschoolers Roundtable for lasting value. "It's very, very popular not only for those at our house, but with friends who come to visit," summed up Roundtable Editor Susan Ledford. 5/12/2005 (Age: 9 and Up)



You've Been Sentenced! by McNEILL DESIGNS FOR BRIGHTER MINDS LLC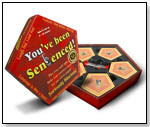 Using a deck of cards containing conjugations of funny words, famous names, places and wild cards, players make grammatically correct, justifiable sentences. They then read these aloud and explain their meaning to the jury (other players). The jury votes on whether the sentence and justification stand and then scores. The 540 cards, with more than 2,500 words, insure billions of possible sentences and laughs. "This is truly the first patented game in history to turn language into a seriously hilarious game," Chairman Don McNeill of McNeill Designs for Brighter Minds told TDmonthly. The game received the 2006 Oppenheim Toy Portfolio Gold Seal and the iParenting Media "HOT" Award, and was a winner of the FAO Schwarz Inventors Toy Audition. Launch date: May 5, 2005. Read Review
Awards: 2015 TDmonthly Top Toy Award (

Watch Video) 10/25/2006 (MSRP: $24.95; Age: 8 and Up)



Rapid 4® More by UNCLE SKUNKLE TOYS, INC.



Available in wood only, Rapid 4 More® adds more excitement and strategy to the fast-paced game of Rapid 4, with the addition of an entirely new, large playing surface. Play both sides of the board in your pursuit to grasp victory while foiling your friends along the way. Rapid 4 More also allows up to 4 players, extending the level of zany enjoyment to all involved.
— "This is a perfect game!" raved 7-year-old Ben Christensen, a reviewer in TDmonthly's Grade-School Roundtable, which collectively awarded Rapid 4 More four out of five TD stars.
— "For about age 8 and up Rapid 4 More is a fast fun interactive game for 2 to 4 players. Get 4 balls in a row in any direction, but be careful because you have to drop your balls from a maze to do it. A fun strategy game. Recommended!" Jennifer Shuman, of 1SmartNoodle, told TDmonthly at Toy Fair 2010. 2/7/2008 (MSRP: $89.99; Age: 8 and Up)



mark-my-time™ Digital Bookmark by MARK-MY-TIME LLC

This award-winning digital bookmark allows children to monitor and record their reading times. It features a countdown timer with an alarm, a cumulative timer for multi-session reading, a clock, a replaceable battery and a durable polyethylene body. It may also be used for music practice sessions, math fact practice, cooking and more. It comes in neon green, neon blue and neon purple.
— "The bookmark is compatible with small, paperback books, yet [the] screen is large enough to read clearly and [the] buttons are easy to operate," reported Teresa Wilson, a mother of four who reviewed this product for a TDmonthly Roundtable. (

Watch Video) 7/9/2007 (MSRP: $8.95; Age: 6 and Up)



Potty Monkey by POTTYMD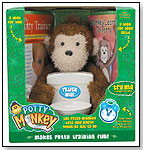 The Potty Monkey is designed to make potty training fun for ages 18 months to 7. It comes complete with a plush monkey, a toilet that makes real flushing sounds, a timer that can be set to 30 or 90 minutes, a diaper, underwear, a certificate of completion, a book for children by Dana C. Smith and Denise McClure titled "Monkey Learns to Potty," and a guidebook for parents called "The Potty Trainer" by D. Preston Smith. Potty Monkey asks to use the toilet, based on the timer setting, helping kids develop a healthy routine. "What sets us apart is the fact that this is a potty-training system focusing on education," Jennifer E. Marma, director of PottyMD, told TDmonthly. Launch date: January 29, 2007. Read Review (

Watch Video) 2/21/2007 (MSRP: $35.99; Age: 2 and Up)



Zoobie™ Pets - Kojo the Croc by ZOOBIES



This crocodile is a plush animal, a soft pillow, and a warm blanket all in one! In an exciting new, patented three-in-one concept, Zoobie™ Pets embody creativity and innovation. A Zoobie is the ideal travel companion — whether on the road, on a couch or in front of the television, Zoobie Pets make a perfect friend for any kid. They are machine-washable and child-safe. Read Review 9/13/2007 (Age: 3 and Up)



Zoobie™ Pets – Hada the Hippo by ZOOBIES


This pink plush pillow holds a detachable blanket and also serves as a bright stuffed animal. It has Velcro loop enclosures that make the transition from plush to pillow, and the blanket is zippered away inside. Read Review (

Watch Video) 3/12/2008 (Age: 3 and Up)



Ishababies® by AISHA & CO. LLC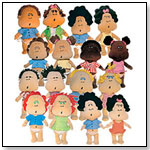 Ishababies® are the critically acclaimed family of "soft-sculptured friends" with "flavors" for everyone. In both 11" and Mini-Backpack Clip versions, they have a distinctive look, touch and feel that evoke strong appeal and lots of fun. Recognized as finalists for "Best New Product" – gift category in the 2007 and 2005 National Stationery Show competitions, Ishababies have global range that delivers on the Aisha & Co. brand promise of "One World...All Flavors." All authentic 11" Ishababies are clothed in the trademarked Ishababies diaper and have the signature of designer Aisha Bailey embroidered on the rear.
— Veronica Flamenco, a mother of four boys and reviewer for TDmonthly's Diversity Roundtable, appreciated that Ishababies represent "cultural diversity, and the individuality that we all possess." (

Watch Video) 7/9/2007 (Age: 3 and Up)



Piratack™ - The Board Game by GIDDY GOOSE 'N GANDER GAMES LLC



Aaarr! Hoist your sails and set your course for high seas adventure in Piratack. This thrilling new board game beckons you into a world where all can join in swashbuckling fun. Players must throw caution to the winds as their ships voyage through tranquil and stormy seas or pass through whirlpools. Ships must trade cargo to increase their strength in cannons because when time runs out, you can't escape...
Piratack. In the end, the fiercest will battle for the ultimate sovereign rule as Piratitan.
— "Innovative game play along with eye-catching graphics are two fundamental goals of our designs," Gerry Groundwater, owner and founder of Giddy Goose 'n Gander Games, told TDmonthly. "Although it costs more, we opted for hand-drawn graphics as a way of differentiating our product. This makes our approach and games particularly suited to specialty retailers."
— "The more players you have, the more fun you have (because there are more ships to attack!)," raved Susan Ledford, a Homeschoolers Roundtable mom who reviewed the game for TDmonthly. (

Watch Video) 1/2/2007 (MSRP: $29.95; Age: 8 and Up)



---
---


Copyright © 2021 TDmonthly®, a division of TOYDIRECTORY.com®, Inc.