---
Game Scores Four-in-a-Row for Design, Strategy and Fun
Rapid 4® More Keeps Reviewers Plotting and Playing
"This is a perfect game!" — Ben Christensen, 7

TDmonthly Magazine's Grade School Roundtable lined up to play Uncle Skunkle's Rapid 4 More and couldn't get enough of it. The game of strategy uses levers to manipulate a marble's path, making it challenging to get four marbles in a row — or block opponents from doing so.



Rapid 4® More by UNCLE SKUNKLE TOYS, INC.
Age: 8 and Up
Gender: Boys and Girls
Category: General Games
MSRP: $74.95

TDmonthly rating: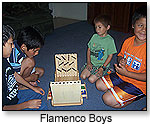 What It Is: Rapid 4 More is a game of marbles, levers and strategy. With each marble drop, the levers change, thus altering the path of the next marble. Players try to get four marbles in a row to score or to block opponents from scoring. The game board, with built-in storage drawers, features wooden construction and swivels to allow easy access to all sides.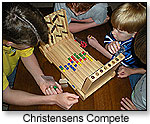 What the Moms Thought: Flamenco liked that it appealed to all of her kids: "I'm always looking for games or toys that [my four sons] all could play at the same time so that they don't fight over playing with the toys." Thomas pointed out that Rapid 4 More also appealed to adults.

"I liked the requirements of forethought to predict how the balls would navigate the levers and strategy to foil opponents' plays while plotting one's own," Dawson said. She also appreciated "Uncle Skunkle's charitable vision and use of sustainable materials," which she read about on the website.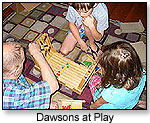 Wilson raved about the storage drawers — "a magnificent design!" — and appreciated that the game board swivels. "The rotating game board makes it easy for each player to ponder and plot his play with ease," Ledford agreed.

What the Kids Thought: "Rose (7) and Liz (12) like this game," Thomas raved. Mac (14) appreciated that strategy, in addition to luck, was needed to score. The Flamenco boys "really had a blast" and enjoyed dropping the marbles into different slots, noted their mom.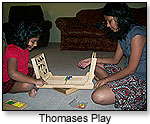 Joshua (10) "thought it was neat that the lever positions changed with each turn, so 'you have to keep changing your plans,'" he told his mom. Sara (7) was also fascinated with the mechanics: "On the day the game arrived, she spent at least an hour alone with it, just dropping balls through different holes and observing where they ended up," Dawson said.

Ben (7) raved, "This is a perfect game!" Ethan (9) most enjoyed preventing an opponent from scoring. "This is outrageously fun!" he told his mom.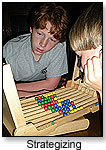 The Wilson children liked the ease of setup and that the game was just as fun whether there were two, three or four players. "This is harder than it looks," they told their mom. Joe (8) thought the durable wooden construction was "cooler" than plastic.

What the Kids Learned: Kent (14) listed critical thinking skills, and Joshua (10) learned about the mechanics of levers. "I definitely think that new synapses formed, based on their having to strategize with so many variables present — so many levers, so many different channels, so many ways to score or block," Dawson said.

Flamenco added concentration and problem-solving skills. Ledford noted that the game also aids spatial thinking.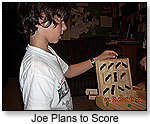 How to Improve It: Christensen would like to be able to lock the hinges on the side panels during play to prevent collapsing. Thomas agreed: "Fingers of little players can get caught." [Editor's Note: The manufacturer informed TDmonthly that "alterations have already been made at the factory for the next production run in order to further stabilize the panels."]

Although Christensen and Wilson appreciated the wooden construction, they found the price somewhat prohibitive. "But Rapid 4 More is a huge hit with my kids," Christensen said. Dawson thought some text and a picture of a child dropping a ball into the game board would increase shelf appeal.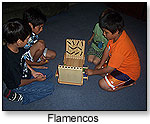 Based on Sara's (7) enjoyment and full understanding of the game, Dawson suggested dropping the recommended age level to 6. Wilson noted that while her grade-school children immensely enjoyed this game, her middle- and high-school-aged sons did also. Kent (13) enjoyed the game so much he would prefer it to be portable.

Since some of the levers had come off their pegs during shipment, Dawson said, "The directions should mention that levers should be placed on the pegs with the hollow end down." She learned the hard way, without realizing the levers are weighted.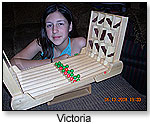 Kent (13) and Flamenco would like to see the game expand the number of simultaneous players from four to six. Thomas suggested latches to keep the drawers closed, since "the drawer fell down while Rose [was] carrying the game." She also thought "more colorful and attractive packaging will catch potential buyers' attention." [Editor's Note: "Future Rapid 4 Mores that are intended for retail locations will have much more approachable packaging designs," the company assured.]

Christensen encountered an unclear scoring situation involving different marbles in the same four-in-a-row position as in the previous turn.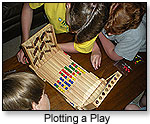 Would You Want Another Toy Like This? "The kids have loved this game," noted Christensen. Joe (8) enthused, "Let's play again!"

Roundtable participants are Sue Christensen with Mac (14), Kent (13), Joshua (10) and Ben (7); former corporate accountant Robbin Dawson with Ethan (9) and Sara (7); substitute teacher Veronica Flamenco with Matthew (11), Jonathan (9), Emilio (8) and Brandon (6); Susan Ledford, editor of the "Homeschool Resources Directory for SC," with Victoria (13), Joe (8) and Griffin (2); World Bank policy advisor Gail Richardson with Alexander (8) and Jessica (5); stay-at-home mother Mildred Tong with Alyssa (9), Ethan (7), Lexi (5) and Erik (18 months); and Teresa Wilson, editor of "HOMES Newsletter," with Timothy (15), Andrew (12), Elise (9) and Steven (7).

Writer's Bio:
Susan Ledford is the writer, editor and publisher of the "Homeschool Resources Directory for S.C." She has been evaluating toys and games for
TDmonthly
's Roundtable reviews since 2005. She also is a homeschool veteran of seven years.
Read more articles by this author
THIS BANNER IS AN AD:
---
---