Tools:






Toys to Talk About: Construction
These construction toys will keep kids busy - and happy.
NanoBlock Space Shuttle DX by OHIO ART CO.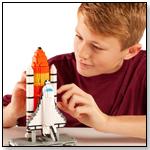 You don't have to be an engineer to create with Nano Blocks. With these micro-sized building blocks, a 3D Space Shuttle is constructed like never before. Watch in amazement as the Shuttle is erected to even the tiniest detail. With over 1600 assorted size pieces, create a detailed replica of the Space Shuttle, that fits perfectly in the palm of your hand. Includes detailed color instructions. Not designed for children under age 8. This would be a great addition to any collection and a perfect gift for any inspiring designer, architect or collector. 1/31/2016 (Age: 8 and up) [Add to my Inquiry Basket][?]



LEGO Star Wars - First Order Snowspeeder by LEGO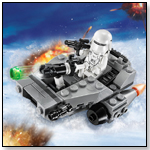 Drive back the enemy with the First Order Snowspeeder™ featuring three-man crew, storage, stud shooter, rapid-fire shooters, hidden wheels and more. 1/31/2016 (Price: $39.99; Age: 8 and up)



Arckit by ARCKIT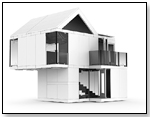 Based on today's contemporary building techniques, ARCKIT 60 consists of a series of interconnecting modular components permitting you to design, build and modify multiple structures. Ideal for creating smaller structures, student projects, interior designs, home extensions, and for learning the basics. This is also a great gift for budding architects. 220+ pieces, up to 650 sq ft floor area (to scale). 11/24/2015 (Price: $129.00) [Add to my Inquiry Basket][?]



MEGABLOKS® Halo Phaeton Gunship by MEGA BRANDS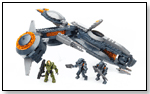 The UNSC will be diving for cover with the arrival of the Phaeton Gunship by Mega Bloks Halo! Used by the Forerunner Prometheans in their long war against the virulent Flood, the Phaeton once again takes to the skies. Build the Phaeton and support the two Promethean Soldiers as they try to prevent a brave Spartan from getting a lock on the Phaeton with her rocket launcher! Ideal for ages 8 and up Features: Buildable Forerunner Phaeton, featuring front turret and two heavy beam cannon arrays Includes a highly detailed, super-poseable, UNSC Spartan and two Promethean Soldier micro action figures Spartan micro action figure features detachable Orbital armor and authentic Pilum Rocket Launcher weapon accessory Promethean Soldiers can be armed with a Boltshot and Binary Rifle weapon accessories Collect and combine with other Mega Bloks Halo sets to build your own authentic Halo universe! 11/6/2015 (Price: $44.99; Age: 8 and up)



Mighty Makers - Home Designer Building Set by K'NEX BRANDS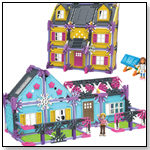 Build your dream house from the ground up with Brianna and Sophia in the Home Designer™ Building Set. Sophia loves building, while Brianna helps with the finishing touches of the interior. These best friends are a dynamic duo when it comes to building and decorating houses. Help them build different styles of houses - a colonial, a brownstone, and a ranch. Decorate the houses using the included accessories and make their home, your home with the Home Designer™ Building Set from Mighty Makers®. Most models can be built one at a time. Includes 433 K'NEX parts and pieces. 11/3/2015 (Price: $49.99; Age: 7 and up) [Add to my Inquiry Basket][?]



Kids First Level 1 - Automobile Engineer by THAMES & KOSMOS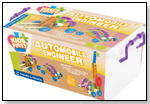 Read the funny story of two inquisitive kids and build simple models of the vehicles they encounter on their comical trip to the supermarket with their dad. Along this roundabout journey, the kids build various vehicles to help the people in their town solve problems and complete tasks. As you follow the story, you can build models of the 10 vehicles in the story. Large, colorful plastic building pieces make it easy for small hands to put the models together. 9/30/2015 (Price: $45.00) [Add to my Inquiry Basket][?]



Wonderworld Trix Track - Cat & Mouse Track by SMART GEAR LLC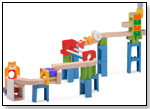 The Trix Track Cat & Mouse Track is more than a classic wooden ball run with fun and exciting eye-catching tricks and an easy locking system that keeps your creations stable while you build your maze. With your imagination there are endless configuration possibilities! The Trix Track Cat & Mouse Track includes exciting new blocks that add an entirely new dimension to Trix Tracks which allow you to build faster and higher than ever before. Watch the mouse chase after the cheese thru many obstacles and the challenge of big cat waiting at the end of the track! Trix Tracks help understand the cause and effect relationship. Specially designed bricks are made from a combination of eco friendly recycled saw dust and food grade plastic so it is safe, durable and good for the environment. Combine with other Trix Track sets to create even larger tracks, more trix and endless fun! 9/30/2015 [Add to my Inquiry Basket][?]



Laser Pegs Tinted Space Fighter Sci-Fi Set by Laser Pegs Ventures, LLC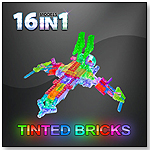 Laser Pegs® Sci-Fi Kit. Build the light up Transatmospheric Fighter and 15 more light up models like the All Terrain Racer, Alien Rover Droid, and the Automaton. 7/20/2015 (Price: $44.99) [Add to my Inquiry Basket][?]



Gears! Gears! Gears!® Sweet Shop by LEARNING RESOURCES INC.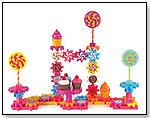 Get creative and build with the Sweet Shop Building Set! Mix, match and create your own beautiful, spinning sweet shop! Set includes: colorful gears, cupcakes, lollipops, ice cream cones, gum drops, and more! Parts are all interchangeable, allowing for endless combinations and designs. Let your imagination grow!

7/2/2015 [Add to my Inquiry Basket][?]



Builderific by WOW TOYS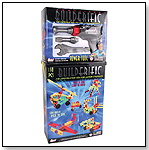 118 piece Builderific with 4-pc toolset including power drill. Durable plastic.
— Gregory Faith, owner of Inside Out Hobbies in Nashua, N.H., told TDmonthly in a May 2015 survey that this was a best-selling construction toy at their store. 5/28/2015



Light Stax by LIGHT STAX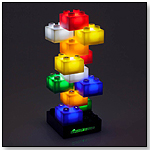 Light Stax is a new award winning toy startup that launched in 2014 in Europe and the USA. Light Stax are beautifully illuminated construction blocks that use LED technology, but are still 100% compatible with existing traditional building blocks. Using our patented system, each Stax will magically light up as it is connected to a power base or any lit Stax. No special connectors or wires are needed. Just stack them and they light up!
— David Stelzer, owner of Shananigans in Baltimore, Md., told TDmonthly in a May 2015 survey that this was a best-selling construction toy at their store. 5/28/2015



Super Blocks Track Set 2 by MINILAND EDUCATIONAL CORP


Part of Miniland's best-selling construction sets, our super blocks contain versatile parts that can be assembled in different ways. They surprise the little ones and the infants, and amuse them with their multiple possibilities, as with the same set different results can be obtained. This particular set is a great track of Super Blocks with 2 characters, 2 cars and 57 pieces. Large, tough and durable blocks. Include activity cards and made for children aged 18-36 months.
Awards: 2015 TDmonthly Top Toy Award 4/28/2015 (Age: 1 to 3) [Add to my Inquiry Basket][?]



The ZOOB(R) Z-Strux(TM) Lift Sky Crane by ALEX BRANDS


Each Z-Strux set can make four possible builds. This set includes 395 pieces, including two construction-worker figurines. When completed, the build is 26 inches tall.

2/15/2015 [Add to my Inquiry Basket][?]



Catalog Request Form
THIS BANNER IS AN AD:
---
---