---
Toy Fair 2016 - New Toys
Toy Fair is over, and we're all excited to see which products from the show will emerge as the year's hottest toys.

Luckily, you can revisit some of the best contenders through our Toy Fair coverage, right on this page. From hoverboarding Barbies to preschool toys that teach kids to code (and 3D printers galore), it seems that the future of toys is, in fact, here.

These are just some of the products we saw at the fair that could take off as hits in the coming year.

Interactive
Mattel was showing off the new View-Master Viewer DLX, which builds on last year's entry with even more interactive features and integration with a View-Master app. The DLX will retail for about $40, and will be available this fall.



Thames & Kosmos Code Gamer is just one of many toys at the show this year seeking to teach kids the ins and outs of coding. Kids play through a video game, and each level teaches different elements of Arduino coding. The kit consists of a controller that connects to a tablet, and a teaching game.



Cloud B is introducing an interactive toy called BeeBop, a bluetooth connected toy that can stream playlists from your phone to help kids sleep. The lights strobe to the beat of the music, and you can opt to play the lights sans song, too.



Moose Toy's Selfie Mic takes the much-maligned Selfie Stick and makes it part of an interactive karaoke game. As kids sing into the attached mic, the screen shows whether they are on pitch or falling flat. The product will be available this fall for $24.99.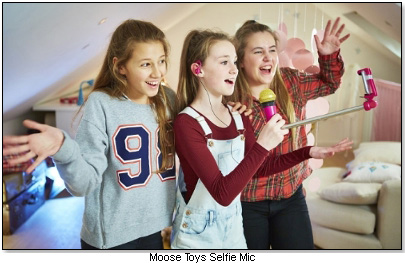 Preschool Toys
Crayola's new Emoji Maker kit seeks to blend traditional arts and crafts with the digital age, in a way that hopefully will keep kids away from their screens for at least a little bit each day. Kids can create their own custom color emoji stampers with the kit, then leave their mark wherever they like (and are allowed).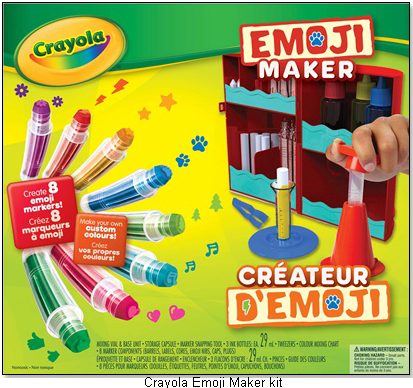 Disney introduced Elena of Avalor, a princess with ties to Sophia the First, by way of several Hasbro dolls. The character will be the star of a new Disney Channel show this summer.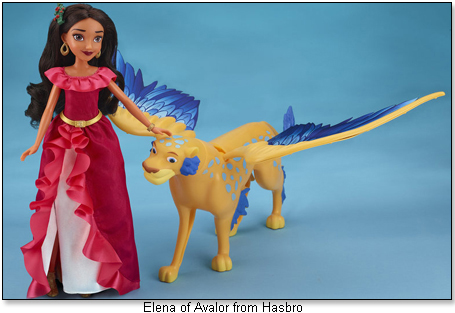 Fisher Price's Thomas the Tank Engine is getting a makeover, in a line of Mash-Up Minis that take inspiration from DC Comics, including a Rosie/Supergirl train figure.


Fisher Price also showcased Code-a-Pillar, a preschool toy that introduces kids to the concept of coding.



Wicked Cool Toys is giving the Cabbage Patch Kids a high-tech makeover. The new interactive dolls have LCD eyes, lights in their cheeks that flush if the doll is "sick," and sensors in different areas that interact with accessories (like a bottle and medicine spoon). The doll interacts with an app, in which an avatar of the doll acts out how the doll is being played with (for instance, feed the doll with its bottle, and the app will show it drinking from a bottle). The doll will retail for about $99 and will be available this fall.



Bachmann Trains demo'd their Track Play Tape, a cool adhesive train track tape that can be applied and removed from almost any surface, so kids can build the train track of their dreams.



A classic for a reason, TMI Toymarketing International's bouncy Rody horses always make a splash at Toy Fair.



Aurora World introduced their new Gnomlins line, fun elfin plush toys that are full of character. They also announced a licensing partnership with Precious Moments, and debuted that line at the show as well.



Gund debuted a Pusheen surprise plush toy that's sure to delight fans of the character.




3D Printing
Qixels is a 3D printer toy that allows kids to create their own pixelated characters to play with while they learn about the science of 3D printing.

Another entry into the 3D printer category is the Thingmaker 3D Printer from Mattel, which works with an app to help kids create toys, then print them into reality.



Redwood Ventures has a slightly different take on 3D. Their vertical 3D-printing pen allows kids to create objects as they draw in thin air, making everything from dinosaur models to ferris wheels.



Star Wars
LEGO introduced its latest Star Wars toys a the show, including 25 new sets, some of which showcase scenes from Star Wars: Rogue One, due to hit theaters this December. LEGO also introduced its first sets based on the "Lego Star Wars: The Freemaker Adventures" series, which will debut on Disney XD this summer. Sets include the Eclipse Firefighter and StarScavenger, to retail from $30-50.



Spinmaster showed off their new life-sized BB-8 robot, which will be available this fall for $180. The robot responds to verbal commands and a corresponding app, and can also be set to follow its owner wherever they go.


STEM
GeoCentral was showcasing some of their latest STEM-skill building kits, including their I Can! Discover and Learn sets.


Tween
Mattel unveiled several new Barbie toys, including the buzz-worthy Presidential Barbie and Vice President Barbie, part of their "You Can Be Anything" line. The President doll is wearing a red, white and blue two-piece skirt and jacket, while the Vice President Barbie dons black trouser pants and a vibrant yellow peplum top. Other careers include dentist, chef, doctor and pilot.



Barbie got more than a few new debuts at this year's Toy Fair, but (other than President and Vice President Barbie) Barbie Star Light Adventure RC Hoverboard has to be the coolest. This Barbie doll actually flies around on her own remote-controlled drone hovercraft. Even more impressive? The toy will retail for just $59.99 when it debuts this fall. If that's not a toy of the future, I don't know what is.



Nerf is alarming some folks with its newest product, the Nerf Rival Blaster ATLAS XVI-1200, which allegedly fires two rounds at speeds of up to 68 miles per hour every time you squeeze the trigger. Supposedly the ammunition is soft enough not to hurt anyone, but do kids really need to be playing with toys that emulate automatic weapons?



Building off the success of My Little Pony, Hasbro showcased their new Equestria Girls toys. The toys and corresponding animated show exist in a parallel universe where the popular ponies are human beings with special talents. The new line is, dubbed the "Legend of Everfree" includes the characters in fashionable, bohemian outfits.



Jakks Pacific's Tsum Tsum collectibles are making a splash at Toy Fair. Tsum Tsum (which means stack stack in Japanese) already has some plush toys on the market, but the new baby Disney character figures look super collectible, and if Shopkins are any indication, minis are in.

Jakks is also introducing several Disney princess character dolls (including a line of Disney Princess Toddler dolls) and play sets at the show.



Could Infinity Linx from The Bridge Direct be the next Rainbow Loom? This arts and crafts line has kids link together different plastic pieces to create elaborate necklaces, bracelets and headbands.

Thames & Kosmos Geckobot is a new kit from T&K that climbs walls and other smooth surfaces, thanks to a combination of suction cup feet, gears and pressure valves. The kit will retail for around $50 and debuts this fall.



Marshmallow Fun was at the show, and their marshmallow blasters are always fun to check out.



Laser Pegs has a few new toys coming out in 2016. They're a favorite manufacturer of many specialty toy stores, according to interviews conducted by TDmonthly, so it's always exciting to see what they're bringing to the table at Toy Fair.




Baby
Hasbro is launching a line of My Little Pony baby toys. There's a plush pony doll named "Flurry Heart," the daughter of two of the characters, that makes noises when it's fed and laughs when it's tickled, much like a typical interactive baby doll.



Writer's Bio:
Justina Huddleston graduated Magna Cum Laude from Emerson College with a BA in Writing, Literature, and Publishing in 2009. After graduating she was the on-site director of the Boston Children's Museum gift store for a year, selling educational, developmental, and creative activity toys that tied in with the museum's exhibits. Justina also interned at children's book publisher Candlewick Press before moving from Boston to Los Angeles, where she is now Editorial Director of
TDmonthly Magazine
.
Read more articles by this author
THIS BANNER IS AN AD:
---
---