---
Toys to Talk About: Educational
These educational toys are worth a second look.
LeapFrog 100 Animals Book by LEAPFROG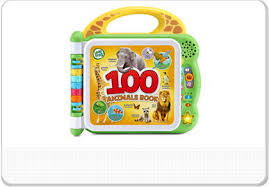 Six double-sided, interactive pages feature animals from 12 categories such as the forest, the ocean and the shore
Explore three play modes that teach about animal names, animal sounds and fun facts
This fully bilingual book lets kids learn about animals and sing songs in English and Spanish
Fun facts about animals provide an early introduction to science concepts
Intended for ages 18+ months; requires 2 AA batteries
10/22/2020 (Price: $18)



ABC & 123 (Deluxe) Learning Collection by BRAINY BABY


Brainy Baby® has been a leader in preschool video development for more than a decade. Created by educators and parents, this award-winning series uses a time-tested, proven teaching method that follows a lesson plan format. Each video reinforces lessons through engaging, real-life objects and fun sing-alongs to which kids can relate. Brainy Baby® helps children discover a world of learning with quality products that children love and parents trust. A complete line of complimentary DVDs, books and flashcards are available to help your child develop a love of learning for a lifetime.® 2/3/2015 (Price: $99.99) [Add to my Inquiry Basket][?]



Owls with Glasses and Foxes with Glasses Page Clips by RE-MARKS INC.


Mark the spot in your current book, hang a note on the fridge, or organize your papers with Re-marks magnetic page clips. Each clip is made of sturdy, UV-coated paper with a vinyl magnet, and can be used as a paper clip, fridge magnet or a staple, making both reading and organization fun!
Page clips are collectible gifts at friendly price, so they're perfect for a register-adjacent impulse buy. 1/23/2015 [Add to my Inquiry Basket][?]



3D Digital Bookmark by MARK-MY-TIME LLC
The Mark-My-Time™ 3D Digital Bookmark is a convenient, easy to set timer to count down or accumulate reading time.
Motivational - encourages kids to read often and independently while helping them to record time for school or library reading logs.
Portable - Encourage reading anytime and anywhere with a design that can remain in the book and be "on the go" like you are. Time is stored in the bookmark until you delete it.
This bookmark is ideal for timed math fact activities, music practice sessions, homework study sessions and more. Parents and teachers across the country confirm that Mark-My-Time bookmarks are a great way to get kids excited about reading and wanting to read more. Made of durable polyethylene plastic and now available in three cool 3D Royce animal images, a Snow Wolf, Turtle Town and a special "in motion" T-Rex which transforms from reptile to skeleton. These exciting new bookmarks will be shipping, just in time for the holidays at only $11.95.
Launch date: October 7, 2014 8/28/2014 (Price: $11.95; Age: 5 and up) [Add to my Inquiry Basket][?]



Becca & Bas - A Trip to the Park by BECCA & BAS THE KNOWLEDGE TRACKERS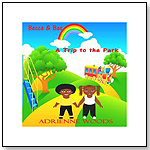 The first book in the Knowledge Trackers series. Becca & Bas, The Knowledge Trackers is dedicated to empowering, equipping and promoting literacy among African American children through an interactive doll and adventure series called "The Knowledge Trackers." 4/28/2014 (Price: $5.99) [Add to my Inquiry Basket][?]



MOVA Pendants by TurtleTech Design, Inc.


MOVA Pendants perfectly framing the magic of perpetual motion. Any of the 4.5" MOVA Globe designs can be made into pendants upon request and the pendant base comes in black or clear acrylic. The Silver/Blue Metallic MOVA Pendant has a contemporary and refined look with navy/indigo oceans and silver metallic finishes on the land masses. 8/26/2013 [Add to my Inquiry Basket][?]



Lie Detector Assembly Kit by ARTEC EDUCATIONAL
By amplifying a marginal amount of current flowing through your body, the meter's needle will move! Make your friends sweat under pressure! Have fun learning about electrical current and resistance. 6/10/2013 (Price: $9.99; Age: 8 and up) [Add to my Inquiry Basket][?]



THIS BANNER IS AN AD:
---
---