Mattel's latest line of barbies is making a splash, and it's easy to see why. The company is finally branching out, releasing new curvy, petite and tall dolls as part of a new Fashionistas line being released this Spring.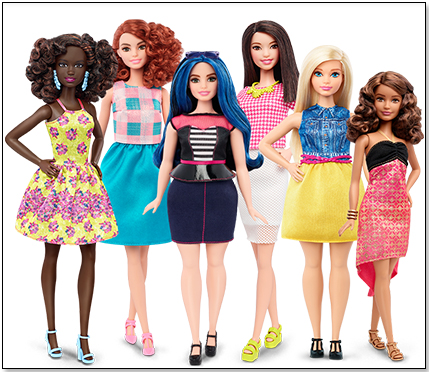 Not only are they showcasing a more realistic representation of body type with their latest dolls, but the newest Barbies will also come in seven skin tones, 22 eye colors, and 24 different hairstyles (including blue hair, for any aspiring alt-tweens).

In recent years, Barbie has gotten flack for promoting an unhealthy, unrealistic body type that many young girls aspire to.

"That's exactly why I tried to avoid Barbies," Los Angeles resident and mother Francesca Pappagallo told the LA Times about her daughter. "I don't want her to think this is how her body should be."

In fact, in one study, girls who were exposed to images of Barbie dolls and then had their body image assessed were found to have lower body esteem and "a greater desire for a thinner body shape" than girls who were shown images of Emme dolls (a US size 16) or no dolls at all.

Perhaps that's why, for years, the specialty toy industry has been at the forefront of making alternative fashion dolls that have more realistic body types.

The Lammily doll, launched in 2014, is modeled on typical human body proportions. One of its predecessors, Karito Kids, featured a line of dolls of varying ethnicities, whose figures were based on the body type of an average 11-year-old girl.



It's great to see that one of the big toy companies has finally caught on to what the specialty toy industry has known for years - that young girls are better off playing with dolls that present a realistic image of the human body.




-Updated, May 2020 with Barbie related clips:






















Writer's Bio:
Justina Huddleston graduated Magna Cum Laude from Emerson College with a BA in Writing, Literature, and Publishing in 2009. After graduating she was the on-site director of the Boston Children's Museum gift store for a year, selling educational, developmental, and creative activity toys that tied in with the museum's exhibits. Justina also interned at children's book publisher Candlewick Press before moving from Boston to Los Angeles, where she is now Editorial Director of
TDmonthly Magazine
.
Read more articles by this author