Tools:








Ubisoft – short term outlook good; long-term prognosis cloudy
Ubisoft is expected to break for the first time the €1.5 billion revenue mark this year, driven by a whole host of strong games – of which Far Cry Primal and The Division, both in the first calendar quarter, are the prime contributors.

The Company's market share in the U.S. as a result quadrupled during the first three months of the year: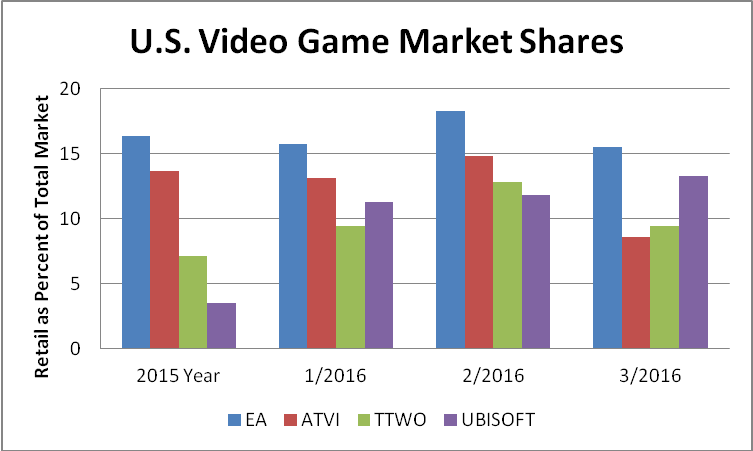 Source: Klosters Retailer Panel [Note that Toys To Life sales are not included in ATVI's share]

This very positive trend is also confirmed by social media metrics as measured by TickerTags – yet, note the sharp drop-off in late April:




Source TickerTags

However, things become a little quiet after that – there is Champions of Anteria at the end of August and then nothing until the end of the year when South Park Fractured, For Honor and Tom Clancy's Ghost Recon: Wild Lands are expected to kick in. All three of them are scheduled for pre-order at Target and Best Buy with execution promised for 12/31. This suggests shipment by Ubisoft sometime in December and this assumption is built into the 2016 Revenue forecast below: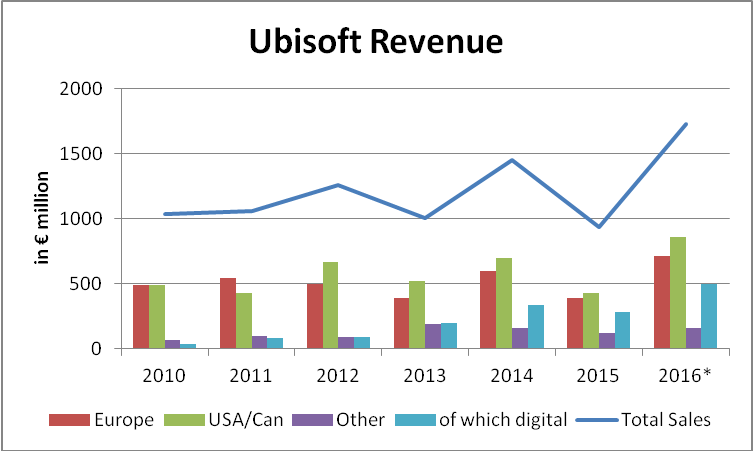 Source: Company information and Klosters Retailer Panel projection

Even given this very aggressive projection, Ubisoft continues to be a very distant third amongst the top publishers:



Source: Company information and Klosters Retailer Panel projection

Further out, things are beginning to look less rosy. In comparison to the seven game releases in both 2015 and 2016, there are at this point only two scheduled for next year – Assassin's Creed Empire and Watch Dogs 2. Since there may be others, so far not announced, it is too early to make a meaningful projection for 2017. However, if nothing changes for the better, revenue is likely to be in the US$ 1 billion range which would likely relegate Ubisoft down to the fourth position.

The delay in releasing Assassin's Creed Empire, first scheduled to coincide with the release of the Assassin's Creed movie by Fox on December 21, 2016, is particularly unfortunate. While this movie is not very likely to break major records, it is expected to achieve a strong second-tier box office number in the order of more than US$100 million worldwide. Depending on when the game will be released, the impact of the movie on it will be considerably weakened as a consequence of this delay.

Over the longer term, Ubisoft faces three major problems which, if not fully addressed, will likely become an existential threat to the company.

The first is quite fundamental – it concerns the quality of its games. Over the past three years, Metacritic has shown the quality of Ubisoft's games to have declined to now the lowest level of the four major publishers: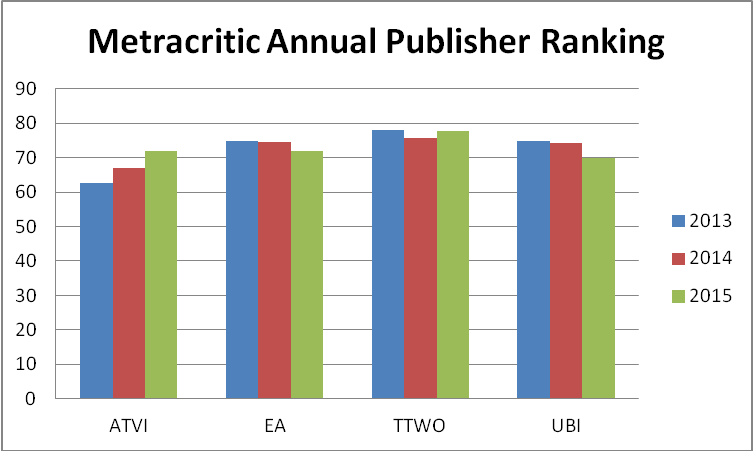 Source: Metacritic publisher ratings

Add to this the technical issues that tend to beset Ubisoft's releases. The most recent example is The Division which was plagued by widespread log-in and connectivity problems.

The second is its continued failure to harness the digital space and hence to rely on retailers to make the bridge to the consumer. There are a couple of reasons why all other publishers are pushing digital sales – higher gross profit because they do not have to absorb the retailer margin nor pay for packaging and shipping; less product piracy because digitally transmitted games cannot be copied; and the elimination of used product competition. Ubisoft's lagging progress in comparison versus its main competitors is best demonstrated by the chart below: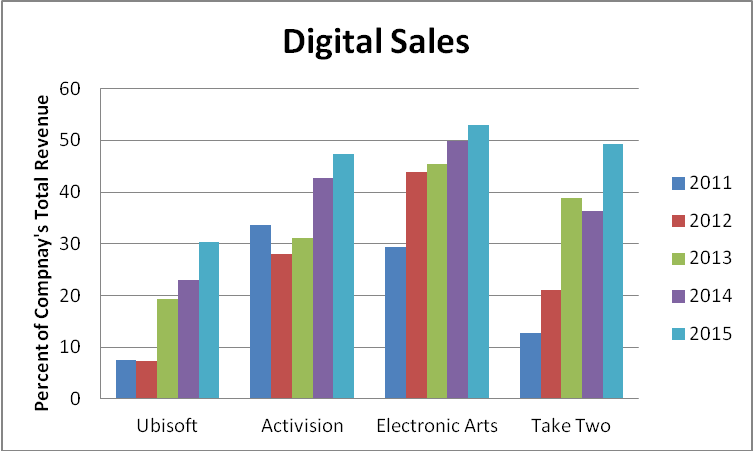 Source: SEC filings

The third issue concerns mobile apps or rather, their absence. According to an article in the Wall Street Journal on April 21, 2016, mobile games will this year generate more sales than those played on PCs and Consoles. Mobile Games this year are expected to grow by 21% to more than US$ 35 billion worldwide The chart below demonstrates the progress of mobile games: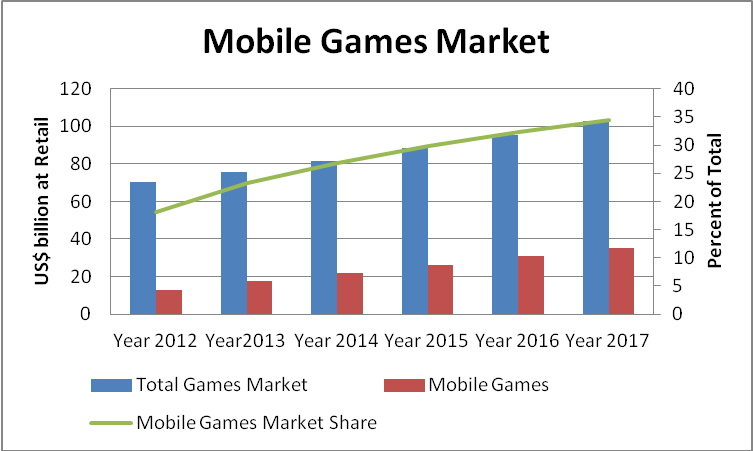 Publishers generate income by either selling the mobile games apps or add-ons or through placing ads into free games. The IPhone is the most widely used device for mobile games apps in the United States. As of end of March, 2016, these were the market shares of the four major publishers: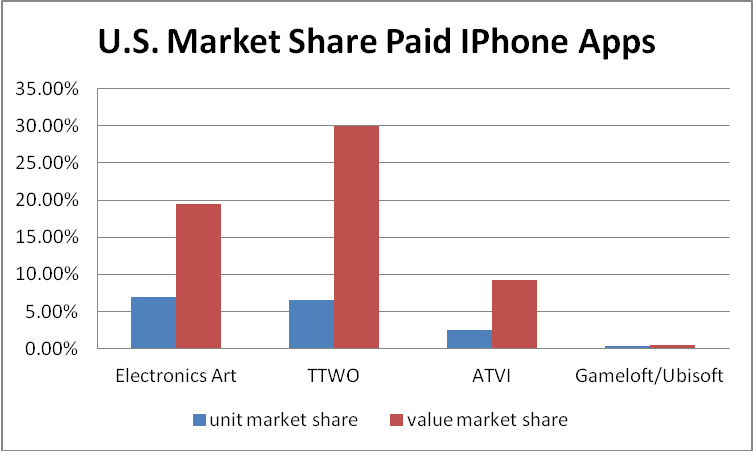 Activision has recognized the importance of the mobile games app space and its own marginal presence in it. As a result, they just acquired King Digital Entertainment. While King Digital is no factor in paid apps they still make a ton of money on add-ons to their games – e.g. Candy Crush – and hence have an estimated 10% market share in the mobile game space. As a result, Activision is likely to achieve a 20% penetration of the Mobile App space by end of this year. There is widespread speculation that both EA and Take Two will also add to their mobile games portfolio with acquisitions and this, if true, will further accelerate this ongoing trend.

At this point, Ubisoft, or its partner Gameloft, has no presence worth talking about and there is no indication that this is about to change.

Given these headwinds facing the company, it is somewhat surprising that Vivendi appears dead-set on acquiring Ubisoft and has already bought a 15% stake in the company. The reason is not that Vivendi are not familiar with the video game market – they are. They had merged with Activision in 2008 and controlled 52% of the combined Activision-Blizzard entity. They restricted their role to that of an absentee-landlord and did not too well in terms of their investment – they had bought the shares at their peak and sold most of them at the bottom. The two companies finally parted ways in 2014.

Vivendi now obviously wants to get back into the game given its vast media interests, notably Pay-TV, movies, radio and recorded music. Video Games are the fastest-growing segment of the media space and there would be considerable synergies attainable as a result of a major video game acquisition. Incidentally, Vivendi has also already bought 28% of the mobile games maker Gameloft, a company owned by the same family that controls Ubisoft.

Ubisoft, like Vivendi, is a French company and there would be little opposition from the French authorities to Vivendi acquiring Ubisoft.

The problem with a Vivendi takeover is that none of the present Vivendi crowd have real expertise in the video game space. Ubisoft management knows this and they have threatened to let their most talented people take a walk if there is a hostile takeover. To avoid this, Vivendi could make a deal with Ubisoft management and let its current executives run the show. However, if you believe that the fundamental problems facing Ubisoft today can be traced directly back to this same management, then this is hardly a palatable solution for Vivendi. The alternative would be for Vivendi to fire the owners, buy off the key talent, and put a seasoned Video Game CEO in charge.

It will be interesting to see what choices Vivendi will make.
Catalog Request Form

Writer's Bio:
Lutz Muller is a Swiss who has lived on five continents. In the United States, he was the CEO for four manufacturing companies, including two in the toy industry. Since 2002, he has provided competitive intelligence on the toy and video game market to manufacturers and financial institutions coast-to-coast. He gets his information from his retailer panel, from big-box buyers and his many friends in the industry. If anything happens, he is usually the first to know. Read more on his website at www.klosterstrading.com.
Read more articles by this author
THIS BANNER IS AN AD:
---
---