---
Barnes and Noble – the bad News and the good News
First the bad news.

Their sales continue to be flat in the all important Stores segment and are going south for NOOK. Their College effort has so far shown only marginal growth. Finally, B+N's top revenue line has not seen an uptick since 2011: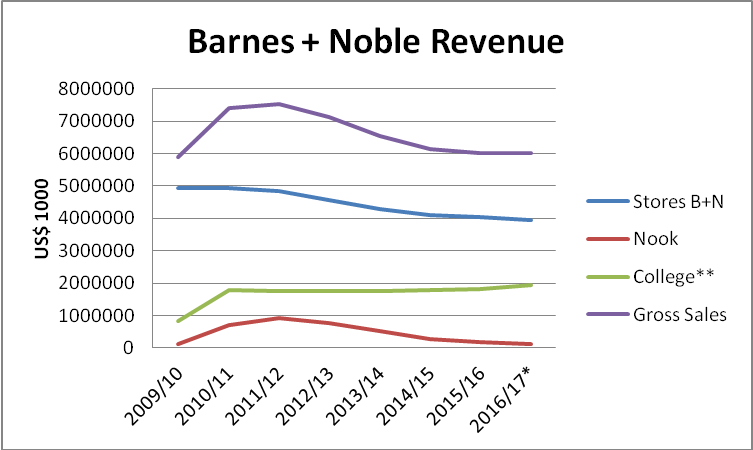 Source: SEC Filings * Projected **Separate Company since August 2015

Secondly, NOOK continues to be a disaster zone. Barnes + Noble basically outsourced Nook's hardware development to Samsung in 2014. This collaboration has yielded a number of new devices but none able to stop the ongoing decline in NOOK's sales. More worryingly, Ronald Boire, the B+N CEO, during the June 23 Investor Day presentation, said that the key objective for the NOOK was to cut costs so as to minimize losses. You simply do not grow the top line by totally focusing on cutting costs. There is such a thing as innovation, be better than the other guy, give the consumer what he or she wants. All this was missing. Also, Ronald Boire was asked a very specific question by Randy Baron of Pinnacle Associates:

"You talked about exiting apps and all the things you're doing to cut costs. Are there some contractual reasons that you can't just exit the business entirely?"

Mr. Boire never answered this question and I would conclude from this that there are indeed no contractual reasons preventing a NOOK exit and that, therefore, such an exit is indeed in the cards. The ostensible reason for not dropping NOOK is, in the words of the company, that "because the e-reader's fans are also heavy book readers". This does not make any sense to me. These consumers do not read printed books just because they have a NOOK and they are very unlikely to stop reading books if B+N drops the NOOK. This is like arguing that the Coca Cola company cannot drop the Odwalla drink range because the Odwalla consumers also drink Diet Coke.

So much for the bad news. But there are also good news.

One is the fact that the College business under the nomer of Barnes+Noble Education Inc., spun off last year, has not only shaken off the problems attending such a separation but is also now poised to grow fairly substantially. They are adding a whole host of very important and prestigious clients such as Georgetown University and they are as a result increasing their store count from their current 751 stores to 783 in the course of the 2016/17 financial year.

The second is that B+N's core business, printed books, appears to be stabilizing. Yes, Amazon continues to be a formidable competitor but Barnes + Noble has a few advantages over it. One is that the store is a destination which Amazon is not. Secondly, its store personnel are readily available to help and are very knowledgeable which Amazon's customer service people are not. Finally, Barnes + Noble is very competitive in pricing in spite of the fact that its overhead as a brick-and-mortar operation are much higher. I compared Amazon's top ten printed titles with the same titles at B+N and B+N was a mere 0.9% more expensive. I then did the same thing in reverse and B+N was again 0.9% more expensive. The difference was $0.17 on the average book price of $18.95.

The third is that B+N is successfully diversifying into more profitable categories. This is how their retail business breaks out: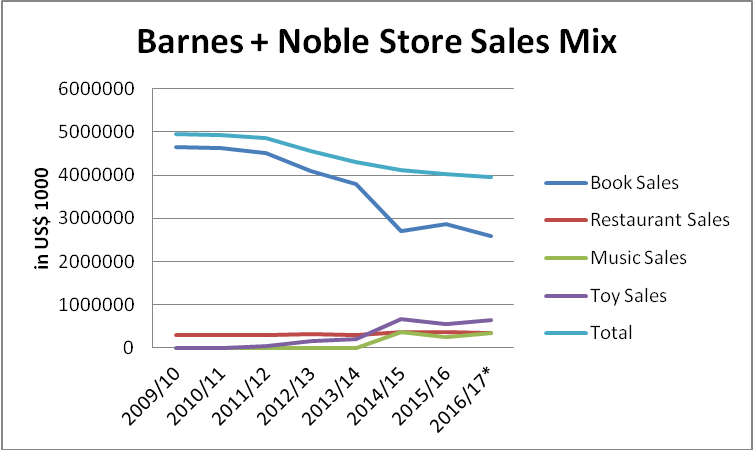 Source: Klosters Retailer Panel * Projected

They are gaining market share in the Toy space and are becoming a real factor there: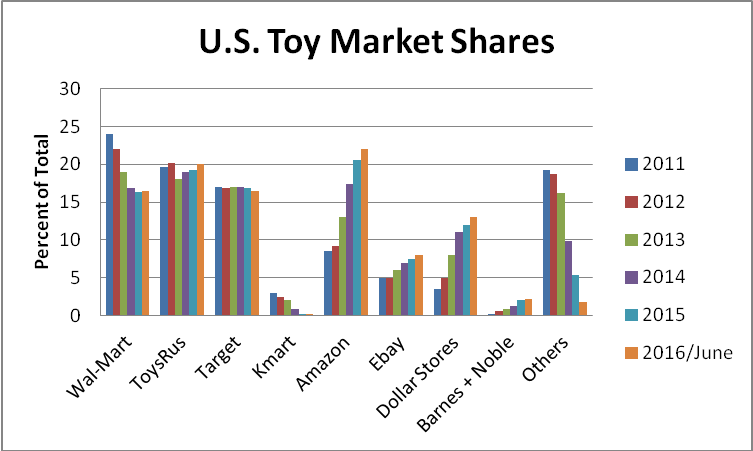 Source: Klosters Retailer Panel

Toy sales as a percentage in total B+N retail revenue grew from virtually zero in 2011 to now a very respectable 17.1%:





and I am told by my contacts at B+N that top management plans to put considerably greater resources behind the toy category during the next few years.

This development is doubly important because their toy sales not only positively impact the company's total revenue but also have an even greater impact on profitability. To take ToysRUs as an example, gross margins on toys are in the neighbourhood of 50% as compared to books where you look at about 28%.

Music sales, too, with margins very similar to those of toys, have grown very considerably in the past few years – from 0% in 2013 to now 9%.

A similar development is taking place for B+N's restaurant business which has grown from its 6% share of B+N's retail business in 2011 to now 9%. This again is important since gross margins on this business again are considerably higher than those applying to books. Starbucks, for example, has a gross margin of nearly 60%.

Ronald Boire, the B+N CEO, during the June 23 Investor Day presentation, singled out the restaurant business as one where major improvements and greater space allocation were in the works and now you know why he would want to do this.

This is how the B+N retail business mix changed over the years as a result of these initiatives;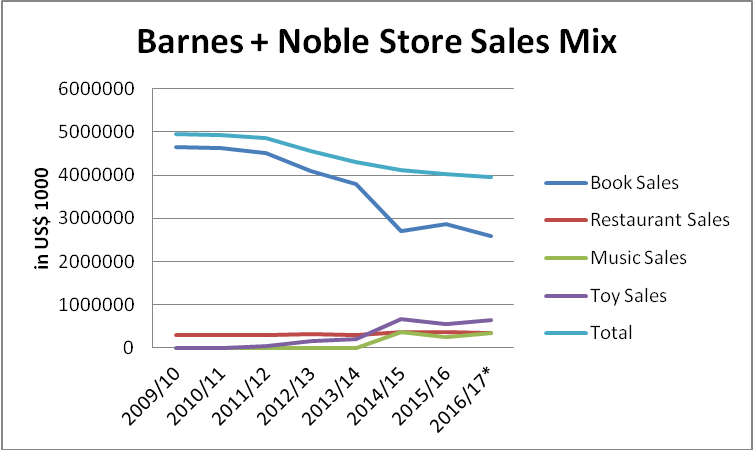 Source: Klosters Retailer Panel * Projected

These changes are responsible for the improvement in the gross margin of B+N's retail business from 28% in 2010 to now 31.2%.

If the company manages to keeping book sales at least stable and continues to expand its other endeavours as successfully as it has over the past few years, top line results and the bottom line should show significant improvements over the next few years. This, of course , presupposes that management will not allow NOOK to ruin the company first.

Writer's Bio:
Lutz Muller is a Swiss who has lived on five continents. In the United States, he was the CEO for four manufacturing companies, including two in the toy industry. Since 2002, he has provided competitive intelligence on the toy and video game market to manufacturers and financial institutions coast-to-coast. He gets his information from his retailer panel, from big-box buyers and his many friends in the industry. If anything happens, he is usually the first to know. Read more on his website at www.klosterstrading.com.
Read more articles by this author
THIS BANNER IS AN AD:
---
---