Star Wars Sphero BB-8 App-Enabled Droid by ORBOTIX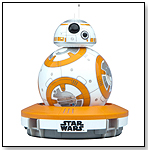 Over the years, the magic of Star Wars has always lived on screen and in our imaginations. Thanks to our advancements in technology, we've made it possible to bring a new part of Star Wars: The Force Awakens into your home. Meet BB-8 - the app-enabled Droid that's as authentic as it is advanced. BB-8 has something unlike any other robot - an adaptive personality that changes as you play. Based on your interactions, BB-8 will show a range of expressions and even perk up when you give voice commands. Set it to patrol and watch your Droid explore autonomously, make up your own adventure and guide BB-8 yourself, or create and view holographic recordings. It's now possible to explore the galaxy with your own trusty Astromech Droid by your side. BB-8 is more than a toy - it's your companion. 9/30/2015 (Price: $149.99) [Add to my Inquiry Basket][?]



MiP™ by WOWWEE GROUP LTD.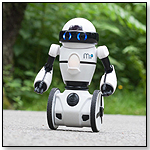 Meet MiP, Your New Robot Friend! Equipped with GestureSense™ technology, any hand motion controls MiP. Using its free app, you can drive it, play games & more all while MiP balances on two wheels!
Awards: 2015 TIA Innovative Toy of the Year 2/14/2015 (Price: $99.99)



Kingii Dragon Robot by OWI INC.


Native to Australia, chalamydosaurus kingii or frilled lizard is one of the wackiest lizards to roam planet Earth. So in order to keep young lizard enthusiasts out of harm's way, OWI has created a freakish robot lizard that is actually fun to play with. The Kingii Dragon Robot is a smart super lizard with artificial intelligence (AI). Similar to the original from Australia, when this robot feels threatened, it gapes its mouth, flashes its eyes, and dramatically spreads and flaps its frill (pleated material that encircles its head) in a threatening manner. If you are not intimidated by these shenanigans, it then turns around, front and back legs erratically move as if it were scampering away from danger.

Kingii Dragon Robot by OWI has an infrared sensor that is programmed to "escape" or "follow-me". If the infrared sensor is activated in the "escape" mode the robot will automatically act "shocked!", spreading its frill, dropping its jaw, illuminates its bicolor LED eyes and will scurry away from you until it escapes to a safe distance. If the infrared sensor is switched to the "follow-me" mode using the 2 way function switch, then the robot will assess danger by bluffing the attacker (unfurling and shaking its frill). When the robot does not sense danger it will proceed to follow you like a pet lizard. Thank goodness, that unlike the wacky frilled lizard that roams in Australia's tropical woodland, OWI's Kingii Dragon Robot is whimsically kooky and fun to build.

11/18/2014 (Price: $41.95) [Add to my Inquiry Basket][?]



MOSS Modular Robot Basic Builder Kit by MODULAR ROBOTICS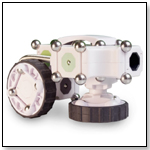 Build a distance-sensing robot motorcycle. The Basic Builder is the best way to start playing with robots. This kit includes two spin modules so you can create simple robot critters that scoot and drive. Control your creation with an infrared distance sensor! 3/12/2014 (Price: $149.95) [Add to my Inquiry Basket][?]



Romo The Smartphone Robot by ROMOTIVE INC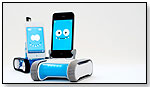 Romo is a revolutionary mobile robotic platform that uses your smartphone as its brain. When connected to any iOS device, Romo becomes a friendly robotic avatar that wanders around your home or school. Romo is the first personal robot built for everyone. He's small but sturdy, fast, and his behaviors evolve the more you use him. At Romotive, we believe everyone - whether you're 7 or 70 - should have a robot that loves you with every cog in his heart. Romo's simple to use drag and drop programming language lets even kids with no computer science experience create and share new behaviors and personalities for their robot. Romo teaches kids about science, technology, engineering, and math in a super fun, intuitive way - by given them their own personal robot pet to program. Launch date: January 2013. 1/8/2013 (Price: $150.00; Age: 6 and up) [Add to my Inquiry Basket][?]



Fijit Friends Yippits by MATTEL INC.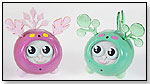 Yippits are pets for Fijit Friends. The Yippits can learn tricks, and bark, growl, and dance along with their Fijit owner. They can work on their own, too. Launch date: June 2012. 2/14/2012 (Price: $37.99) [Add to my Inquiry Basket][?]



Transformer Prime RC Robots by HASBRO INC.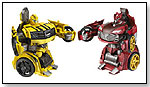 With the simple press of the button, these robots go from car to Transformer. Choose from Bumblebee or Knockout. Launch date: Fall 2012. 2/14/2012 (Price: $19.99; Age: 5 and up) [Add to my Inquiry Basket][?]



Mechatars - Wrexx by BOSSA NOVA ROBOTICS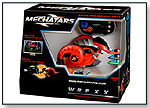 Descending from a long line of savage and warlike tribes, Wrexx lives his life for the fight. Wrexx is an unusually gifted warrior who can frequently score critical damage points, but he's also a bit fiery and unpredictable. Wrexx uses RF technology to communicate wirelessly with other Mechatars, including Alphas, Kodars, and other Wrexx. Wrexx lives in two worlds: Earth, and the Mechaverse. He evolves as he trains with other Mechatars and battles the Swarm, in the human world and in the Mechaverse (accessible via free online play). Wrexx continually develops new skills and capabilities for never-ending fun. 1/27/2012 (Price: $39.99) [Add to my Inquiry Basket][?]



Wow Stuff My Keepon Interactive Dancing Robot by CHINA INDUSTRIES LTD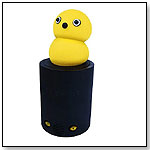 The Wow! Stuff My Keepon is the dancing robot that moves to any music. The tiny microphone in My Keepons nose allows him to hear the music kids play or even the rhythms they make themselves. My Keepon listens for the tempo of the music and matches the beat with an uncanny sense of timing. My Keepon can dance to any style of music, from slow ballads to pop music. Each performance is an original and unique interpretation. With an array of touch sensors underneath his playful textured skin, My Keepon responds to poking, patting, squeezing or tickling by looking around, showing his mood and making expressive sounds. As soon as My Keepon wakes up, he wants to play and will try to attract attention. My Keepon sits on top of his very own performance stage, which contains most of the robotic mechanism, so My Keepon himself can be soft and squishy to touch. Launch date: October 2011.
— As of 10/18/2011 this product had 5 out of 5 stars from 1 review on ToysRUs.com. 10/21/2011 (Price: $49.99; Age: 6 to 11) [Add to my Inquiry Basket][?]



TankBot by DESK PETS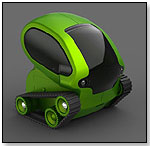 This TankBot is a mini-robot that fits on your desk. Each TankBot features a dongle that plugs into the headphone jack of your iPhone, iPad, or iPod Touch. Utilizing Apple's accelerometer technology, Desk Pets developed a program that enables TankBot to be controlled by simply tilting your mobile device. Tilt the iPhone, iPad, or iPod Touch forward and TankBot rolls forward, angle the phone right and TankBot instantly makes a right turn. Switch to autonomous mode and using built-in IR sensors, TankBot can navigate a maze, avoid obstacles and interact with the users hand motions, all on its own. "Just waving your hands in front of the robot almost becomes addictive as it moves and reacts to what you do. You wait for it to slip up and it doesn't, it consistently acts with a military precision," said Michael Trzecieski, managing director of Desk Pets International. The TankBot comes in four different colors, which can race against one another, and charges via USB.
– An ASTRA Top 30 Toy at Toy Fair 2010. 1/19/2011 (Age: 8 and up) [Add to my Inquiry Basket][?]



ReCon 6.0 Programmable Rover by SMARTLAB TOYS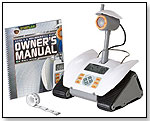 The Programmable Rover is a toy, a robot and a tool for learning the basic fundamentals on programming. Kids can program this Rover to navigate specified courses to deliver a treat to a pet, surprise a family member with a personalized message, carry a soda, guard a bedroom or just dance. With a spiral bound Owner's Manual, kids will begin work through guided projects building their knowledge for the more advanced operating techniques. This cleverly crafted guide helps get the Rover rolling and will inspire the next level of learning — charting one's own adventures. 8/26/2010 (Price: $69.99; Age: 8 and up) [Add to my Inquiry Basket][?]



Bioloid by ROBOTIS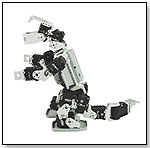 Biloid is an educational robot kit with which one can build various robots including the autonomous exploration robot, quadruped puppy robot, hexapod spider robot, dinosaur robot, and bipedal humanoid robot. Launch date: 2010. 4/21/2010 [Add to my Inquiry Basket][?]



Vertibot R.E.X (Robot EXplorer) by BSW TOY INC.


This window-climbing robot scoffs at the forces of gravity, using suction cups built into its feet to climb up, down, around and even upside down smooth surfaces like windows, mirrors and metal file cabinets. It requires 2 AAA batteries. Instructions for product can be found sandwiched between the cardboard insert that includes important battery replacement directions. 3/15/2010 (Price: $11.99; Age: 7 and up) [Add to my Inquiry Basket][?]



Green Science - Soda Can Robug by TOYSMITH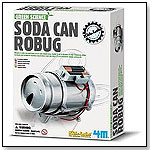 The Green Science - Soda Can Robug is an imaginative way for children to explore mechanics and electricity. The kit includes a plastic mechanic body, wire wings, wire legs, motor with wires, screws and detailed instructions.
— In a Fall 2013 survey, Gary Green, owner of Toy Box of Asheville Inc in Asheville, N.C., told TDmonthly that the Soda Can Robug from Toysmith was one of their best-selling science toys. (

Watch Video) 10/20/2009 (Price: $15.99; Age: 8 to 15) [Add to my Inquiry Basket][?]



Disney Ultimate WALL•E by THINKWAY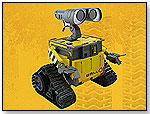 The robotic toy comes with 10 motors, allowing it to move freely and creatively. Kids can pre-program Wall•E's moves by creating patterns on the remote control's touch pad. The robot also features voice activation, a follow-me mode, built-in speakers for music playback, different emotional states, sensors that allow him to detect his environment and respond accordingly and much more. Launch date: Fall 2008. 5/8/2008 (Price: $189.99) [Add to my Inquiry Basket][?]



Roboni-i Programmable Gaming Robot by ROBONICA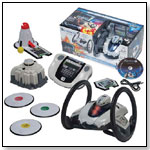 The Roboni-i features a programmable, remote-controlled robot that is equipped with sensors so it is aware of its environment. It is created especially for gaming and can function alongside other robots. The Starter Pack includes one Roboni-i robot, a remote controller, an infrared pod, a ball scoop, an electronic-game accessory, two electronic-game tags, an electronic ball, instructions, a USB cable, computer software, and five action games with remote-control reference cards. 2/19/2008



Spykee Micro by MECCANO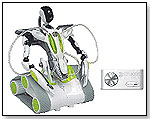 This robot is a miniature of the original Spykee. It has a simple remote control and the ability to move forward, backward and turn 360 degrees. It comes in four colors. Launch date: Late 2007. 2/19/2008 (Price: $24.99)



Tekno – The Robotic Pony by TOYQUEST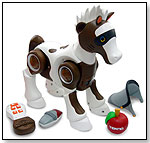 The pony measures 13" x 7" x 12-3/4" and consists of three motors, 19 points of articulation, four touch sensors, light and motion sensors, proximity sensors and an infrared sensor. Its front and rear legs, tail, head and ears all move. The pony comes with a wireless transmitter, magnetic ball and bone. Launch date: Fall 2007. 10/2/2007 (Price: $59.99; Age: 5 and up) [Add to my Inquiry Basket][?]



Huroi Two-Leg Robot by ROBOBLOCK SYSTEM CO., LTD

This humanoid robot offers educators, students and robotic hobbyists a complete robot package. The stable Huroi-II can walk, run, and do flips, cartwheels and dance moves. Once programmed, it is ready to compete in any Robo One Class "J" competition. It is available as a kit or a pre-assembled, ready-to-walk instant gratification robot. 5/23/2007 [Add to my Inquiry Basket][?]



H-Bot by DYNATECH ACTION INC.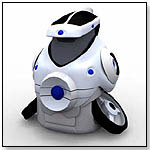 The world has been waiting for a new technology to take the toy industry by storm and turn it upside down. Dynatech Action is set to release a new innovation to the incredible hydrogen fuel-cell technology that was named as an Innovation of the Year in 2006 by Time Magazine. This year, Dynatech will launch H-Bot, an extension to this incredible technology with unlimited potential. The H-Bot is powered by a real hydrogen fuel cell that creates no combustion and is extremely safe to use. This futuristic hydrogen robot is an amazing way to demonstrate the use of cutting-edge alternative energy and allow Dynatech Action to seek out further ways to develop the technology. The H-Bot is truly the world's smallest hydrogen robot. Launch date: September 2007. (

Watch Video) 1/11/2007 (Price: $99.99; Age: 8 and up)



PlushBot by POUND DESIGNS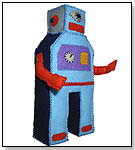 Kelly Pound's artistically friendly robot-thingies aren't made of scary metal, but are lovingly hand-stitched of felt and embroidery floss, and then covered with beads and rhinestones. Hence the name: PlushBots. Standing anywhere from 3" to 8" high, they are one-of-a-kind designs that bring humanity to our automaton friends. When asked about the PlushBots, art teacher and mom Molly O'Hanlon exclaimed: "He's pretty cute, but has a certain nervousness about him." Camille, 13, thinks he's definitely "one of a kind and almost cuddly." 12/21/2006 (Price: $20.00; Age: 10 and up) [Add to my Inquiry Basket][?]



The Dream Pony by SEGA TOYS LTD.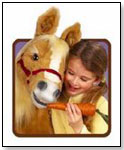 The 1.2-meter tall, battery-operated Dream Pony (Yume-Kouma) is outfitted with sensors that enable it to react to its environment. Pet the pony's neck and back and it shakes its head and moves its ears and tail in appreciation. Dream Pony also responds to audio and visual stimuli with a whole repertoire of reactions — including an anxious-sounding whinny when the room becomes dark and a jerk of the head in response to a sudden loud noise. Dream Pony also comes with a plastic carrot that it attempts to eat when held in front of its face. 10/23/2006 (Price: $600.00; Age: 5 and up)



MANOI the Athlete Humanoid Robot by KYOSHO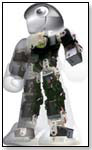 It bends, it kicks, it dances, it stands on one foot. The Manoi is the most sophisticated robot under 25 pounds. And it's cool-looking, too — a 1/5 scale athlete humanoid that looks like a character from a 1960s cartoon. The company behind this specializes in RC cars, and the robot is an extension of that business. The idea is that people will buy a Manoi and enter it into tournaments run by the company 3 or 4 times a year — like people race RC cars in tournaments. 7/21/2006 (Price: $1280; Age: 12 and up) [Add to my Inquiry Basket][?]



Voice-Activated R2-D2 by HAMMACHER SCHLEMMER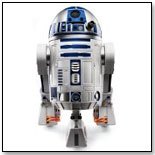 This useful metal pal is a replica of celebrity robot R2-D2. He obeys more than 40 voice commands such as "Turn around!" and "Move forward two units!" and plays games like tag, using an infrared sensor to search for people in a room. He can use this sensor to sound an alarm when a secured area is invaded by unwanted guests such as little brothers or small rodents. He makes happy and sad sounds and even gets in bad moods. (A simple command of, "R2, behave yourself!" snaps him out of it.) He weighs 6 pounds and is 15" by 7 1/2" by 10 1/2". 5/2/2006 (Price: $119.95; Age: 8 and up) [Add to my Inquiry Basket][?]



AIBO Entertainment Robot, ERS-7M3 by SONY ELECTRONICS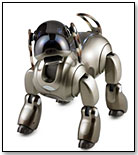 Sony's latest AIBO(r) Entertainment Robot, model ERS-7M3-- bundled with the new AIBO MIND 3 software helps the four-legged companion perform an array of new tricks. The software enhancement package enables AIBO to say more than 1,000 English words to communicate with its owner, in addition to recognizing many Spanish words and phrases for the first time. It now also has the ability for short term memory mapping and news reads through a version of web syndication called RSS (Really Simple Syndication) feeds. 1/5/2006 (Price: $2000.00)



Wakamaru by MITSUBISH-HEAVY INDUSTRIES LTD.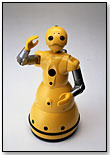 More of a caretaker than a toy, this child-shaped humanoid robot went on sale last month in Tokyo. If it catches on, look for it to cross the ocean, too. Wakamaru can recognize the faces of up to 10 people and talk to them. The manufacturer claims that when the robot is linked to cell phones, it can alert its owners to troubling situations at home, such as a burglary or illness. The company plans to sell 100 of the 66-pound robots. It retails for $14,300.
9/21/2005



Otto, the Electronic Sensor Robot by EDUCATIONAL INSIGHTS INC.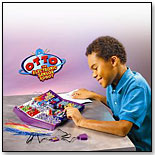 Explore the intricacies of electronics with Otto´s 20+ project experiments. The accompanying guide provides directions for experimenting with light, sound, magnetism, and touch. Otto allows children to create photometers, flashlight "guns", visitor alarms, rain detectors, speech conductors, and more. - Aire Norell 12/29/2004 (Price: $39.95; Age: 10 and up) [Add to my Inquiry Basket][?]



ROBOTIX 5000 Robot Commander by ROBOTICS AND THINGS


The ROBOTIX Robot Commander (98600) is the award-winning, Life-Size, 5-foot Tall Robot with over 425 Parts and 5-Motors; The Commander waves its hand, opens and closes both its mouth and its hand, moves both its upper body and its head from side to side, moves both its eye visor and breast plate up and down, lights its eyes on/off and offers numerous other available functions with additional motors, controllers and cables that can be programmed in. It allows kids and entire families an opportunity to create, develop, be educated and entertained. Includes an Assembly Guide with additional instructions for alternative building options. Requires 4-D Alkaline Batteries. Full Replacement Parts Warranty is included. 12/7/2004 (Price: $399.99; Age: 7 and up)
---
International Section: Indian

16 SMART TOYS GADGETS INVENTION ▶ KIDS GADGETS 2020