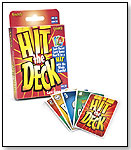 MSRP: $6.99
Age Range: 6 and up
SKU or Item #: 8360
Launch Date: April 2003
Gender: Boys And Girls
This fast-paced, hand-slapping card game requires quick thinking, quick reflexes and a bit of luck. The last player to slap the deck when a "Hit the Deck" card is played must draw two more cards. The object of the game is to be the first to get rid of one's cards and be the player with the fewest points at the end of the game. Launch date: Spring 2003.
TDmonthly Review:
Hit the Deck
is a fun and challenging card game for the whole family. By discarding matching colored or numbered cards, players compete to be the first player with no cards in their hand. But be careful, things turn exciting when word cards like ?hit the deck? show up and the last player to slap the discard pile has to draw four additional cards.
A fast-paced variation on the time-tested classic Uno, this card game is great with 4-6 players who love a challenge. Be sure to take off any jewelry you may have on your hands because this game can get fast and aggressive. Hit the Deck is a great addition to the family game night.
Hit the Deck?s low price point is appealing to the budget conscious and the game itself is fun for all members of the family. This game can be a great ?hand-sell? item as an add-on purchase.