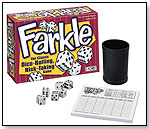 MSRP: $8.99
Age Range: 8 and up
SKU or Item #: 093514069106
Launch Date: July 2007
Gender: Boys And Girls
In this "classic dice-rolling, risk-taking game," two or more players strategically compete by rolling to build their score or playing it safe so as not to lose points in a Farkle. Game play takes approximately 30 minutes. The game comes with six dice, a shaker cup, a score pad and rules. "Farkle combines strategy and luck in a dice game that everyone will want to continue playing. Sir Albert Farkle reportedly first played Farkle more than 500 years ago in Iceland," Public Relations Manager Barbara Uebelacker of Patch Products told TDmonthly. Launch date: July 2007.
TDmonthly Review:
What Is It?
In this simple dice game, two or more players try to be the first to gain 10,000 points, and may risk ?losing it all? on each turn as they strategically decide whether or not to roll for more points.
What We Thought
There?s not much to this game ? a score pad, a shaker cup and six dice ? but it can be a lot of fun! The hardest, and potentially most frustrating, point is at the very beginning, when each player must secure 500 points by their roll(s) in one turn to get on the scoreboard. I had to wait a few rounds to be a part of the scoring game, but the nice thing is that things can change quickly! A roll of three pairs, for example, boosts a player?s status by 1,500 points.
Why They?ll Want It
The name alone sparks curiosity, so kudos to the manufacturer for keeping this classic alive and well. It?s simple, which may be frustrating to those who anticipate more involved games, but the fact that it?s easy to learn makes it a great pick-me-up-and-play game at a party or casual social gathering. Want to add a little more participant involvement? Try getting everyone to yell ?Farkle!? when a player loses points. ? Julie Jones, 10/2/07