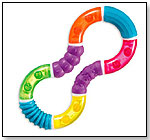 It's a teether and toy in one. Twisty Figure 8 can be twisted and turned while baby's sore gums are soothed by the four different teething surfaces. Featuring an easy—to—grasp shape, this brightly colored teether also can be used as a rattle.
Awards: 2002 Parent's Choice Gold Award
— As of 11/30/2011 this product had 3.7 out of 5 stars from 30 reviews on Amazon.com. Pros: Easy for babies to grasp; easy to clean; lots of texture; can be chilled to ease teething pain; the part baby holds onto doesn't freeze, so their hands don't get too cold. Cons: Not dishwasher safe; too big for smaller babies; a little bulky for younger children.