To Do or Not To Do: Behavioral Books for Kids
By Jennifer LB Leese
February 1, 2003


IT'S NOT MY JOB by Ted Lish
If you deal with children on a regular basis, you know that a great kid with not-so-great behavior can unravel even the most patient grown-up. As a mother of three children, I understand; however, I didn't always. The "Ugly Discipline Mommy Monster" had to show up more than she wanted to, usually during the most inconvenient times. Needing a new approach to dealing with my children, I had to find children's books to help them, and me.
Nobody wants to take out the trash in IT'S NOT MY JOB by Ted Lish, published by Munchweiler Press (munchweilerpress.com). After moving into their new home, the mother purchases beautiful trashcans and places one in each room. But what good is a trashcan when no one wants to empty it? Needless to say, the trashcans quickly begin to overflow and, as the weeks go by, start to spill onto the floor. When an emergency occurs, everyone decides to work together to clean up the house and find what they have lost. Children of all ages will enjoy this book while learning an important lesson about cleaning up after themselves.
Charles Vald's CAN'T TEACH AN OLD DOG NEW TRICKS
Have you ever actually tried to teach an old dog new tricks? Well, Alison does just that in Charles Vald's CAN'T TEACH AN OLD DOG NEW TRICKS published by Writers-Exchange EPublishing (writers-exchange.com/epublishing). Though Tony the dog isn't interested in learning; Alison doesn't give up. Vald's story is inspirational, teaching children perseverance and that looks can be deceiving.
Also available from this publisher is CHIP'S SHARING DAY by Linda Derkez. Chip doesn't like to share anything of his, but in this delightful book, he learns that being "kind and nice and fair" will take him much further than being selfish. Parents will enjoy reading this charming picture book to their children, while reaping the benefits of having their kids learn the consequences of not sharing.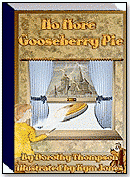 NO MORE GOOSEBERRY PIE by Dorothy Thompson
What about doing something that you know you'll get in trouble for later? Joel, his brother Ricky and his cousin, Lisa, find themselves in that predicament in WATCH OUT FOR JOEL: LONG SHOT by Sigmund Brouwer. After hitting a bull in the head with a rock fired from their giant slingshot, the kids face the predicament of deciding whether to lie about it. Find out by getting this book from Bethany Backyard (bethanyhouse.com).
Another book on the subject of lying is NO MORE GOOSEBERRY PIE by Dorothy Thompson. When the smell of gooseberry pies cooling on the windowsill becomes too much for one little boy to bear, he absconds with them to his own private feast. Suffering the inevitable tummy ache later, he denies the theft nonetheless; young readers vicariously learning the pitfalls of trying to lie your way out of a sticky situation.