Naughty or Nice? What Manufacturers Got for Christmas
By Beth Michaels
February 1, 2003


With the 2002 Holiday season now past, what did toy manufacturers find in their stockings?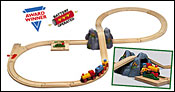 Mountain Action Figure 8 Set
Post Christmas Blues

BRIO Corporation, the number one wooden toy company in the world, saw an overall reduction in sales during 2002, despite increased sales of their Wooden Railway sets. The decline continued even after Consumer Reports magazine had endorsed its Mountain Action Figure 8 Set as the top-rated construction toy of the year, even persisting after a boost in sales of the Erector Set following the airing of CBS's made-for-TV movie about the life of French toy inventor, A.C. Gilbert. BRIO blames the West Coast labor strike and more conservative buyers for the overall loss of sales.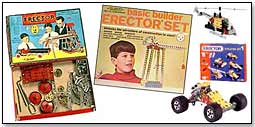 Erector Set by A.C. Gilbert
New Year's Resolution

Based on what it learned in 2002, BRIO plans to focus on its brand and products more than ever. Going against the high-tech trend, the company will celebrate and promote the simple, enduring play-value of its classic lines, such as PlanToys from Thailand and Erector from France, reports Robin Lehnert, Public Relations and Promotions Manager at BRIO.

"These brands are driven by product development based on traditional play values that we will continue to focus on as our point of difference," she says. BRIO hopes this new focus will give their passionate retailers and consumers more to talk about, creating a buzz throughout the industry.

Although the West Coast labor strike also negatively affected holiday sales of Action Products International, Inc., the company learned that, "parents and grandparents continue to buy quality toys even during an economic slowdown," says company President, Ron Kaplan. As a result, ACI plans to be more aggressive in launching new products in 2003.

Despite the labor strike delaying some fall shipments, API still had a very good holiday season. Their new Jay Jay the Jet Plane program did outstanding and the "I Dig" line and Space Voyagers brands "sold through extremely well," reports Kaplan.

API believes the independent toy store will be the heart and soul of the specialty toy business in 2003, causing the manufacturer to focus more on in-store merchandising support for all their brands this year.