Teething Fangs Anyone? Babies and Toddlers Join the Halloween Party
By Sarah Hatfield
February 1, 2003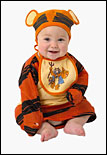 Tigger Costume from Disguise, Inc.
While Halloween enjoys its biggest popularity with the elementary school set, even children not yet old enough to eat chocolate can have a festive holiday with some new costume, book and toy offerings set to get the crib party started.

To pique toddlers' interests, going with familiar, popular characters is probably the best bet. Disguise, Inc. has a full line of character costumes geared towards preschoolers. Winnie the Pooh characters such as Tigger, Blue from Blue's Clues and, of course, Barney, are just a few of the choices available. Babies may feel more comfortable with dressing up if they get to look like their favorite stuffed pal. Charades has an extensive line of plush animal costumes, making it simple to find the perfect ducky, bear, or bunny costume.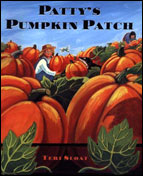 Patty's Pumpkin Patch, by Teri Sloat
Reading books together can be a great way to learn about Halloween. In Lucy Cousins' Maisie Dresses Up, Maisie the mouse gets ready for a costume party by trying on lots of different costumes. Patty's Pumpkin Patch, by Teri Sloat, features poems and rhymes about fun in the pumpkin patch. Margaret Miller's Boo! Baby is a picture book filled with photos of babies in costume, making it a wonderful first Halloween present for baby.

Pretending about Halloween can build excitement and allay fears. Anne Geddes' Baby Dolls, based on her photographs, are a wonderful pre-Halloween gift. The dolls, such as Baby Sunflower and Baby Bee, are dressed in costumes and ready to go trick-or-treating around the nursery. For the ultimate in Halloween fun, Chicco has a pumpkin sandbox that, after being used as the biggest jack o' lantern on the block, becomes a real sandbox for the backyard.

---