Product Information
MINDFIELD, The Game of United States Military Trivia
From: GONTZA GAMES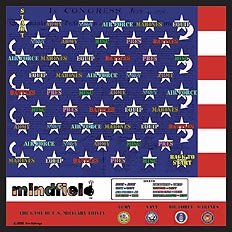 MSRP: $39.95
Age Range: 15 and up
Are you a military enthusiast or history buff? Play MINDFIELD, The Game of United States Military Trivia. Up to four players or teams roll a die and move their tanks around a game board that is the American flag with the Declaration of Independence in the background. Players answer questions in 8 categories: Army, Navy, Air Force, Marines, Equipment, Battles, Presidents and Miscellaneous. There are a total of 2400 questions in the game. Questions range from continental times thru the beginning of 2002. Answer one question right in each category and win the game. Beware of the BOMB!
ToyDirectory Product ID#: 5159
(added 10/25/2005)
---
Other Products by GONTZA GAMES

MSRP: $12.95
Age Range: 4 to 10
Gender: Boys And Girls
This is one grogger you won't mind the children playing with. Teach your children about Esther's Megillah as they make pairs of cards; Queen Esther pairs with Queen Esther, Mordecai with Mordecai, etc. The only way to make a pair with Haman is by covering him up with a Grogger!
ToyDirectory Product ID#: 20304
(added 8/27/2008)
.

MSRP: $14.95
Age Range: 4 to 10
Gender: Boys And Girls
Christmas Cards is a game for children ages 4 to 10 to learn to how to compete by matching pairs of cards. Children make pairs with Santa, Rudolph, Toy Soldier and Candy Cane. Children don't want to see a Stocking with Coal on Christmas morning, so they have to get a Tree with Presents. Children will play this cute little stocking stuffer long after their other Christmas presents are broken.
ToyDirectory Product ID#: 20303
(added 8/27/2008)
.
Advertisement: