Tools:







New & Notable Toys: Comics
Check out these new and noteworthy toys.
LEGO NINJAGO Graphic Novels by PAPERCUTZ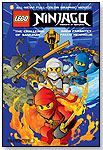 NINJAGO The Challenge of Samukai! Greg Farshtey, writer; Paulo Henrique, artist. The Masters of Spinjitzu come to Papercutz graphic novels. Sensei Wu has trained Cole, Zane, Jay, and Kai to be Masters of Spinjitzu, and together they defend the world of Ninjago from the dark forces of the Underworld. But when the leader of the skeleton army, Samukai, boasts to the evil Lord Garmadon that he can defeat Sensei Wu and his four young ninja, Garmadon takes him up on his bet! Who will prevail in this battle between good and evil? 6 x 9, 64 pp. Launch date: November 2011. 3/5/2012 (Price: $6.99; Age: 6 to 12) [Add to my Inquiry Basket][?]



The Royals: Prince William and Kate Middleton Comic Book by BLUEWATER PRODUCTIONS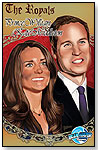 This comic book/graphic novel is a standard 32-page issue comic. "Fame: The Royals" reminds readers how much of William's life has been lived in the public eye; his birth, the tragic death of his mother Diana; his schooling, charitable work and military service. However, this issue, penned by CW Cooke ("Fame: Taylor Swift" and "Fame: Beyonce"), looks to give context to the headlines along with a fresh take on the burgeoning 8-year romance with his bride-to-be Kate Middleton. The special collector's edition (which will feature over forty pages), will retail for $7.99. Some of the planned extras include pinup posters, special illustrations of the April 29th wedding as well as a comparison with Diana and Charles' 1981 wedding. The special edition also offers a unique double-sized cover by Martinena. 3/15/2011 (Price: $3.99) [Add to my Inquiry Basket][?]



Tanpopo Vol. 3 by D'ERRICO STUDIOS LTD.

Tanpopo #3 is the continuation of the saga of Tanpopo, the emotionless girl, and Kuro, a mysterious creature that guides her through the world and promises her she will feel emotion. "Devils and Foxes" and other tales from the collection "Strange Stories From a Chinese Studio" inspire Volume 3. Kuro's efforts for Tanpopo to experience sadness intensify, and so too does his wickedness. An old woman, wary of the devil-boy, takes Tanpopo in, showing her kindness and affection. When the old woman dies by Tanpopo's hand, Kuro's plan will have come full circle, and Tanpopo, finally, weeps. Tanpopo must make a choice now - to continue her journey with Kuro or to plead for the old woman's life back. 6.5" x 9.75". 50 pages. 9/9/2010 (Price: $10.99) [Add to my Inquiry Basket][?]



The Flash: Rebirth by DC COMICS


Written by Geoff Johns, this series will bring back the original Flash, Barry Allen, as well as other key characters. Launch date: 2009. 12/10/2008 [Add to my Inquiry Basket][?]



X-Men: Kingbreaker #3 by MARVEL ENTERTAINMENT GROUP INC.


Whenever the Shi'Ar aliens are involved, readers know they are in for a galactic storm of a story. The universe is learning to fear Vulcan, the long-lost brother of X-Men Cyclops and Havok. Havok, Polaris and Marvel Girl stand in his way, as events converge to the upcoming War of Kings. The comic is by Christopher Yost, Dustin Weaver and Jaime Mendoza with a cover by Brandon Peterson. Launch date: February 18, 2009. 12/10/2008 (Price: $3.99; Age: 13 and up)



Buffy the Vampire Slayer Season 8 Volume 3: Wolves at the Gate TPB by DARK HORSE COMICS, INC.


Buffy confronts shape-shifting vampires, forcing her and her friends seek out the only other being they've known who possesses such power: Dracula. It also includes "A Beautiful Sunset," a stand-alone issue written by "Buffy" creator Joss Whedon. Launch date: November 19, 2008. 12/10/2008 (Price: $15.95; Age: 14 and up) [Add to my Inquiry Basket][?]



Naruto, Vol. 28 by VIZ MEDIA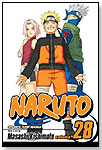 With story and art by Masashi Kishimoto and translation by Frances Wall, volume 28 reunites Naruto with his friends after spending the last two years training. One of the most popular manga books on the market, three of the top-10 trade paperback collections in September 2007 were Naruto titles, according to Diamond Distribution. Launch date: March 2008. 12/19/2007 (Price: $7.95)



Warcraft Anthology by TOKYOPOP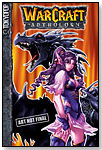 Based on the best-selling Warcraft and World of Warcraft video games from Blizzard, this new anthology follows the warring races of Humans, Orcs, Elves and Undead. Susan Hale of Tokyopop noted that every volume of the previous storyline, "Warcraft: The Sunwell Trilogy," charted in the Top 10. Also being released in April and based on the popular Warcraft spin-off is "Starcraft Anthology." Launch date: April 2008. 12/19/2007 [Add to my Inquiry Basket][?]



Nightmares and Fairy Tales Volume 1: Once Upon a Time by SLG PUBLISHING


This haunting first collection of Annabelle's memories is filled with frightening stories and dark fairy tales about her various owners . Featuring the first 6 issues, as well as some other spookirific surprises, including an introduction by Tommy Kovac (Skelebunnies, Stitch and Autumn) as well as a guest page by Jhonen Vasquez and other SLG creators. 8/22/2007 (Price: $14.95) [Add to my Inquiry Basket][?]



BONE: Out From Boneville by SCHOLASTIC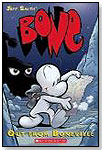 In "Out From Boneville," volume 1 of a nine-book epic by Jeff Smith, the three Bone cousins — Fone Bone, Phoney Bone and Smiley Bone — are separated and lost in a vast, uncharted desert. One by one, they find their way into a deep, forested valley filled with wonderful and terrifying creatures. Eventually, the cousins are reunited at a farmstead run by tough Gran'ma Ben and her spirited granddaughter Thorn. But little do the Bones know, there are dark forces conspiring against them, and their adventures are only just beginning.
— Bone comics are best-sellers at Izilla Toys in Seattle, said Co-Owner Jude Larene in mid-2007. "Bone has sold well from the moment we got them in. Kids are thirsty for a great story." 6/26/2007 (Age: 8 to 12) [Add to my Inquiry Basket][?]



Phonics Comics™: The Fearless Four by INNOVATIVEKIDS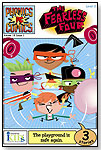 Meet Ken, Jen, Ben and Gus — four regular kids … or are they? When trouble comes calling, their ordinary talents become extraordinary. Readers will not be able to resist the awesome adventures of Yo-Yo Girl, Wedgie Boy, Gum-Bo and The Whiner. Phonics Comics make reading fun. Launch date: March 2007. 3/29/2007 (Price: $3.99; Age: 6 and up) [Add to my Inquiry Basket][?]



Interiorae Vol. 2 by FANTAGRAPHICS BOOKS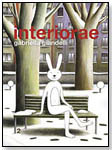 This is Gabriella Giandelli's second volume of tales featuring the characters from the apartment complex of European nowhere who meet and interact, all the time watched by the ghostly shape-shifting white rabbit who keeps tabs on them before reporting back to his shadowy master in the building's basement. It's a slice-of-life with a twist. 1/2/2007 (Price: $7.95; Age: 13 and up) [Add to my Inquiry Basket][?]



RabbitHead by ALTERNATIVE COMICS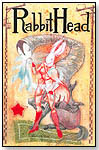 This weird and wonderful surreal western adventure inspired by Sergio Leone and Polish literature tells the many-branching story of RabbitHead and her faithful steed, Horsey, in a twisted tangential, parallel, Rashomon manner, introducing myriad characters both friendly and funny, as well as dark and dangerous. It's a hero's quest with a great heroine done in an experimental manner. By Rebecca Dart, this is one not to miss. 1/2/2007 (Price: $4.95; Age: 13 and up) [Add to my Inquiry Basket][?]



Katy Keene by ARCHIE COMIC PUBLICATIONS INC.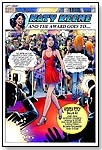 That high-fashion siren of the '40s and '50s is back, updated and ready for the new millennium. Still using clothes designed by her fans, she runways her way back into the comic firmament. 11/2/2006 (Price: $2.25; Age: 7 and up)



Krypt Kiddies by TWISTED GATE ENTERTAINMENT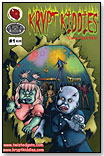 Based on the creepy Krypt Kiddies dolls, Ray Scoot took the idea, enlisted Chad Lambert as writer and Samuel L. Galentree as artist to bring it all to comic book life. Reminiscent of the old EC comics in town and style, they're very fun. It's a dark horror tale, however, that may be unsuitable for small children. 3/30/2006 (Price: $3.95; Age: 12 and up) [Add to my Inquiry Basket][?]



Every Girl Is the End of the World for Me by Jeffrey Brown by TOP SHELF PRODUCTIONS
Autobiographical cartoonist Jeffrey Brown provides an epilogue to his "Girlfriend Trilogy," detailing the day-by-day events of a three week run in with five girls in this graphic novel. Watch and be mesmerized by an ex coming back into the picture, a growing but poorly chosen crush, musings on the way friends come and go in life, and a realization that the end is never really the end. "Every Girl Is the End of the World for Me" is 104 pages and was published in April 2006. 3/1/2006 (Price: $8.00; Age: 16 and up) [Add to my Inquiry Basket][?]



Fear Agent #1 by IMAGE COMICS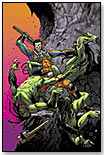 The Fear Agents are no more. Once known throughout the universe for driving three invading alien races from Earth, they stood as a testament to the strength of the human spirit. Now, Heath Huston drunkenly scuttles across the galaxy as an alien exterminator — the last of their ranks. Combining the aesthetic elements of all three of the genres that made EC comics the high water mark of sequential storytelling — science fiction, war, and horror — Heath´s adventures take readers on monthly jaunts to brave new worlds overrun by jellyfish brains, wild ape-men and rickety robots bent on intergalactic domination! This science-fiction extravaganza ships to stores in October. It's 32 pages and was written by Rick Remender and illustrated by Tony Moore and Sean Parsons with cover art by Tony Moore and Rick Remender. Update: In 2007, Dark Horse Comics began publishing the "Fear Agent" series. 8/31/2005 (Price: $2.99) [Add to my Inquiry Basket][?]



Catalog Request Form
THIS BANNER IS AN AD:
---
---