---
Toys to Talk About: STEM
These STEM toys are worth a second look.
Educational Insights Circuit Explorer Rover Beginning Circuits by EDUCATIONAL INSIGHTS INC.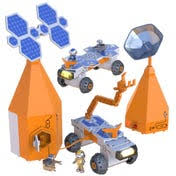 SIMPLE CIRCUITS, BIG IMAGINATIONS! Learn the fundamentals of circuitry, off the board and out of this world!

MAKE THE CONNECTION: System-ready pieces light up when kids follow the symbols and connect the vehicle's circuits

BLAST OFF INTO STEM LEARNING: Keep them connecting on their own with safe circuits kids can build themselves

EVERYTHING YOU NEED to build a Communication Station with a rotating Radar Dish, Power Station with Rover Charger, and a Powered Space Rover and a free wheeling Space Rover both with light-up headlights. Also includes astronaut and robot figures for pretend play. and stickers for customization. Communication Station, Rover and Power Station require 3 AAA batteries each, not included.

Real-working, kid-friendly 3D circuit pieces designed specifically with safety in mind, eliminating the worry of short circuiting or other hazards to allow for independent play for kids ages 6+. Children utilize cause and effect logic to determine when they have completed the circuits correctly. Each set also comes with friendly astronauts, robot figures, and stickers, so children can customize their Circuit Explorer sets and launch into hours of space-age adventures. To add even more customizable fun, Circuit Explorer sets feature a universal grid-like design to allow for additional construction play pieces to be incorporated.




10/22/2020 (Price: $40) [Add to my Inquiry Basket][?]




Curiosity Kits Smartphone Cinema by THE ORB FACTORY LIMITED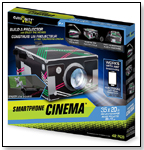 Fold the box to make the projector, add the lens and place the smartphone. Project videos on the wall. 2/29/2016 (Price: $14.99) [Add to my Inquiry Basket][?]



STEM Robot Mouse Coding Activity Set by LEARNING RESOURCES INC.

The race is on to build hands-on coding skills! Build your maze, and then use the coding cards to create a step-by-step path for Colby, the Programmable Robot Mouse. Program the sequence of steps, and then watch Colby race to find the cheese! This deluxe set includes 30 double-sided coding cards, 10 double-sided activity cards, cheese wedge, and Activity Guide to provide the perfect hands-on introduction to coding concepts. Create your path with 16 maze grids to create a 20" x 20" maze board, 22 maze walls, and 3 tunnels for endless possibilities. Colby lights-up, makes sounds, and features 2 speeds along with colorful buttons to match coding cards for easy programming and sequencing. Add multiple players with Jack, the Programmable Robot Mouse (LER 2841), sold separately. Colby measures 4"L and requires 3 AAA batteries (not included). 2/29/2016 (Price: $59.99) [Add to my Inquiry Basket][?]



Quercetti Georello Junior by INTERNATIONAL PLAYTHINGS LLC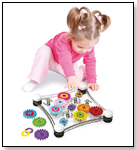 Have fun with Georello Junior, making all the colorful gears move by turning one gear with just one figure. Create a chain reaction that surprises and involve children in endless experimentations. Includes one clear base, nine colorful gears and nine matching discs. 2/29/2016 (Price: $29.99)



4M Crystal Mining Kit by TOYSMITH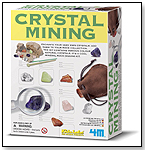 4M Products are creative, imaginative, inspiring and most of all fun! The 4M Crystal Mining Kit let's you excavate your very own crystals. Once you excavate you have beautiful crystals to display and admire. Includes plaster rock with eight embedded crystals, digging tool, display case, drawstring bag and more! Perfect for ages 5 and up. 9/30/2015 (Price: $10.99) [Add to my Inquiry Basket][?]



Pirate Treasure LIMITED SERIES Classic EcoAquarium™ by FUNOLOGY INNOVATIONS LLC


A Classic EcoAquarium setting sail with a new look of Pirates, Treasure & Adventure! The durable color-fast background & tank border sets a tone of swash & buckle. The Classic EcoAquarium brings nature up close & personal. Includes 4x4x5 tank with 2 Frogs or 1 Betta Fish, Lucky Bamboo Plant, Decorative rock, Living Gravel, your choice of Colored Gravel. The natural mix of plant, animal & microbes work together to establish a sustainable mini-ecosystem. Easy to maintain, easy to care. 9/30/2015 (Price: $40.99; Age: 6 and up) [Add to my Inquiry Basket][?]



THIS BANNER IS AN AD:
---
---