---
Is Electronic Arts wedded to the video game dinosaur – the consoles?
In a market place that has been very dynamic over the past five years, Electronic Arts, long the underdog to its arch rival Activision, began to catch up by 2014 and pretty much stayed the course throughout 2015.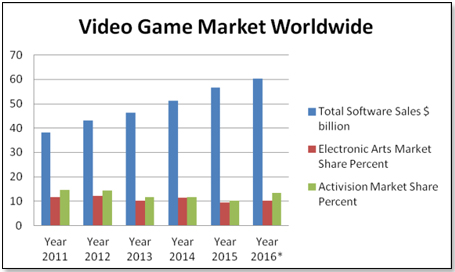 Source: Klosters Retailer Panel

The first quarter of 2016 started off pretty well, too. EA's market share at the four major video game retailers in the U.S. rose from about 15% in October last year to nearly 16% in January and then to over 18% in February – all in unit terms.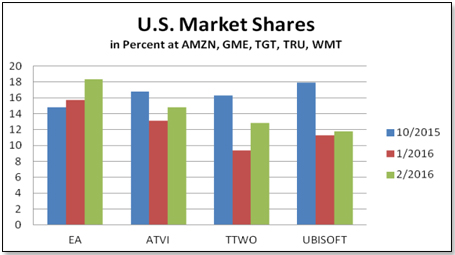 Source: Klosters Retailer Panel

The outlook for the remainder of the year is also pretty good. With such massive releases as Need for Speed, Mass Effect Andromeda and, of course, Titan Fall, the non-GAAP revenue number is expected to increase to $4,9 billion this year versus the $4,6 billion recorded last year.

Most of these sales are in console and PC-based games but EA is, at least in the U.S., no slouch in the mobile games space either. In 2015, EA is estimated to have had a unit market share of 6.9% of the paid games app market on IPhones and IPads last year, at an average revenue of $3.56 per app downloaded. This compares with Activision's 2.5% market share at an average price of $4.65.

In addition, Electronic Arts Inc. launched a new online subscription plan for PC gamers - Origin Access - in order to further strengthen the digital content of its offering. This achieves two things – one is that it gives the consumer something he or she wants, digital access, and the other is that digital sales are much more profitable than sales via retail given that there is no need for a retailer margin nor a cost for packaging and shipping. Origin Access should help Activision increase the percentage of its digital business from the current 50% [up from 47.6% in 2014] since the company still lags behind its archrival Electronic Arts who has 56% of its business in digital form.

When you just look at the U.S.entry market, Electronic Art's largest, the outlook to 2019 is not all that bad either. According to Venturebeat's analysis issued on June 2 last year, the U.S market place is expected to develop as follows between 2016 and 2019: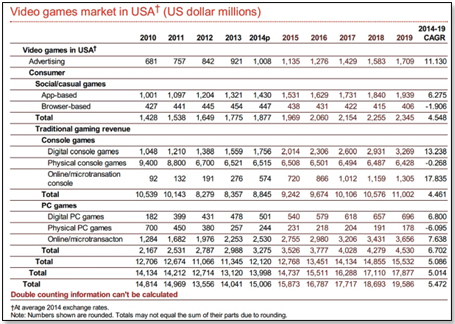 In summary, Console based games are expected to increase in Dollar terms annually by 7.5% and App-base games by nearly 6%.

And, finally, Electronic Arts beats Activision all hollow when it comes to consumer interest on social media as per Tickertags:



Source: Tickertags.com

However, this picture looks very different if you look at the international space and consider the impact Activision's recent acquisition of King Digital Entertainment is likely to have. While King Digital is no factor in paid apps they still make a ton of money on add-ons to their games – e.g. Candy Crush – and hence have an estimated 10% market share in the mobile game space. This acquisition is expected to result in the sharp revenue jump for Activision in 2016 as per the chart above.

More importantly, the King acquisition addresses a fundamental weakness in Activision's business model – the company has been late to the mobile revolution and slow to embrace mobile gaming as the category has grown in size. Rather than investing its own resources, the publisher has partnered with mobile-centric companies (including Tencent) to bring select franchises to mobile in emerging territories. In January, for instance, the two companies launched Call of Duty Online in China.

Mobile games are predominantly casual games as opposed to hardcore ones. The definition of a casual game is that of a video game targeted at a mass audience of casual gamers. Casual games can have any type of gameplay, and fit in any genre. They are typically distinguished by their simple rules and lack of commitment required in contrast to more complex hardcore games.

If you look at the leading Electronic Art's games – Star Wars, Need for Speed, Mass Effect and Titan Fall – you must conclude that the company's offering is very much of the hardcore genre. If they persist in this focus, they will miss a major opportunity in that casual games worldwide have grown from an estimated $8 billion market in 2014 to $22.5 billion in 2019.

In other words, the video game market place is fundamentally changing. According to Newzoo, the mobile segment [which includes both casual as well as hardcore games] is expected to grow much faster than the traditional console and PC segments as per the chart below: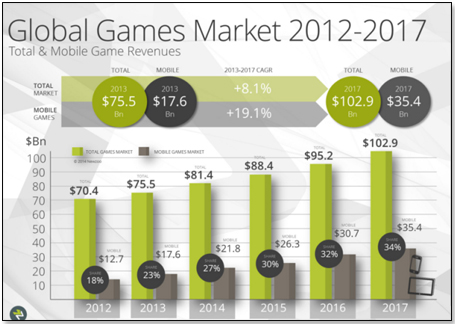 Source: Newzoo.com

In other words, console-based games are expected to grow between 2015 and 2017 by 9.9% whereas mobile games will skyrocket by 31.5%.

While the U.S. is clearly Electronic Art's single largest market, sales outside the North American continent accounted for 56% of last year's sales of the company and this is where the King acquisition represents a major threat. EA today is not a real factor in mobile games outside the United States and Activision's acquisition of King's and its tie-in with Tencent could well totally block any future expansion by EA.

In summary, Electronic Art's is running the danger of being restricted to the slowest growing segment of the video game market and being relegated to a clear #2 position after Activision unless they change their product focus to force rapid expansion into mobile games.

Writer's Bio:
Lutz Muller is a Swiss who has lived on five continents. In the United States, he was the CEO for four manufacturing companies, including two in the toy industry. Since 2002, he has provided competitive intelligence on the toy and video game market to manufacturers and financial institutions coast-to-coast. He gets his information from his retailer panel, from big-box buyers and his many friends in the industry. If anything happens, he is usually the first to know. Read more on his website at www.klosterstrading.com.
Read more articles by this author
THIS BANNER IS AN AD:
---
---