This Girl is Different
From: PEACHTREE PUBLISHERS
Other products from PEACHTREE PUBLISHERS
Shop for It!
TDmonthly rating:


(Read Review below)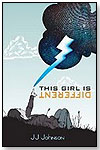 Evie has been homeschooled by her counter-culture mother her whole life, but it's the beginning of her senior year and she's going to public school for the first time. Evie maks friends, but is puzzled by the new system of authority she encounters in her teachers, who she is shocked to see abusing their power and discriminating against their students. She and her friends start an anonymous blog to speak out against the injustice she sees, but it gets taken over and turned into a forum for online bullying- the last thing Evie wanted. The book examines freedom of speech, friendship, authority, and independence, as Evie navigates her new school and the blogosphere she helped to create. Hardcover, 315 pages. Launch date: May 2011
TDmonthly Review:
WHAT IT IS
JJ Johnson´s debut novel tells the story of Evensong Sparkling Morningdew- Evie for short- and her foray into public school. Homeschooled by her hippie mother her whole life, Evie decides that she wants to spend her Senior year at an actual high school, as a social experiment. Evie makes a friend and a (almost) boyfriend right away, but the realities of attending public school are much grimmer than she had thought. Frustrated by the boundaries placed on students by the administration, as well as the blatant sexism, sizeism, and ageism that Evie feels dominate the learning environment, she starts an online blog where she and her friends can address these grievances. But Evie takes things too far when she targets a specific teacher, and students begin to use Evie´s blog against her.

WHAT WE THOUGHT
This compelling story is worth a read, thanks to its strong and unique main character. Evie is strong-willed, smart, and self-aware. The beginning of the novel describes Evie on a nature walk, sketching a snake; she later brings her new friends to her "Dome Home," a geodesic dome built by Evie and her mom where they raise a cow and chickens, bake their own bread, and drink yerba mate instead of coffee. The overt characterization of Evie and her mother as "hippies" in the opening of the book seems a little heavy-handed, but after the slightly clumsy first chapter Evie comes alive on the page. She is a unique character that can be not only a friend to readers, but a role model as well. Sure, she has academic aspirations that are admirable, but the thing that really makes Evie a great character is her willingness to admit she was wrong. She is at first reluctant to befriend bubbly cheerleader Jacinda, only to realize that her preconceived notion of the "typical cheerleaders" was wrong. And, though she never compromises her morals, Evie´s self-doubt when dealing with issues such as teenage sex, inappropriate student-teacher relationships, and gossip rings true. The book manages to stress the importance of being true to oneself without ever taking itself too seriously, coupling introspection from Evie with slightly flippant lines such as "If a tree falls in a forest and no one updates its status on Facebook, does it make a sound?" Such elements keep the story feeling fresh and relevant to teenagers, while Evie´s romantic relationship- ultimately a healthy, equal partnership- will fulfill readers´ love of drama.
WHY THEY´LL WANT IT
Parents who want their tween and teen girls to read a novel with substance should pick up this book. It has a wide appeal to teen readers- focusing on the ins and outs of high school, romance, gossip, and betrayal- but the decisions the characters make and the issues they focus their attention on set it above standard teen pulp fiction. From an aesthetic standpoint, the book jacket is made of thick, textured paper, with a modern color scheme of blues, grays, and a contrasting dash of vibrant orange. The back cover screams "Evensong Sparkling Morningdew is a Hypocrite! Hypocrite! Hypocrite!" in an edgy, scribbly text, sure to pique the interest of a prospective reader.
— As of 05/26/2011 this book has 4.2 out of 5 stars from 10 reviews on Amazon.com
— As of 05/26/2011 this book has 3.56 out of 5 stars from 100 ratings on Goodreads.com
—
Justina Huddleston