Gobble, Gobble
From: DAWN PUBLICATIONS
Other products from DAWN PUBLICATIONS
Shop for It!
TDmonthly rating:


(Read Review below)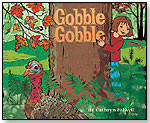 Arrow-shaped footprints lead a young backyard naturalist to a flock of funny-looking birds with big strong feet: Wild Turkeys. Once nearly extinct, these comical critters now gobble their way across North America. Follow Jenny through a year of enchantment as she shares her discovery of these wonderful birds. Gobble, gobble! Jenny wrote a journal, too, with lots of fascinating stuff about a distinctly American bird. Although it once numbered in the millions, wild turkeys nearly disappeared with over-hunting and habitat destruction, but are now making a comeback. The unique illustrations are block prints over collages. The collages are made from cut and torn paper plus all sorts of things from nature – bark, leaves, feathers, even wasp nests. Author Cathryn Falwell also offers tips for children to make their own cut-paper pictures and how to keep a nature journal. Also available in Hard Cover.
TDmonthly Review:
WHAT IT IS
This rhyming book follows Jenny as she plays outside and watches wild turkeys through the four seasons. Jenny´s Journal, at the end, shares facts about wild turkeys.
WHAT WE THOUGHT
Though simple, the rhyming text is catchy. Kids will enjoy watching Jenny and the turkeys as the seasons progress. The illustrations are rich and textural. The coloring of each turkey is very detailed, and one may notice unique touches, like a tree in the forest that is a stamp of a real leaf, if they look closely enough. As a born and bred New Englander, turkeys were everywhere in the area surrounding my house when I grew up, so I was surprised to learn in the "Jenny´s Journal" segment in the back of the book that turkeys were once in danger of becoming extinct! Between the colorful and engaging pictures, the rhyming text, and the informative journal in back, this book offered more than your average picture book.

WHY THEY´LL WANT IT
This would be a great book for stores that carry nature-themed or eco-friendly books and toys. It also would be a perfect offering in the fall and Thanksgiving seasons, so kids can learn more about the bird that has become practically synonymous with autumn. Educators will like the informative yet casual "Jenny´s Journal" in the back of the book, which also offers arts & crafts and other nature-inspired activity ideas.
— Justina Huddleston