---
TTALF "TOYS" CORPORATION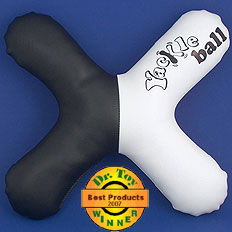 Yackle Ball

Gender:
Boys And Girls
Age:
5 and Up
Yackle Ball is America's NEW X shaped ball that's great for everyone regardless of age or athletic ability and it actually goes farther than a football because of its phenomenal aerodynamics.

Yackle Ball starts at age 5-6 for boys and 7-8 for girls and Yackle Ball Jr. for the little ones. Currently, there are over six games right up to a full team sport that has been introduced into some schools and even college students are playing. A wonderful energetic outdoor activity the whole family, large or small, can play.

Yackle Ball is easy to catch, even for the littlest of hands or the clumsiest of people. Its softness reduces the fear of being hit with the ball and the X-shape makes a beginner's "hug catch" more likely to work due to Yackle Ball's "arms". Those same qualities make it user-friendly for children with developmental delays or physical disabilities. It's constructed of premium quality water-resistant marine vinyl so they're awesome at the beach. Yackle Ball is safe and durable; allowing for years of excitement and fun.
(

Watch Video)
---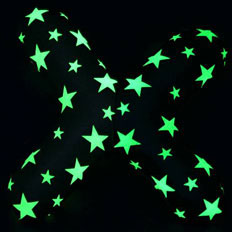 Night Yackle

MSRP:
$29.95
Age:
5 and Up
"Taking Night time play to the X-treme"

Glow bands allow for visualization of opponents
Phenomenal Aerodynamics increases throwing Distance
Unique Glow-in-the-Dark spinning patterns
Challenges capabilities and strengthens athletic performance
Water Resistant for Fun at the Beach
Night Yackle is our latest product to roll out. As 100% Made in the USA just like our other Yackle Ball product lines. Glow-in-the-Dark is a hot trend and our retailers are following it with us! Glow-in-the-Dark wrist bands are included and shirts with Glow-in-the-Dark bull's-eye are available as an accessory.
Games include:
Touch the Stars: Played alone or with multi players
Freeze Yackle: Played with multi players
Two Peas and a Pod: Played Played with three players

Complete game rules available on Website.
(

Watch Video)
---
---

AD
---