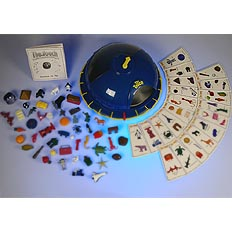 The "New" Touch

MSRP:
$32.00
Age:
5 and Up
Race against time to find concealed pieces as fascinated opponents look on. Collect interesting play pieces and theme cards for points. Enjoy fast paced amusement and easy scoring. Develop lightning fast memory and finger dexterity. Builds confidence and brings family & friends together!
The 'NEW' Touch
game is an innovative and entertaining fast-paced family table game. This game is a multiple award winner, endorsed by many prominent and respected organizations. It is designed for the whole family, ages 5 and up, although younger children can also play, provided they are supervised. In addition to The Touch being a highly interactive educational game for families & schools, it is also beneficial to players with special needs. Playing The Touch develops fine motor and visualization skills, while challenging memory. Adults and children can play in 'friendly competition' on an even playing fields. Kids especially love the instant reward of collecting the pieces and parents will appreciate the educational 'Fun Facts' about each piece.
(

Watch Video)
---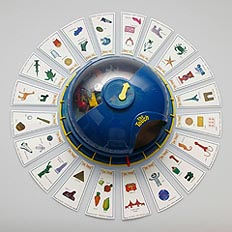 The "NEW" Touch

The 'NEW' Touch
game includes an innovative play container with a
'No-assembly'
format, for convenient out-of-the-box play & storage. It's features include a lighted observation window, build in timer and self-adjusting hand opening. It comes ready to play with a full starter set of 49 detailed play pieces, 20 theme cards with
'Fun Facts'
and Directions for Play.
As an added bonus, we've put 'Fun Facts' on the back of every card. Now you can learn something about every piece in The Touch! Read the information to young children, quiz the older ones. Use them as subjects for study or discussions. Challenge each other and see if you can add something new. The experience of feeling the object while recalling facts helps commit it to memory!
Retail Price:
The 'NEW' Touch
game: $32.00, Expansion Packs (choose from Farm Animals, African Wildlife Dinosaurs or Sea Creatures): $7.99 each