Mattel's Hot Wheels Celebrates its 35TH Anniversary with HIGHWAY 35
By Tish Monaco
May 1, 2003

Having sold more cars than all of Detroit's Big Three automakers since being introduced in 1968, Hot Wheels have now reached middle age. However, worldwide sales show no sign of slowing. According to Mattel, the company sells three track sets every minute and six Hot Wheels® cars a second! The brand also boasts 15 million collectors loyal to the signature streak of flame.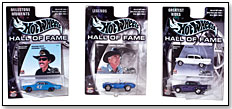 Hot Wheels' Hall of Fame
Historic Hot-Rods

The newest Hot Wheels machine is the 2003 WhipCreamer, part of the four car Super Chromes series featuring sleek chrome finishes with an "early days" style of packaging, superb paint decorations, and nickel-plated axels. The production quantity for each will be 12,500 numbered cars, with 1,000 cars held back for complete sets available later this year. Each vehicle retails at $14.99.

Hot Wheels on Film

The big 35th anniversary news is the Hot Wheels Highway 35 line of cars and videos. A first for Matchbox, Hot Wheels will premiere as an animated series in The World Race on Highway 35. Four different videos are being released in March, May, July, and October, and a fifth episode will be aired on television later this year.

In the works from Columbia Pictures is a live-action Hot Wheels film to be directed by McG (Charlie's Angels). "We all grew up with Hot Wheels®--it's one of the great, clean renowned brands of our generation," said McG. "We've been given the opportunity to bring to life a world inspired by color, adventure and velocity. We want to create a timeless story that will work for everyone."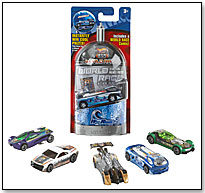 World Race Vehicles
Highway 35 Perks

Consumers also get a special comic book and coin with the purchase of any of the new anniversary-edition cars. The coin is marked with a code that will allow buyers to win prizes on the Hot Wheels website. Anyone collecting all 35 cars in the series can redeem the bar codes with Mattel and receive the new Hot Wheels Ultimate Track Set.

The first installation of The World Race on Highway 35 is available now on video and DVD and comes packaged with a 2-pack of cars from the new 35-piece set.

Writer's Bio: Letitia Adrienne Monaco is a freelance writer and producer based in Jupiter, Florida. Writing for national print and television productions, her repertoire delves a range of subjects, from travel, pets and healthcare to educational programming and children's stories. Her independent series, Travel with Heritage, aired nationally on the History Channel.