New Plush Lines Ape the Color and Sounds of Wildlife
By Tish Monaco
May 1, 2003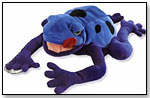 Blue Poison Dart Frog Hat

Colorful new wildlife plush toys are providing a welcome diversion from those well-worn favorites without losing any of the cuddliness. Companies such as Wildlife Artists and Wild Republic are incorporating the lifelike features and sounds of real animals into their products, infusing them with an educational value rare to the world of huggable toys.



Dolphin Plush

Wildlife Artists Show their Colors

Started in an office basement by renowned artist Gerry Ward, Wildlife Artists' products are family produced, marketed and shipped. Now in its 28th year of business, the company's motto is "No One Knows Wildlife Like Wildlife Artists."


Butterfly Plush

Owned by the Ward family, who are active in conservation causes around the world, Wildlife Artists' new Velvet Line features vibrant colors true to each creature's natural state. The series features a Knot of Snakes, an Army of Frogs, a Pod of Dolphins, a Flight of Butterflies, and a Shiver of Sharks.



Snake Plush

"According to our research, we are the first to dedicate a whole line to using this velvet material," said Caroline Ward, Vice President of Development and Marketing for Wildlife Artists. The intention in all the company's offerings, said Ward, is to "connect with the vital awareness of the conservation of nature."


The company also manufactures and distributes the Conservation Collection®, Floppies® and Protectors of the Planet®, with a retail focus on wildlife-themed stores and zoos/aquariums. Prices for the Velvet line range from $5 to $20.

Writer's Bio: Letitia Adrienne Monaco is a freelance writer and producer based in Jupiter, Florida. Writing for national print and television productions, her repertoire delves a range of subjects, from travel, pets and healthcare to educational programming and children's stories. Her independent series, Travel with Heritage, aired nationally on the History Channel.