New Fast and the Furious Diecast Cars Poised at the Starting Line for this Summer's Sequel
By Tim Connolly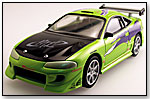 The Fast and the Furious' Eclipse
2002's The Fast and the Furious was the surprise hit of last summer, out-grossing big budget star vehicles for a total of $145 million in domestic box-office sales ($206 million worldwide). Fast and the Furious was that rare breed of movie that appealed in near equal proportion to men and women, while reaching across ethnic lines with similar ease. No surprise that Universal Pictures will be trying to recapture some of that nitro-burning magic with the June 6th release of 2Fast 2Furious, the sequel to last year's pleasant surprise.

The Fast and the Furious' 18th Mazda RX7
Joining Universal at the starting line will be RC2—formerly Racing Champions Ertl before the company's acquisition of Learning Curve Intl.—with a new collection of 1:18 and 1:64 scale Tuner Car Diecast Collectibles, part of the company's ongoing strategy to promote The Fast and the Furious brand as a stand-alone product line comprising diecast, toys and hobby products. RC2 will be taking the new line of cars to specialty retail outlets such as MusicLand, Blockbuster Video, and Trak Automotive stores.
"The size and scope of the market for products associated with The Fast and the Furious make it clear that the brand appeals to today's teens and young adults," said Peter Hensler, President of Racing Champions Ertl. "We hope to reach a diverse group with collectibles and toys that are natural extensions of the movie and the lifestyle."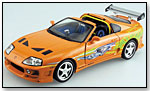 The Fast and the Furious' 18th Supra
Other products include 1:24 scale Diecast Activity Kits that allow fans to build and customize their own tuner car with an assortment of performance parts, and this fall will see the release of a new line of Launchers and Race Sets. "We're very excited about the timing," said Ertl's Marketing and Communications Manager, Leah Giarritano. "It's a great new product line."
The 1:64 scale diecast cars retail for $2.99, and the larger 1:18 versions are priced between $24-$29.99 at specialty stores, mass retailers and hobby outlets.
(C) TDmonthly Magazine 2003 Visit: www.tdmonthly.com
(C) TDmonthly Magazine 2003 Visit: www.tdmonthly.com