The Geometry of the Universe: Zometool Construction Sets Stand on Science
By Jill Marquardt
May 1, 2003
At The Tattered Cover Bookstore in Denver, complex three-dimensional structures reminiscent of high-tech Tinker Toys or oversized molecule models hang from the ceiling of the children's section, drawing curious customers of all ages. Baskets of colorful nodes and struts lie ready for experimentation, allowing kids and parents the opportunity to construct miniature geodesic dome houses, visualize mathematical concepts or create an intriguing design from imagination.

"The kits we have on display are always being played with," says bookstore employee Stephanie Bader. "When [kids] see the finished display, they're like, `Oh, cool!'"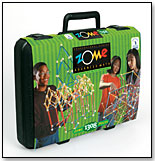 Zome Kit
These hands-on kits are the creation of Zometool, Inc., a Colorado-based company that uses a unique 61-zone system that takes ball-and-stick construction to its highest level—serving as educational toys for children and design tools for hobbyists, students, teachers and researchers.

Paul Hildebrandt, President of Zometool, co–invented the kits in the mid-1980s with Marc Pelletier. Raising over $3,000,000 for the company, Hildebrandt designed and built the manufacturing system and currently heads marketing efforts. Here he provides insight into the inspiration behind the innovative product.

ToyDirectory Monthly: According to the company web site, Zome products have their origins in sources such as mathematics and architecture. What are some specific inspirations that have spurred new ideas for you and your team?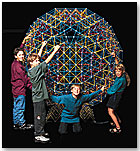 Paul Hildebrandt: Zome is the language of the structure of space, just like music and math are languages. Most Zome users are still learning how to sound out words in this language; a scientist or mathematician may write a short shopping list, but Zome artists are making poetry. Steven Rogers explores sub-atomic structures with 3D surfaces that look like a cross between a chemistry model and a Klein bottle. Clark Richert is modeling structures in 10 dimensions related to String Theory. The late, great French artist and Zome designer Jean Baudoin opened up a potential new world of dazzlingly elegant architecture and left Zome inventor Marc Pelletier an inventory of Zome models that will take years to catalog. Marc, an excellent Zome artist in his own right, is working on a new architectural language and Islamic decoration system based on the symmetries of the number 7.
TDM: What is the process involved in developing a new kit or toy? For example, how do the development team's personalities and backgrounds provide the inspiration and encouragement for the creative process, ushering a new idea from brainstorming to final execution?
PH: Zome product development is demand-based, turn-on-a-dime, and "cheaper, better, faster." For example, I just got a request from our Japanese distributor, Ken Maehata, to develop a nanotube kit. A nanotube is a stretched-out buckyball that can be used like microscopic plumbing. It was proposed by a Japanese scientist in the 1950s, a quarter of a century before Richard Smalley discovered buckyballs. I sent Mr. Maehata a digital photo of a nanotube structure built by Zome artist Steven Rogers and asked what price points would work. He asked for beginner and professional sizes at corresponding price points.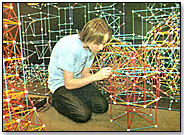 Now I'll build a couple of Zome models that work and cost them with our standard bill of materials, adjusting the length of the nanotube to fit the cost. I'll send photos of the final models for approval by Mr. Maehata, and then I'll have Steve produce images for the step-by-step instructions on our proprietary "Zomod" software. Steve will email the images to Dale Hess at Spark Studio in Boulder, Colorado, who will lay them out for digital printing with general tips on building with Zome and some nanotube factoids. The flip side of the instructions will act as the label. These fit into stock plastic jars, which we use for this type of kit. We'll use high-quality, short-run digital printing for the first run of instructions. Mr. Maehata may choose to supply print-ready Japanese translations for his order. The kits should be ready to ship in two weeks.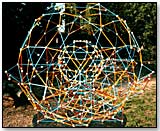 In contrast, the design of Zome components and tooling took 12 years. Even a minor change to the end of the struts, which will improve the connect-ability of the parts, has been in research and development for several years. We got a patent on it last fall, but it may take another year before the new parts are in production.

TDM: What elements do you believe to be essential to creativity in toy design and development?
PH: Maybe we're so creative as toy designers we're eroding the natural creativity of our kids. Listen to your kids. Play with your kids. If you cut the cord to the TV and throw out the Disney videos, you find kids are inexhaustible sources of creativity. Often, a curious child finds the box more fun to play with than the gift that came inside it. My daughter can build up a story kingdom that lasts for 45 minutes around a conversation between a pencil and a fork. Kids can turn anything into a toy--they're the greatest toy inventors ever. Maybe we should let them fire us.
TDM: In what ways do you feel that Zome inspires creativity and innovation?
PH: I recently sent a large Zome kit to a gentleman who thought it might help him solve a problem he was working on. He called me back the day he received it, and could hardly contain himself: "Zome proves ancient civilizations existed on Mars!" And you know what? He might be right. When something as beautiful and elegant as Zome can happen in my life, I'm ready to believe anything could happen!

More information about the company can be found at zometool.com.