---
Weathering the Storm: 9 Tips on Selling Through the Snow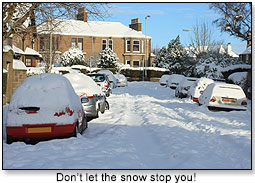 Weather can negatively affect retail business in many ways, but snow is especially bad. You need to keep the lines of communication open while dealing with everything — from delayed deliveries and employees who need to stay home with their kids to downed utilities. As a storeowner, you can hope for help — but just in case, be prepared to take care of all of it yourself.

Here are 9 tips for retailers affected by blizzard or Nor'easters:

1. Call all employees and confirm they are OK, find out if they have transportation and if they can be scheduled work.

2. Get to your store with a snow shovel and assess any damage. Yes, you might have to shovel your way there from your car.

3. Do whatever is necessary to clean off the awnings, windows, sidewalk and street in front of your shop. Enlist other shop owners to do the same. You must look open for business.

4. If necessary, hire private services to clear your street and parking lot, as well as exit and entrance into your shopping area.

5. Keep your customers updated via email blast, Facebook Fan page and Twitter. Let them know what your hours will be and who they should call for their customer service needs.

6. Consider making a quick YouTube video showing your store, letting people know that you are open, how to get in and out, etc. Post that link to your contacts in #5.

7. If you have seasonal items, put them on sale or at a larger discount immediately.

8. Get to the local media and show that your area is open; don't assume they'll just find you. Also, don't just talk about "how much business we lost."

9. Listen to authorities, but open as soon as you can to get back to business. Don't let your store, your street, or your neighborhood be a victim.

Customers may postpone their after Christmas shopping, but not give it up. Don't dwell on the past event. Remain forward-focused on the customers who do come in, and give them a memorably exceptional experience.

Writer's Bio:
Bob Phibbs is the Retail Doctor®, a best-selling author and speaker who has helped thousands of independent businesses compete. His new book, The Retail Doctor's Guide to Growing Your Business has received praise from both Inc. magazine and USA Today and can be found at your local bookstore or ordered at http://www.retaildoc.com/guide. He and his work have been featured in the New York Times, the Wall Street Journal and Entrepreneur magazine. Questions? Contact Bob at info@retaildoc.com.
This article was reprinted with permission of the author, Bob Phibbs, aka The Retail Doctor®.
Read more articles by this author
THIS BANNER IS AN AD:
---
---