---
Toys to Talk About: Wheeled Toys
Get kids outdoors with these fun wheeled toys, just in time for Spring.
Wonky Wheels™ by PLASMART INC.


More than a toy car, Wonky Wheels takes the fun of toy cars to a whole new level! Steer Wonky Wheels with your finger. Then see how Wonky Wheels wobbles, rotates, and creates new moves every time you play. Try steering Wonky Wheels around PlaSmart's Happyville Smart Mat! High quality and beautifully made, Wonky Wheels cars are not only fun, they help kids enhance fine motor skills and eye-hand coordination. 7/7/2014 (Price: $9.99; Age: 3 and up) [Add to my Inquiry Basket][?]



Spherovelo by PLAYFOREVER TOYS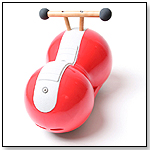 Meet the 'Spherovelo', a unique push along ride on for 10-24 month olds. Even earlier with mum or dad's help. The Spherovelo is the world's first ride on to accelerate the development of young children by helping them make the connection between their senses (vision, pressure, equilibrium) and their motor system. Some might call it balance but it's really more about the coordination of our muscles in response to what we see and feel. It manages this by being a ride on that's unstable on the one hand (so that the child is required to effect some control - like with a bike) but safe on the other; a combination never before achieved. 5/29/2014 (Age: 1 to 2) [Add to my Inquiry Basket][?]



Boikido Wooden 2 in 1 Walker Ride-on by BOIKIDO


This 2-in-1 sturdy and colorful wooden push-walker is also a ride-on. It encourages kids to take their first steps, improves balance, and brings lots of fun by riding it around the house! Comes with built-in Xylophone with 2 Drumsticks, and shape sorter. Launch date: February 2013. 11/14/2012 (Price: $99.00; Age: 1 to 2) [Add to my Inquiry Basket][?]



Spin 'N Saucer™ With Lights & Sounds by RADIO FLYER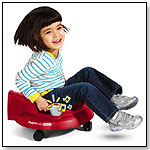 The Spin 'N Saucer™ comes with EZ-Glide wheels for 360°movement so children are free to create their own motion and can move in any direction – there is no getting stuck. The SafeSpin™ design offers a low-profile for stability and the ergonomic handle gives children the leverage they need to spin freely. For added fun, buttons are built into the handle to play sounds on the move. 11/8/2012 (Price: $29.99; Age: 2 to 5) [Add to my Inquiry Basket][?]



yetitoy! by PRINCE LIONHEART INC.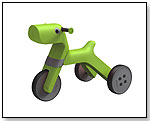 Enhance the imaginary world of children and explore the outdoors with Yetitoy, a ride-on fantasy creature from a far-off land. Customize Yetitoy with additional accessories; horns, saddle or ears. (sold separately). Launch date: September 2012. 7/13/2012 (Price: $110.00; Age: 2 and up) [Add to my Inquiry Basket][?]



Pulse Slither by BRAVO SPORTS

This three-wheeled scooter is designed to offer the ability to pull off tricks and maneuvers that are not possible on any other scooter or wheeled good thanks to the two large front wheels offset with a single rear wheel housed in a pivot-mounted swivel truck. "The rudder-like rear wheel with variable tension gives the rider the freedom to drift in and out of turns, zip around corners, execute lightning-quick 180º turns, and adjusts to their skill level," a representative for the company told TDmonthly. Launch date: October 15, 2009. 8/28/2009 (Price: $59.99; Age: 8 and up) [Add to my Inquiry Basket][?]



Kettrike® Happy Plus Surfer by KETTLER INTERNATIONAL INC.


The Kettrike Happy Plus Surfer features a four-position Quik-Adjust frame, a three-in-one auto-freewheel system for pedaling, braking and coasting, limited turn-radius steering, a handlebar mounted storage bag, a dual-wheel rear handbrake, and a chrome-plated pushbar. "The Surfer trike has a lifetime warranty on the main 'D' tube frame and a five- year warranty on the paint against fading or rusting," Heather McGlothlin, national sales manager for KETTLER International, told TDmonthly. Launch date: April 20, 2009. 3/12/2009 (Price: $210.00; Age: 1 to 5) [Add to my Inquiry Basket][?]



Digital 132 GT Racers by CARRERA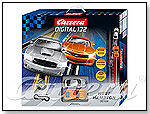 Carrera of America is recreating the excitement, thrills and spills of real-life motorsport racing with its new Digital 132 GT Racer set, which combines superior model making and state-of-the-art technology to provide lightning-quick, brilliant tactical moves, precision drifts in search of the ideal line, pit stops and peak speed capacity, and is compatible with other manufactures' analog racetrack and slot car systems. Carrera's 1:32 scale Digital GT Racer set is outfitted with a Porsche GT3 RSR Felbermayr Proton Competition LMES 2007, a BMW Z4 M Coupé Schubert Motors, 11 standard straights, three 1/3 Straights, a connecting track with black box, two Digital 132 lane change sections (four track sections), 10 curves 1/60°, a wireless tower, two wireless speed controllers, a transformer, guardrails, replacement contacts, instructions, verge border sections and track section interlocks. Assembled dimensions are 350 x 179 cm/11.48 x 5.87 ft. Track length: 9,0 m/29.53 ft. Launch date: November 2008. 10/27/2008 (Price: $250.00; Age: 8 and up) [Add to my Inquiry Basket][?]



Learning Curve - John Deere 36" Stake Wagon by RC2 BRANDS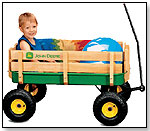 John Deere is a brand name passed down from generation to generation. So it's no wonder that the Stake Wagon is a pleasure for both kids and parents alike. Constructed of heavy-duty rust-resistant steel, the Stake Wagon rides on steel wheels with wide rubber tires. High stake sections are securely fastened. All edges and corners are rounded for safety. A wide wheelbase, easy-to-grab handle, and easy steering provide optimal riding.
— "John Deere is [a wagon] we have in store now — a throwback for parents of today. If they had one they're more likely to buy one," said Bob Breneman, co-owner of G. Willikers Toy Shop in Portsmouth, N.H.
— "We sell a lot of RC2 wagons," was the endorsement given by Peter Scott, owner of Perfect Toy in Avon, Conn. 3/13/2007 (Price: $120.00; Age: 2 and up) [Add to my Inquiry Basket][?]



P-Wee Flyer Wagon by BERLIN FLYER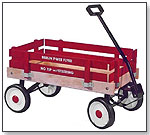 As with all Berlin Flyer wagons, the P-Wee is made by Amish craftsmen in Berlin, Ohio. The wagon consists of heavy-gauge metal and the finest hardwoods available. The bed of the wagon is varnished, while the sides are safe painted. A NO-TIP® steering mechanism is used in all Berlin Flyer Wagons. The P-Wee is ideal for smaller children. Some assembly is required.
— "For wagons, we have Berlin Flyer. They're very easy to deal with. If you order three wagons, you're going to get them," said Roger Lee, co-owner of Olney Toys in Olney, Md.
— Regarding wagons in his store, Jude Larene, owner of Izilla Toys in Seattle, said, "We sell from one manufacturer only. It's Berlin Flyer. They do very well. They're all hand made."
— "We sell the wooden wagons assembled," said Dan Marshall, owner of Peapods Natural Toys & Baby Care in St. Paul, Minn. 3/13/2007 (Price: $35.00; Age: 3 to 8)



Garbage Truck - Green by BRUDER TOYS AMERICA INC.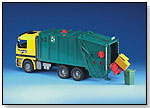 This garbage truck features a trash compactor and a back end that tilts up to dump the truck contents. Each truck features tread tires and two small trash bins. "This toy is fully functional and designed to be used just like the truck in real life. This kind of classic play pattern allows for open-ended play that encourages children to think creatively and use their imagination. The basic controls and actions of the truck will need to be learned by younger children, giving them a chance to watch themselves succeed," Noah McKiernan of Bruder Toys told TDmonthly. Launch date: 2003.
— Michelle Deutschmann, owner of Kaleidoscope Toys in Falmouth, Mass., told TDmonthly that Bruder has been a best seller ever since she opened her toy store.
— Lynn Robillard told TDmonthly in summer 2007 that the second best-selling line at her store, Toys in the Attic in Manchester, Vt., is Bruder trucks, which customers like because they are plastic and can be left outside.
— "Big, beautiful trucks from Bruder [are] going to make great Christmas gifts," Rick Henry of Stellabella Toys in Cambridge, Mass. told TDmonthly. 2/23/2007 (Price: $65.00; Age: 3 and up) [Add to my Inquiry Basket][?]



Wunderwagon Jr.™ by WUNDERWORKS OF AMERICA, LLC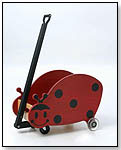 Wunderwagon Jr. is a handcrafted wooden wagon that excites the imaginations of children and adults alike. The unique ladybug design provides safe and fun transportation that kids love. Grown-ups appreciate the high-quality materials, smooth ride, and extra-long handle for comfortable pulling. "Besides its unique body style, the Wunderwagon Jr.'s handcrafted materials, front caster wheels, and larger rear wheels give this wagon an extra-smooth, comfortable ride," said Jack Heller of Wunderworks of America LLC. "Its compact design," he continued, "makes it easy to transport and use in any type of environment." Launch date: 2006. 11/15/2006 (Age: 1 and up)



LIKEaBIKE Forest by LIKEABIKE


The LIKEaBIKE Forest is our top-of-the-line model. The Forest is the latest model in the LIKEaBIKE line of products. All frame pieces are constructed from very strong, attractive laminated beech wood. Somewhat darker than the birch wood of the other models, the dark green cotton seat, green mudguard and the grey felt between the fork and the frame make the Forest an absolute distinctive beauty. Wheels are steel-rimmed with cartridge bearing hubs to ensure smooth running. Forest is kitted out with 12" Impac Street Runner pneumatic tires. 1/4/2006 (Price: $295.00) [Add to my Inquiry Basket][?]



Mighty World Light & Sound Fire Truck by INTERNATIONAL PLAYTHINGS LLC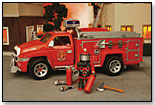 The transformable truck has an easy snap-fit assembly with light and sound, dual rear wheels, removable axles, bumpers and more. It is sturdy for basic play and also model-quality for older children with its adjustable assembly feature. It also features a detailed chassis and working steering. The compartment doors, two cab doors and hood open for added play value. This set includes a firefighter figure, rescue basket, hoses, fire extinguishers, ax and flashlight. "Mighty Worlds is brand new … and it's been selling extremely well already," raved Ricki Block, owner of Ariel's Child in New Windsor, N.Y.
— "Mighty World … is also liked by adults. They're pretty humorous and modern," said Wendy Kramer, manager of Big Fun Toys in Hoboken, N.J. "The cop has a gun and donut."
— It's still doing well for Block, she told TDmonthly in July.
— Susan Tice, publicity director for International Playthings, said that Mighty World had a small test run in 2005, "but the major launch [was] Jan. 2006." 12/7/2005 (Price: $37.99; Age: 3 and up)



Tractor With Front Loader by SIKU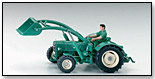 Distributed by Ravensburger in the United States, Siku has been making model cars and vehicles in Germany since 1921. Siku toys are a favorite with Gideon Rettich, partner at Classic Toys in New York City. "These toys are of the same quality as 30 or 40 years ago," he raved. 12/7/2005



4 Pack Hot Rod Gift Set by JAKKS PACIFIC INC.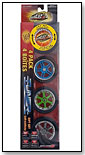 Designed to fit on the Fly Wheels vehicle, these tires are based on actual brand name tires. The gift pack contains four wheels and includes either a spinner or a floater in each package. The tire sizes vary from 15"-20" and can be used with other Fly Wheel toys. 11/1/2005 (Age: 8 and up)



Chuck My Talking Dump Truck by HASBRO INC.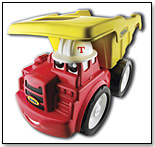 Chuck My Talking Truck is Tonka's new appeal to kids that love trucks. Speaking seven electronic phrases, Chuck the Talking Truck moves its motorized mouth as it talks. The truck includes a tilting truck bed, a moving steering wheel and batteries. 9/7/2005 (Price: $14.99; Age: 2 and up) [Add to my Inquiry Basket][?]



THIS BANNER IS AN AD:
---
---