Geemo by Cas Holman

Edited on 05/01/2020 by: Elen R.W. Danillina -- ToyDirectory.com Inc.


Designed by Cas Holman (born 1974), Geemo is a grabby, stretchy, quirky companion designed to occupy a child's mind as much as his hands. This playful building block for the imagination was sold in Geemanisms (sets) of five. Geemo's flexible, magnetic limbs grab and repel each other in unpredictable ways. As Geemo comes to life in one's hands, she can build, discover, create and imagine with freedom. Awards: Conduit Brave New Design 2005. Launch date: October 2006.

Geemo was invented while Holman was pursuing her MFA at Cranbrook, and launched at the NY MoMA Design Store in 2007. It has since won numerous awards and shown in design and toy fairs in Moscow, Tokyo,Seoul, New York, Hamburg and Riyadh, Saudi Arabia. She is a professor of industrial design at Rhode Island School of Design. Previously she was a professor at Syracuse University. Holman also invented Rigamajig, a 263-piece building kit for classrooms. (Search Amazon) Holman was the subject of an episode of the Netflix series Abstract: The Art of Design titled "Cas Holman: Design for Play," focusing on her design philosophies.
https://casholman.com/geemo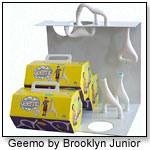 Geemo
After graduating from UC, Santa Cruz in 1998 Holman started her professional life first as a sous chef and later as a research assistant researching biodiversity in the Galapagos Islands. She eventually landed back in northern California with CRI San Francisco, working in contract furniture with Herman Miller. She began her ID career fabricating one-off furniture pieces in her basement that were sold in galleries and to restaurants. In 2002 Holman decided to pursue an MFA in 3D design at Cranbrook Academy of Art. While at Cranbrook she designed the building toy, Geemo, which launched at New York's MoMA in 2007, and she went on to show in design fairs in Tokyo, Moscow, Hamburg and Seoul. In 2005 Holman joined Rockwell Group, a New York City architecture firm, to develop the Imagination Playground for Manhattan's South Street Seaport. The oversized building blocks she designed for that park are currently found in playgrounds and schools worldwide. In 2011 she was hired by the Friends of the High Line to work alongside early childhood educators to imagine play opportunities in the High Line's elevated park in Manhattan. Her pop-up playground, the High Line Children's Workyard Kit, debuted in June 2011. Holman has since re-engineered the Workyard Kit for mass production, and it is now available to schools and playgrounds. (https://www.risd.edu/people/cas-holman/)


Partner: Alesdair Ittelson realitytitbit.com
Contact Info on risd.edu for Cas Holman
Associate Professor
cholman@risd.edu
401-709-8492
MFA, Cranbrook Academy of Art

---


Cas Holman talks about the inspiration behind her work designing for play, education, creativity and childhood. She explains the link between play and identity and the importance of imagination in both. Cas is a Professor of Industrial Design at RISD. Video by Jason Greene. For more info: www.casholman.com and www.rigamajig.com





---
Cas Holman spent the last 12 years immersed in play, early education, and designing for children?s imagination. She talks about the commitment to this work, its impact on playgrounds, and why play is at the heart of our becoming. Cas Holman at CreativeMornings New York, April 2018. Free events like this one are hosted every month in dozens of cities. Discover hundreds of talks from the world's creative community at https://creativemornings.com/talks

---
Professor Cas Holman - Rhode Island School of Design & Heroes Will Rise

---
Cas Holman: 30-second pitches 2018

---
Cas Holman's presentation from DESIGN-ED Future 2013 Conference

---
Cas Holman at CreativeMornings New York, April 2018. Free events like this one are hosted every month in dozens of cities. Discover hundreds of talks from the world's creative community at https://creativemornings.com/talks

---
---
---

From the ToyDirectory Video Archives:






---
Where is Rigamajig made?
The Rigamajig Basic Builder Kit and Simple Machines Add-on Kit have been fabricated using the highest grade Baltic Birch Plywood and finished by hand in Rhode Island. The rope is woven and the canvas buckets sewn in Rhode Island as well. Wingbolts and Hexnuts are made in New York State from 100% recycled nylon. The brackets are made in Pennsylvania.
What is the difference between Rigamajig and Rigamajig Jr?
Rigamajig is much larger, and has many more parts to share. It's intended for 2-20 kids to play together in a supervised environment. Teachers across the US have been developing lesson plans that use Rigamajig to learn simple machines, mathematics, STEAM topics, and much much more. Best yet, the students design ways to use it in the classroom and all around the school.
See some examples HERE.

Rigamajig Jr. is great for 1-4 kids to play with. It requires less open space, and stores away in it's own gym-bag sized duffle.
Where are the instructions?
Rigamajig has no right or wrong answers. The pieces are intuitive and fun to figure out. See PROJECT PLANS if you would like some inspiration to get you started.