---
THINKFUN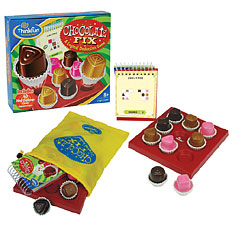 Chocolate Fix™

MSRP:
$16.99
Gender:
Boys And Girls
Age:
8 and Up
You'll be tempted to take a bite out of these life-like candy play pieces in this delightful game of deductive reasoning. Players examine all the clues on the cards before making a move. Once they discover where to put a chocolate piece, they combine this knowledge with the clues to learn more information. Some clues give exact or possible locations, while others just give you the token color or shape. Narrow down all of the possibilities to fill each candy assortment. Challenges range from beginner to expert.
(

Watch Video)
---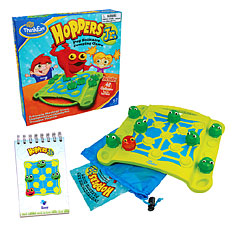 Hoppers® Jr

MSRP:
$14.99
Gender:
Boys And Girls
Age:
5 to 7
Young kids can now enjoy their own version of the popular Hoppers® game from ThinkFun® as they help Red Frog Freddie win the leaping contest by being the last one in the pond. Players choose a challenge and place the frogs on the playing board to match the picture shown. To win, players hop all of their frogs around the pond until only the red frog remains. The 40 challenges, ranging from Easy to Super Hard, keep kids' minds busy as they will need to use smart moves to beat all of the green frogs to win the title King of the Lilies!
(

Watch Video)
---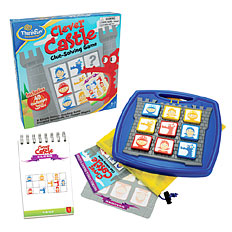 Clever Castle™

MSRP:
$14.99
Gender:
Boys And Girls
Age:
5 to 7
A new pattern matching game from ThinkFun designed specifically with younger kids in mind, Clever Castle provides children with an enriching and fun play experience. Kids use the clues that the King and Queen of Clever Castle have provided to help all nine of the party guests find their rooms. When every princess, knight and dragon finds their assigned room, kids flip the challenge card to see if they are right! With a parent's guide and 40 Challenges, graded from Easy to Super Hard, Clever Castle has been specially designed to encourage children to explore, succeed, and have fun.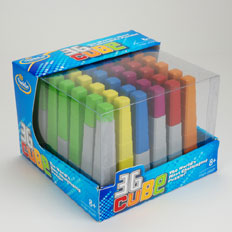 36 Cube

MSRP:
$24.99
Age:
8 and Up
How many towers can YOU place? Full on our mission to "empower the world to become better thinkers," ThinkFun has come through with the greatest challenge yet, 36 Cube! Start by removing the towers from the base. Your goal is to place the towers following two simple rules: the must be only one of each colored tower in every row and column, and the towers must fit into the base to form a perfect cube with all the towers being the same height. Sound simple? Think again!
---

AD
---