---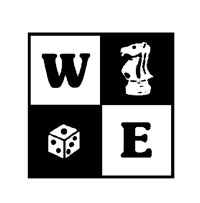 WOOD EXPRESSIONS INC.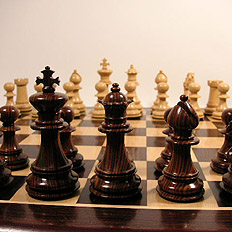 Rosewood Chess Set

Age:
6 and Up
Gorgeous 21" Rosewood chess board with triple-weighted, hand polished, Rosewood and Kari wood chessmen with leather bottoms, 4¼" king. The most beautiful chess set we've seen yet! Chess is not just any old game. It is one of the most revered board games ever to hit the market. Not only is chess a fun and exciting way to compete against your rivals, it also offers a numerous array of intellectual benefits. Chess increases memory and develops concentration. It encourages imagination and creativity. Chess is also known to improve student's schoolwork and grades. Various studies have demonstrated that students acquire higher reading and math levels, and just an overall superior learning ability as an effect of playing chess. In fact, chess is part of the required curriculum in countries all over the world! A game for people of all ages. Learn to play at any age and unlike other sports, you don't ever have to retire. Age is never a factor when you're looking for an opponent. The young can play the old and the old can play the young. Chess is a game that brings enjoyment to its players while exercising their intellectual abilities.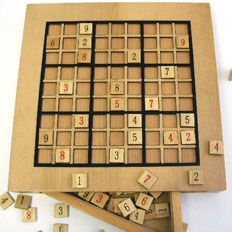 Sudoku Board Game with Storage Drawers

MSRP:
$34.95
Age:
6 and Up
Sudoku - it's the number puzzle that has become an international hit.
Sudoku is the hottest game on the market right now and can be seen in various daily newspapers, as well as numerous trendy magazines. Players can't resist this addictive strategic challenge, and now we've made it even easier for the whole family to enjoy. Completing the puzzle only requires patience and logical ability, no mathematical skills are required. The numbers in the Sudoku game are used only for solving the puzzle. This is by far the nicest wooden board game we have seen on the market. The 12" x 12" wood board is beautifully finished with pull-out drawers for storage and come with dual sided playing pieces. Sudoku can be played individually, competitively, and even in a group setting. It is recommended by many teachers as an exercise in logical reasoning. Every puzzle has a single, unique solution. No two puzzles are alike. Enjoy!
The Following is included: Wooden Playing Board, Large Square Pieces, Extra Playing Pieces, Small Thinking Pieces, Starter Puzzles & Puzzle Solutions.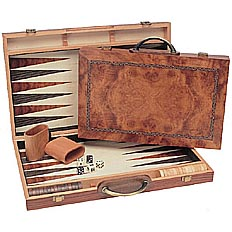 Camphor Wood Backgammon

MSRP:
$77.50
Age:
6 and Up
Executive 18" Backgammon set in a beautiful Burl Camphor wood with wood chips and wood dice cups. Backgammon is known to be one of the oldest games ever to exist and was unquestionably the most universally widespread. The modern day Backgammon of today was not invented in only one day, it is a creation evolved from many versions of the game that have been passed along from generation to generation. Backgammon is a game of fortune as well as skill, but the rules are very simple and easy to learn. The history of the game has been linked to the aristocracy of ancient empires proven by artifacts as well as legendary references from Persia, Greece, Rome, and the Far East. Backgammon is also associated with the game of Senet, in ancient Egypt, found in King Tut's original tomb. Backgammon is an excellent way to enjoy a night at home with your family and friends.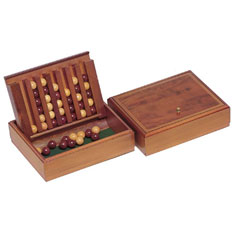 The Captain's Mistress - 4 in a Row

MSRP:
$54.95
Age:
6 and Up
Exclusive!
Captain's Mistress (4 in a row) 11 1/4" x 9" There is a persistent legend that Captain Cook used this game nightly to relax with his fellow shipmates. He spent so much time playing the game, it came to be known as The Captain's Mistress. The object of the game is simple, yet the strategies are endless. Players try to line up four of their hardwood "rounds" in a row, either horizontally, vertically or diagonally. the cabinet is beautifully made, with brass fittings, burlwood inlay on top, mitered joints and a lustrous, stained finish. At game's end, pull the bottom retaining "gangplank" and the hardwood "rounds" drop back into the cabinet.
---