---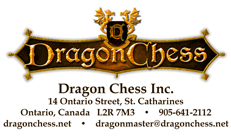 DRAGON CHESS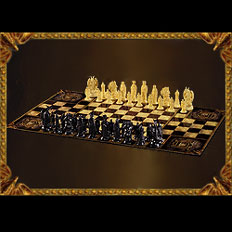 Dragon Chess®

MSRP:
$45.00
Gender:
Boys And Girls
Age:
8 and Up
DRAGON CHESS®
is a two-in-one chess game designed to engage the minds of both novices and masters alike. Traditional rules of Chess remain. The Dragon Chess® board consists of 124 squares. The Dragons with their own designated move now sit in each corner guarded by additional Pawns. It is the second in power to the Queen.
(

Watch Video)
---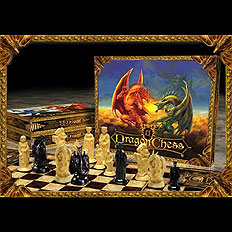 Dragon Chess®

Visit the web sites to see which retailers carry Dragon Chess ®
Retailers please visit the Canadian or US distributor listed for more information.
Canadian Distributor:
Kroeger Inc.
www.kroegerinc.com
(T) 416-752-4382
US Distributor:
WorldWise Imports LLC
www.worldwiseimports.com
(T) 702-643-0100
---

AD
---