---
JAX LTD INC.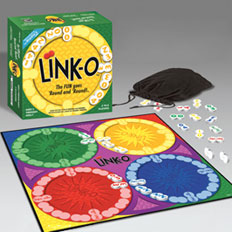 Link-o

Gender:
Boys And Girls
Age:
6 and Up
LINK-O is the fun, challenging numbers game that will have you turning in circles! Place tiles end to end on the board by matching numbers and color on each tile, as you try to be the first to play all of your tiles. Tiles left over in opponent's possession are totaled as points for YOU. It's ALL-AROUND FUN WITH NUMBERS for the whole family!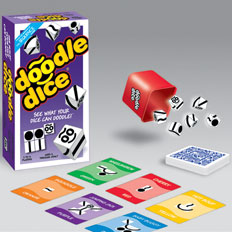 Doodle Dice

Gender:
Boys And Girls
Age:
6 and Up
See What Your Dice Can Doodle!™
Create a "doodle" with a few roll of the DOODLE DICE™. There's a different doodle pictured on each card in the deck. When you build a doodle that matches one of the cards, you can take that card. Block an opponent's turn or take one of their cards away. Collect one card of each color and you win! It's the fun, challenging way for everyone in your family to be a "doodle artist"!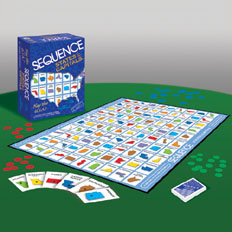 Sequence States and Capitals

Gender:
Boys And Girls
Age:
7 and Up
Travel the U.S.A. the Sequence Way!
Each card has the name of a capital with it's location shown on the state. Players match the state's shape and color on the card to the same state shape and color on the board, then place a chip on that space. The first player to get five chips in a row wins the game! Players of all ages will have fun learning the states and their capitals while enjoying the fun, challenging play of the SEQUENCE game. The states on the board also feature their corresponding state names.
2-6 Players
(

Watch Video)
---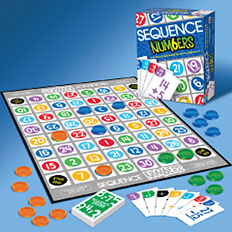 Sequence NUM6ERS

Gender:
Boys And Girls
Age:
7 and Up
SEQUENCE + NUMBERS = FUN!
The cards have the equations... the gameboard has the answers. Each card has an additon or subtraction equation. Match a card to it's correct answer on the board, then place your chip there. Groups of numbers are color-coded to help with number recognition. When you have 5 of your chips in a row, you've got a SEQUENCE !
Learning math is fun when you play by the numbers.... SEQUENCE NUMBERS!
---

AD
---