---
SHRINKY DINKS ® (K & B INNOVATIONS, INC.)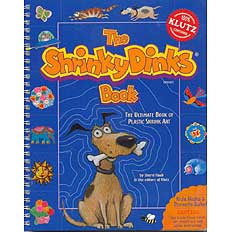 Shrinky Dinks Book by Klutz

Gender:
Boys And Girls
Age:
8 and Up
KLUTZ has put together a GREAT wire bound book containing 6 sheets of Shrinky Dinks Frosted Ruff N' Ready plastic, 40 pages of Patterns to trace, Ideas, Tips and FUN!! If you are stuck for a fun thing to do, simply pop open this book and let your imagination go. Alphabet styles, sports, animals, fantasy, flowers, holidays, hairdos and a couple of odd creatures (we're not sure what they are). So much fun it will boggle your mind!
For Consumers Only.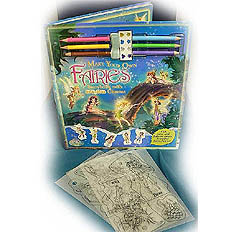 Shrinky Dinks Fairies Activity Book by Disney Press

Gender:
Boys And Girls
Age:
6 and Up
Disney Press has designed this wonderfully imaginative Shrinky Dinks Book...Make Your Own Fairies with Shrinky Dinks Charms. This glossy 12 page hard cover book has a surprise on every page, little nooks where your Shrinky Dinks fairies can hide. All 7 of the fairies (plus 7 other fun images) are preprinted on Shrinky Dinks sheets, so all you need to do is color them in with the included colored pencils, cut them out and bake to shrink. After shrinking add the included jewel like stickers to your Shrinky Dinks Fairy or to the pages of your book. A length of ribbon so sheer you would almost think it looks like fairy wings is also included so that you can also make a fairy bracelet. This is a quality book to be cherished for many years to come. Complete instructions are included.
For Consumers Only.
---

AD
---