---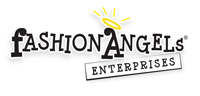 FASHION ANGELS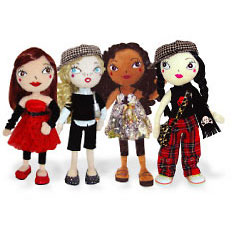 Fashion Angels: Living Dolls

MSRP:
$36.00
Gender:
Girls
Age:
8 and Up
They're plushy with the cutest embroidered faces…They're poseable with a full body armature… They stand 15 inches tall and pose from head to toe… Don't tell anyone but their Do's are wigs and are interchangeable with each other…New do's sold separately. Last but not least, their wardrobe is to die for… and the proof is in the details. They have great jewelry, accessories, and shoes (made in a real shoe factory!). The Fashion Angels… hip, sweet, intelligent, and soulful.
(

Watch Video)
---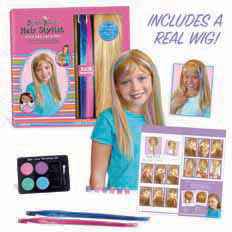 Hair Stylist

MSRP:
$28.00
Gender:
Girls
Age:
8 and Up
This deluxe hair stylist set includes real child size wig to style and wear. This set is perfect for learning how to style hair. The hair style guide has over 50 different hair styles! Style and wear the wig or do your own hair! Includes real wig, hair color streaking set, 2 hair extensions, 6 hair clips and hairstyle guide.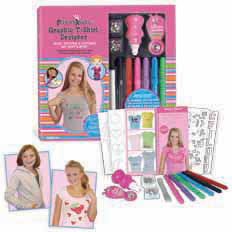 Graphic T-Shirt Designer

MSRP:
$24.00
Gender:
Girls
Age:
8 and Up
Reuse, redesign and customize shirts and more! Make an old shirt look new or make a new shirt totally custom! Don't trash those old tee's, transform them! This set includes everything you need including The Cooler Jeweler Tool to add blingin' gems and studs, fabric markers, ribbon and idea book full of creative ways to transform your tee's, tanks, hoodies and more! Includes 6 fabric markers, The Cooler Jeweler Tool (gem and stud setting tool), 50 gems, 2 yards of metallic ribbon, 70+ stencils, 20 gem patterns, 40+ page idea book and more!
(

Watch Video)
---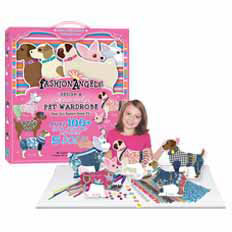 Design a Heavenly Pet Wardrobe

MSRP:
$27.99
Gender:
Girls
Age:
8 and Up
Design fabulous clothing and accessories for 5 paper dogs! Includes 5 paper dogs, 100+ patterns, fabric, appliques, glitter paints, ribbons, stickers, glass beads, gems, sequins, instructions and more!
---