---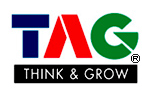 TAG TOYS INC.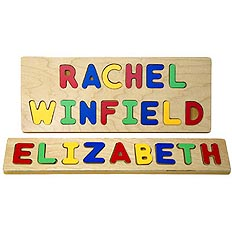 Name Puzzle

Gender:
Boys And Girls
Age:
3 to 6
$39.95 — F-30 Two Line Name Puzzle (11 Spaces each line)
$29.95 — F-32 Name Puzzle (11 Spaces)
$24.95 — F-33 Name Puzzle (6 Spaces)
Perfect first gift. Large brightly colored letters can be removed for puzzle play, or they can be glued in to make a name plaque to personalize a child's room. Perfect for names, short phrases or messages. Please allow 10-14 days for shipping.
Letters are 2 ¾" High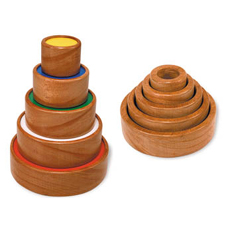 Wooden Circle Tower

MSRP:
$39.95
Gender:
Boys And Girls
Age:
2 to 4
Classic wooden stack and nest toy with safe, rounded corners and brightly colored bases to arrange in sequence six ways. Recessed edges help the child make and correct and stable fits.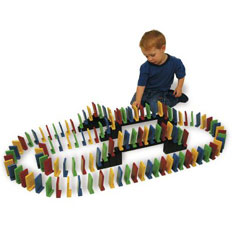 Easy-Stand Domino Set

Gender:
Boys And Girls
Age:
4 to 5
Easy-stand, extra large dominos are designed for little hands to easily manipulate. The uniquely designed base and pitch of each domino helps the small child stand them up easily, with little frustration and yet when pushed they will come crashing down upon each other. Children will find many ways to design and stack the dominos using bridge and stairs.
Dimensions: Each Domino: 1 3/4"W x 3 1/2" H with 3/4"angled base
Set of 50 - $49.95
Set of 100 - $89.95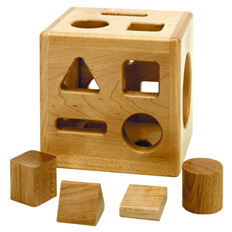 Maple Shape Sorter

MSRP:
$39.95
Gender:
Boys And Girls
Age:
3 to 6
Giant, solid maple sorting cube with solid maple shapes to sort. 4 different sorting combinations from simple to complex. Large openings on each side for easy retrieval of shapes. Solid maple construction makes this sorting cube virtually indestructible.
(

Watch Video)
---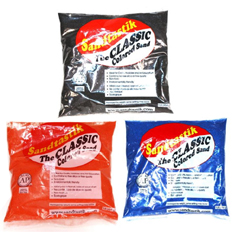 Colored Sand

MSRP:
$3.95
Gender:
Boys And Girls
Age:
4 to 8
Available in 1lb bags and in 10 different colors. The sand is non-toxic, contains no free silica or free quartz making it environmentally friendly.
$3.95 each.
Lock Box Memory Game

MSRP:
$89.95
Gender:
Boys And Girls
Age:
3 to 4
Superbly crafted solid hardwood lock box with 3 separate compartments, 10 doors and 10 different latches. Light weight with easy grip carry-along handle, this very popular TAG toy entertains the child for long periods of time. Children place their little treasures into separate compartments and then enjoy looking for them through the different doors.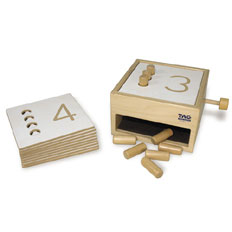 Tumble Down Counting Peg

MSRP:
$49.95
Gender:
Boys And Girls
Age:
2 to 3
TAG's unique toy design that teaches counting in a concrete, active and enjoyable way. 10 interchangeable number plates can be placed individually into the top of the counting box. Child places pegs into the holes next to the number while counting aloud, first with help, then alone. When the count is complete the child pulls the knob on the side of the box and the pegs come tumbling down. With this reward the child will repeat the activity with a given number over and over again, eventually practicing each number and becoming aware of the concrete quantity associated with the numerical symbol.
DIMENSIONS: 9½"L x 9½"W x 6"H
---

AD
---