---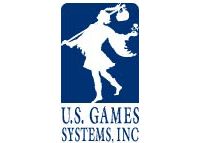 U.S. GAMES SYSTEMS, INC.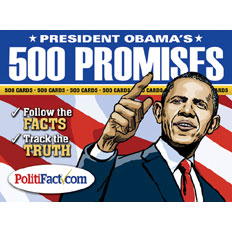 President Obama's 500 Promises Card Deck

MSRP:
$17.95
Gender:
Boys And Girls
Age:
12 and Up
Follow history in the making with our 44th President. Each card in this 510-card deck identifies an actual campaign promise made by Obama, and provides background information on the impact of the promise. This deck is an ideal starting point for lively debates, discussions and classroom activities. Compiled by reporters and researchers at Politifact.com, this deck can be used interactively to track the progress of each promise. It is made in the USA.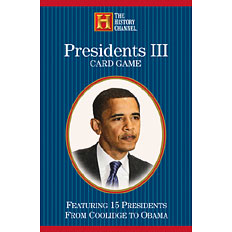 Presidents III

MSRP:
$6.00
Gender:
Boys And Girls
Age:
8 and Up
A 60 card deck which features the outstanding accomplishments and brief biographical history of Presidents Coolidge to Barack Obama. These decks can be used as learning tools and are suitable for most card games.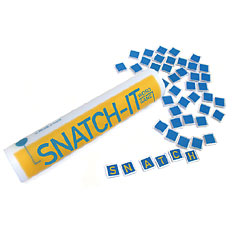 Snatch-It Word Game

MSRP:
$18.00
Gender:
Boys And Girls
Age:
8 and Up
2005 Top Creative Toy Seal of Excellence Award also 2006 iParenting Media Award Winner. Combine letters to build a new word or add onto an existing one. As more letter tiles are revealed, the words grow and so does the excitement. 100 plastic letter tiles packed in a 10-1/4" tall plastic tube. Game instructions included.
(

Watch Video)
---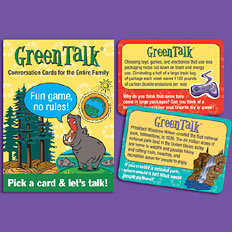 GreenTalk TableTalk® Conversation Cards for the Entire Family

MSRP:
$6.00
Gender:
Boys And Girls
Age:
6 and Up
Part of the company's TableTalk series, this colorful 52-card deck is full of ideas for greener living. Each illustrated card presents a fascinating fact about the environment and a thought-provoking question about the choices we make every day. GreenTalk provides a fun way to get conversations rolling at home, in schools or while traveling.
---

AD
---