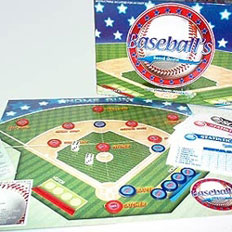 Baseball Board Game

MSRP:
$24.95
Gender:
Boys And Girls
Age:
6 and Up
Roll the dice, hit a single, double, triple or a HOME RUN and win, Just like Real Baseball.
It's very easy... common rules, nine tokens by team, a baseball diamond, and dice to create your plays. Remember to keep record of your outs and runs using your scoreboard sheet. Also keep track of all your plays in the statistical sheet.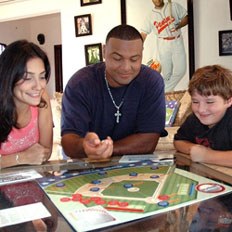 Just Like Real Baseball

MLB player Carlos Lee plays Baseball Board Game and he say: "Playing Baseball Board Game, I feel like I am in the playing field and the best of all, I can enjoy playing with my family, friends and teammates"...MLB Player Carlos Lee loves Baseball Board Game, and you will too!
Now there are no excuses to have fun, Baseball Board Game, Just Like Real Baseball. Contents of the game: two dices, a baseball diamond, one sticker, one Baseball's Board Game Cup, statistical sheet to keep record of plays per team, two dry erase marker, rules and more.