---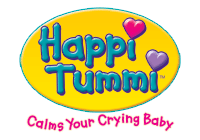 HOUSEHOLD Name products Inc.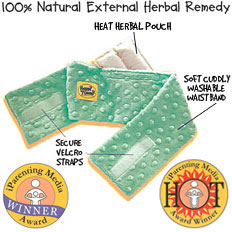 Happi Tummi

MSRP:
$19.95
Gender:
Boys And Girls
Age:
0 to 1
Does your baby have colic or gas? Fussy? Not Sleeping?
New! Happi Tummi™ is the #1 Solution to calm a fussy baby! An external remedy for the relief of colic and gas in infants. A waistband containing heated herbs is wrapped around the baby's abdomen. The combination of the heat and aroma soothe and calm the baby instantly! An alternative to drugs and messy drops. Takes the guess work out of calming the fussy baby!
Industry peers and critics have awarded Happi Tummi™ the prestigious iparenting Hot Product Award, iparenting media award and Preemie Magazine Cool Stuff Award for its effectiveness.
These statements have not been evaluated by the Food and Drug Administration. This product is not intended to diagnose, treat, cure or prevent any disease.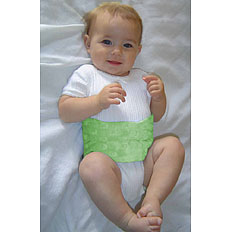 Happi Tummi - Green

MSRP:
$19.95
Gender:
Boys And Girls
Age:
0 to 1
Key Features & Benefits of the Happi Tummi™
Pediatrician recommended.
Fast Relief!
Natural Herbal external Remedy Specially formulated for infants with colic and gas.

Relieves stomach aches
Proven Remedy
Cost-effective
Ready to use in just 20 seconds!
Makes a terrific and original gift!
Available in green, pink and blue
Herbal pack is made in the USA


If your baby is chronically crying you should consult your physician. If your baby has allergies or sensitivities, please consult your pediatrician before use.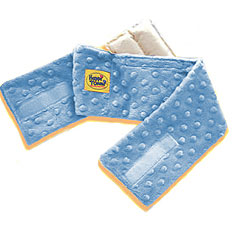 Happi Tummi - Blue

MSRP:
$19.95
Gender:
Boys And Girls
Age:
0 to 1
"I have recommended Happi Tummi™ for several of my patients with colic and have received very good feedback from their parents. I will continue to recommend this product for the fussy baby."
- Pediatrician, San Diego, CA

"Two days after we got home from the hospital our baby started crying uncontrollably. She was particularly fussy right after eating and we did not know how to soothe her; sometimes the crying bouts would last all night. We decided to try the Happi Tummi™ and were amazed that within 2 minutes our baby stopped crying. We began putting it on her throughout the day and even before she would eat. It kept her from starting to cry."
- Julie, Raleigh, NC
Happi Tummi - Pink

MSRP:
$19.95
Gender:
Boys And Girls
Age:
0 to 1
"When our baby was only a few days old, he would just cry and cry. We didn't know what to do. A friend of ours gave us the Happi Tummi™. It was very simple to use and calmed him almost immediately after application."
- Wade, San Diego, CA

"My girlfriend gave me the Happi Tummi™ as a gift. My baby didn't have colic, but he was being really fussy. I realized he had not had a bowel movement in a couple of days. I heated a Happi Tummi pouch according to the directions and placed the waistband on his belly. I was amazed how soon he had a bowel movement and was back to his normal happy self."
- Sherry, Carlsbad, CA
(

Watch Video)
---
---

AD
---