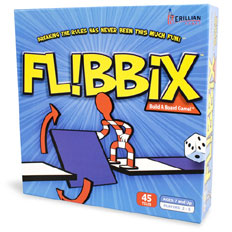 Flibbix™

MSRP:
$39.99
Gender:
Boys And Girls
Age:
7 and Up
Flibbix by Merillian is the fun and exciting new game where you can build your own board game, make your own rules, and then play. It's super easy, lots of fun, and lets you rebuild and replay your game as much as you want.
Winner of over six major awards, including Mom's Best Award, Parents' Choice Silver Honor, NAPPA Gold, National Parenting Center Seal of Approval, Creative Child Preferred Choice, and TDmonthly Innovations 2008 Award.
With your own board, custom rules and choice of cards, Flibbix is new every time you play. Race to the finish, but watch how wacky things get along the way. During game play, flip game board tiles over, swap them around, and even change the rules! Mixed up. Crazy. Custom. Fun. Winner of a 2008 Preferred Choice Award by Creative Child Magazine, and voted a Top 10 Game at the Toy Fair '08 Game Zone by
TDmonthly
.
(

Watch Video)
---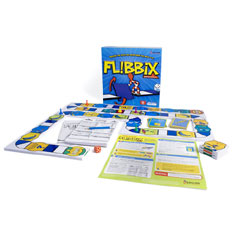 How to Play Flibbix™

1) Build your Game Board: Snap the magic tiles together to easily make your game board.
2) Make your Rules: Making your own rules is as simple as checking boxes on a Make your own Rules sheet.
3) Pick your Cards: Choose the cards you want to play with.
Go! Once you build your game, it's super easy to play. First person to the Finish wins, but watch how wacky things get along the way as the game board and even the rules can change during the game.