---
INNOVATION FIRST LABS, INC.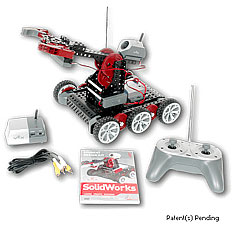 VEXplorer Robot Kit

MSRP:
$199.99
Gender:
Boys And Girls
Age:
8 and Up
Attention beginners and hobbyists! VEXplorer is the ideal robot kit for the novice builder. Complete with detailed step-by-step plans, this almost-ready-to-run kit comes with pre-assembled modules making it quick and easy to build. Best of all, your robot is compatible with VEX Motion and Structure parts allowing you to expand and grow your robot.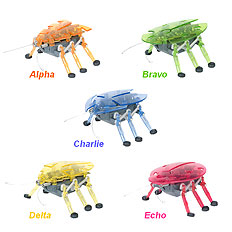 HEXBUG Micro Robotic Creature

MSRP:
$9.99
Gender:
Boys And Girls
Age:
8 and Up
The HEXBUG Micro Robotic Creature is obedient, intelligent and looks and moves around just like the real creepy crawler it resembles. HEXBUGS feel their way around sensing objects in their path and avoiding them. And they can hear! You control where they scurry through a hand clap, loud noise or table slap. Available in five different colors and body shapes for $9.99. Additions to the line include the HEXBUG Inchworm and HEXBUG Crab along with additional designs.
(

Watch Video)
---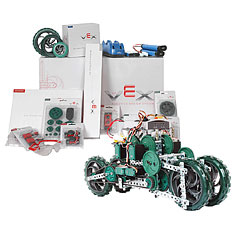 VEX Robotics Design System (Starter Kit)

MSRP:
$299.99
Gender:
Boys And Girls
Age:
14 and Up
The VEX Robotics Design System (Starter Kit) contains everything you need to design a robot. The creative possibilities are endless. The Starter Kit was inspired by the FIRST (For Inspiration & Recognition of Science & Technology) Robotics Competition--the world's leading high school robotics program. This non-profit organization was founded to inspire young people's interest and participation in science and technology.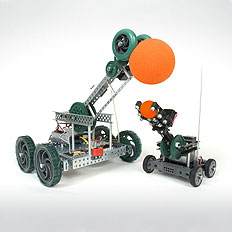 VEX RCR Mini

MSRP:
$99.99
Gender:
Boys And Girls
Age:
5 and Up
The VEX RCR Mini, like the Vex Robotics Design System, is an open-ended robotics platform that includes all the parts and accessories inventors need to design and construct a radiocontrolled robot. At less than half the size and one-third the cost of the VEX Robotics Design system, VEX Mini will be accessible to even more hobbyists and students at the high school, middle school and now elementary school levels interested in learning about robotics. Vex Mini will be sold as a 300 part kit including gears, motors, wheels, metal and hardware, with additional accessory kits available. The VEX Mini's quarter inch pitch is structurally compatible with all half inch pitch full-scale VEX EDR and RCR robots, enabling builders to design more capable, dexterous and agile robots by mixing parts.
(

Watch Video)
---
---

AD
---