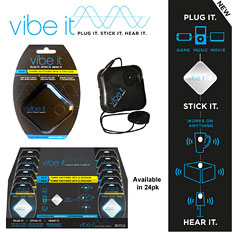 Vibe IT

MSRP:
$19.99
Gender:
Boys And Girls
Vibe IT is a fun way to listen to your favorite music, movie or play a game on your portable device. Vibe IT turns almost anything into a speaker, just remove the acoustic generator from the Vibe IT cube and place it on any hollow or an object that can vibrate.
With the reusable sticky material found on the acoustic generator, it will stick to any object and turn that object into a speaker!
Carry big sound without carrying big speakers
Use it with any sound system with a standard 3.5mm headphone jack
Broadcast sound, create more base or treble with your choice of object
Use it for listening to music, portable gaming or watching a video anywhere
Have fun exploring object around as you turn them into your own speaker
USB and optional battery powered
6 reusable stickers included
Plug it, stick it, hear it!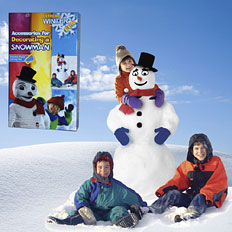 Extreme Winter Fun, SnowMan Accessory Kit

MSRP:
$4.99
Gender:
Boys And Girls
Age:
3 and Up
Building a SnowMan with this kit, many passersby stopped to take photos of him and each other next to him. The snowman seemed to attract smiles and interest of all ages. "People wanted to be near the snowman, to touch it, and to ask questions about it."
Included in The SnowMan Kit; instructions how to form a SnowMan anywhere from 3' high to 7' high, eyes and eyebrows, a nose, mouth, three buttons, a scarf, pair of mittens and a top hat. Bonus-carving tool included.
Our Snowman Kit is part of a family of Snow Kits, SnowMan, SnowBear and the Snow Dino. All these kits can be used when building a small character to a large character. All our parts are made for the out doors and can be used for many winters to come.
Snow Not Included.