WIKKI STIX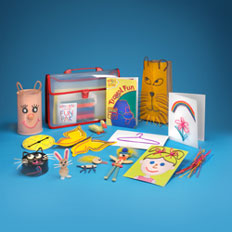 Wikki Stix Tons of Fun! Kit

MSRP:
$14.95
Gender:
Boys And Girls
Age:
3 and Up
This set includes 96 colorful Wikki Stix one-of-a-kind creatables, wooden shapes, feathers, pompoms, four blank faces and more. The re-usable, non-toxic Wikki Stix stick with just fingertip pressure; no glue is necessary. This product is made in the USA.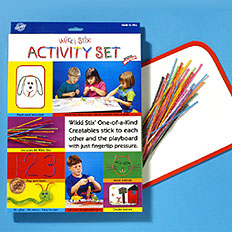 Wikki Stix Activity Set

MSRP:
$16.95
Gender:
Boys And Girls
Age:
3 and Up
Ideal for the younger child, with no complicated instructions or directions; just Wikki Stix and a sturdy write-on/wipe-off board for hours of free play! Includes a cartoon-style booklet for Mom to read, providing ideas and encouraging creativity. Comes with zip-lock carry bag; great to take along in the car, on a trip, to Grandma's ! 84 Wikki Stix in two lengths. Winner of the Parents' Choice Classic Toy Award.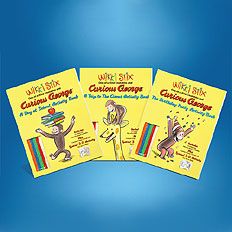 Wikki Stix Curious George Activity Book Set

MSRP:
$21.95
Gender:
Boys And Girls
Age:
3 to 5
Three fun activity books featuring that adorable little fellow, Curious George! Puzzles, picture games, counting fun....connect-the-dot activities.... all to be completed with Wikki Stix. Three fun themes include A Day at School; A Trip to the Circus; The Birthday Party. Each book comes with 72 Wikki Stix and a furry little Curious George cutout. Unique 3-D activity in each book. Three fun books for one very low price!
(

Watch Video)
---




AD
---