---
MAYFAIR GAMES INC.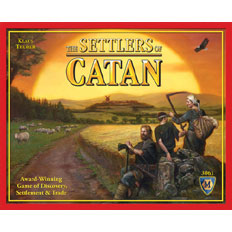 The Settlers of Catan® (4th Edition)

MSRP:
$42.00
Gender:
Boys And Girls
Age:
10 and Up
Players are recent immigrants to the newly populated island of Catan. Expand your colony through the building of settlements, roads, and villages by harvesting commodities from the land around you. Trade sheep, lumber, bricks and grain for a settlement, bricks and wood for a road, or try to complete other combinations for more advanced buildings, services and specials.
Trade with other players, or at local seaports to get resources you might lack. The first player to achieve 10 points from a combination of roads, settlements, and special cards wins.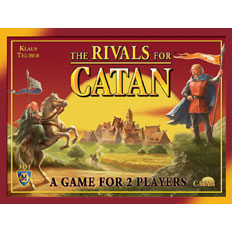 Rivals for Catan

MSRP:
$20.00
Gender:
Boys And Girls
Age:
10 and Up
Build your domain to best your Rivals. The Rivals for Catan puts you in charge of one of the two factions developing newly-settled Catan. Use your under card mix to create your own principality. Explore and settle new lands, acquiring resources through card play and the luck of the dice. Use gold, response combinations, and trade to develop your domaine. Expand your settlements and cities, recruit heroes, and defend your lands through politics, invention, and intrigue. Your cunning and a dash of luck decides who will be Prince of Catan.
The Rivals for Catan contains 180 Cards, Production Die, Event Die, Commerce Token, Knight Token, and Rules & Card Index.
For 2 players.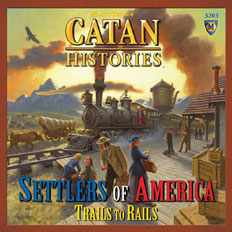 Catan Histories: Settlers of America™ Trails to Rails

MSRP:
$55.00
Gender:
Boys And Girls
Age:
10 and Up
The 19th Century has arrived and Americans are heading west. Wagon trains are forming up and heading out to settle new lands and build new cities. These new cities will need railroad lines to bring in new people and necessary goods. Some head west for the adventure, some to start a new life, still others to find work.
Look west to make your fortune. As the population grows, resources will dwindle and the smart money seeks new sources and new markets. Finance your settlers as they head west to build the cities of tomorrow. Link these cities with rails of steel and operate your railroad to supply the townsfolk with goods. To the west lie lands to settle and fortunes to be made!
Settlers of America: Trails to Rails utilizes the familiar Catan hex-tile grid to present a map of the United States. Players collect and trade resources, in order to purchase, migrate and build settlements, forge railroads and acquire locomotives. Railroads are used to distribute goods to the interconnected cities. As westward locations are settled, old sources of resources deplete. The addition of gold adds to the depth of play and increases options for the players.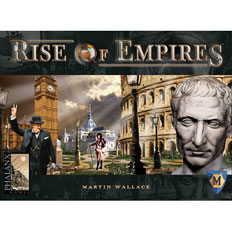 Rise of Empires™

MSRP:
$55.00
Gender:
Boys And Girls
Age:
12 and Up
Don't just make history-guide it! Take the reins of a developing civilization, choosing the resources and development paths that will lead to the fastest expansion, as you claim and defend territory on a map forging an empire that eventually encompasses whole continents.
Rise of Empires play is divided into three eras. Choices made early in the era are repeated late, so your decisions must have both short-term and long-term benefits to be successful. This process requires tough decision-making and promotes an atmosphere with nail-biting suspense. Victory points are rewarded for building cities, having an empire, for progress in science, and for trading goods.
Rise of Empires breathes new life into the civilization games genre! Balance gold and food, war and agriculture, territory and technology to forge an empire that is destined to rise above all other nations!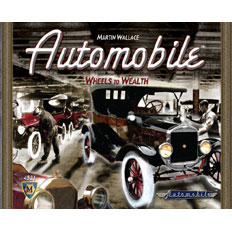 Automobile™

MSRP:
$50.00
Gender:
Boys And Girls
Age:
13 and Up
Automobile™ carries you back to the birth of America's car industry, when inventors, craftsmen, and entrepreneurs created a wild array of marvels and misfortunes. You step into this rough, romantic trade hoping to create a fortune by building and selling cars. Tapping the talents of men like Ford, Sloan, Kettering, Howard, Durant, and Chrysler, you balance quality versus quantity, mass production versus premium branding, and innovation versus distribution and aggressive sales. Lose your balance and you go bust. Strike the best balance, shift the right gears to best your rivals, and you'll be rich. You might even win. So, pull up your sleeves and start making cars.
For 3-5 Players. Playing Time 90-120 minutes.
(

Watch Video)
---
Lemming Mafia

MSRP:
$35.00
Gender:
Boys And Girls
Age:
8 and Up
Lemming Mafia - a leap of a game by Michael Rieneck. Leap into the wild world of Lemming mafia! Bet on lemmings as they race to be the first to Jump. But yours more than a mere wager. Lemming bosses give you missions. You must slow some lemmings, or stop them altogether by putting them in concrete shoes. You must guide your favored lemmings, using jackhammers to cut off any concrete and limos to speed them along. Pick the right mission, and the swiftest Lemming, and you win! Laughingly Larcenous Leaping Lemmings.
For 3-6 Players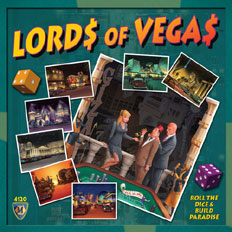 Lords of Vegas

MSRP:
$45.00
Gender:
Boys And Girls
Age:
12 and Up
Las Vegas. The Strip. To the untrained eye, it's a sleepy desert crossroads. A wasteland of cheap hotels, gas stations, and dust. But to you, it is Paradise. Your brilliant plan? You will construct a magnificent chain of casinos and fill them with light. You will manufacture the ultimate dream of easy money and impossible luxury. You will sell-basically-nothing. You are not alone in this plan.
In Lords of Vegas, you and your friends play rival developers, building on the Las Vegas Strip. You can get ahead by building the glitziest, most glamorous, and most popular casinos. But you can fall behind by letting your enemy become your boss. Lords of Vegas is a clever strategy game with all the thrills, risks, and rewards of the casino business. You start out with empty lots, build small casinos, and expand them as your bankroll grows. Your rivals can build next door, and they just might take you over with a clever paint job or a lucky roll of the dice.
Buy, sell, trade, and gamble your way to the top as you build your empire along the storied Strip. So come on, roll the dice, and build your piece of Paradise!
For 2-4 Players.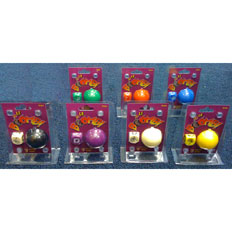 Le Boomb!™ Single Game

MSRP:
$4.50
Gender:
Boys And Girls
Age:
6 and Up
Fun, Silly, easy to learn and loads of fun. Le Boomb!, a quick brilliant silly little game based entirely on luck, that turns any gathering into a party! A simple portable party game- fast, frantic and loads of fun! capitalizing on players desire to survive. Rules consist of 4 sentences. Here's all you need for a portable game party: 1 custom die that tucks into your special "boomb"!
Each copy of Le BoombT contains:
1 die
1 bomb (for play and for die storage)
Each display of Le BoombT contains 12 games:
6 Le BoombT
1 each Le BoombT in Red, Blue, Green, Yellow, Purple and White.
"Le Boomb" is a casual, social game for 2-16+ players ages 6 and older. You can play in about 5-15 minutes.
---