Horse Track
From: SILVERLIT TOYS
Other products from SILVERLIT TOYS
Shop for It!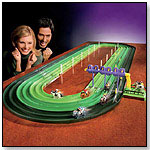 Parents don't really want their kids hanging around the track, but having the track hang around the kids? This huge six-lane horse track (can take 90 seconds for a whole race) features individual horses and jockeys, different weights for horses and jockeys, the sound of pounding hooves, the whinny of excited horses, a starting gate, an electronic winner's timer ― the whole nine yards including the back stretch. A similar four-lane racing set is available in the states. When asked about it, Richard Dockins of the Manor Downs race track in Austin, Texas, said, "The lure of the ponies can start young. I'd bet on this toy to win, place and show."
ToyDirectory Product ID#: 11301
(added 1/30/2007)
ADODB.Recordset
error '800a0e78'
Operation is not allowed when the object is closed.
C:\INETPUB\VHOSTS\TOYDIRECTORY.COM\HTTPDOCS\MONTHLY\../VideoAPICommonFun.asp, line 165